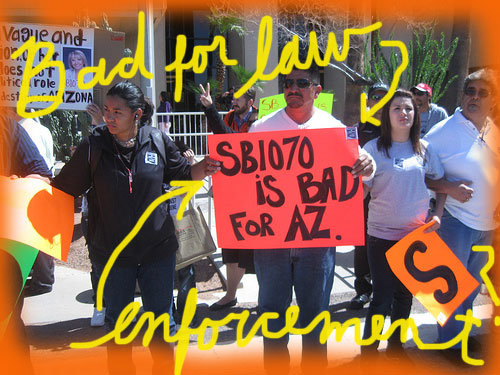 On Wednesday, LAPD's Chief Charlie Beck, and Chiefs of Police from Houston and Philadelphia met with Attorney General Eric Holder about Arizona's controversial immigration law, SB 1070. The three chiefs said what has needed saying for a long while about this law, and that is the fact that it makes law enforcement harder.
The Washington Post has the report:
Arizona's new crackdown on illegal immigration will increase crime in U.S. cities, not reduce it, by driving a wedge between police and immigrant communities, police chiefs from several of the state's and the nation's largest cities said Wednesday.

Arizona's law will intimidate crime victims and witnesses who are illegal immigrants and divert police from investigating more serious crimes, chiefs from Los Angeles, Houston and Philadelphia said before meeting with Attorney General Eric H. Holder Jr. to discuss the measure. Counterparts from Phoenix, Tucson, San Jose and Montgomery County, among others, joined them.

"This is not a law that increases public safety. This is a bill that makes it much harder for us to do our jobs," Los Angeles Police Chief Charlie Beck said. "Crime will go up if this becomes law in Arizona or in any other state."
This is precisely why Los Angeles passed Special Order 40 in 1979-–and why it was embraced by conservative LAPD Chief Daryl Gates and every chief who has come after.
(Special Order 40 "precludes officers from asking a person about his or her alien status and from notifying the INS about a person's undocumented status unless the person has been arrested." If there is an arrest, officers are required to notify higher-ups of his or her immigration standing.)
The Arizona Association of Chiefs of Police are not down with the law either, however many of the elected sheriffs in the state are for it, as are the majority of Americans, most of them fed up with the lack of border enforcement.
---
AND ABOUT THAT BORDER ENFORCEMENT
As you likely know, President Obama has just sent 1200 national guard troops to the Arizona border to beef up security.
In an editorial Thursday, the LA Times points out why such a move was needed.

Here are some clips:
The troops will be stationed in Arizona and other border states, where they'll help local law enforcement intercept drug traffickers. It is an overdue step. For political reasons, including the delicate relationship with Mexico, Obama has tried to resist giving the appearance of militarizing the border. But the lack of security, particularly in areas a stone's throw from Mexico's drug war, undermines public confidence in the ability of the federal government to regulate immigration. And if any meaningful immigration reform is to be passed, it will require that confidence.

Over the years, presidents have tended to view immigration through an economic lens, paying heed to issues of bilateral trade and facilitating the flow of low-skilled labor. But addressing the broken immigration system, including making it easier for employers to hire foreign workers legally and bringing forward the 11 million undocumented people living in the shadows of American society, will only be achieved when the public sees that Washington can successfully secure the border.
Yep. I can't stand the Arizona law either. But it is unwise and unfair to ignore some of the legitimate concerns that drove it (as opposed to the nativist hysteria that also drove it). Addressing those concerns is the only way we are ever to get real immigration reform that the nation desperately needs.