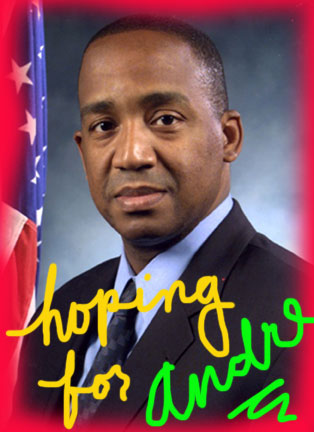 All morning emails have been flying about the fact that, Wednesday night, Scott Glover of the LA Times reported that Andre Birotte Jr. is the likely nominee to be the next U.S. Attorney for Los Angeles, replacing Thomas P. O'Brien, who resigned in September.
If Birotte is indeed the nominee, this is wildly cheering news.
Birotte has been serving as the Inspector General for the LAPD, reporting directly to the police commission. As such, Birotte has no real power. (He can only make suggestions. He cannot enforce them.) Yet, because of the intelligence, savvy and even-handedness with which he has gone about his work, he has succeeded in exerting a great deal of very positive influence on the department and is widely respected by a broad spectrum of those in and around law enforcement and city government.
(Plus, he's a really good guy and very, very bright. And, yes, he has a good sense of humor. Mandatory in this business, I think.)
One of Birotte's best qualities—among many good qualities— is that he seeks to understand any problem before him at a deeper and more nuanced level than what the surface presents. This is further demonstrated by the way in which, in addition to working to understand the multi-shaded complexity of the LAPD, Birotte has reached out liberal-leaning law enforcement watchers like me—not to garner press attention or advance any agenda—but simply to talk about issues.
Here's how former federal prosecutor Bruce Riordan put it in one of this morning's emails. (Riordan is now the director of anti-gang operations in the City Attorney's office, and a former assistant to the U.S. Attorney.)
Well, here is some "good news." In my humble opinion!

I have known Andre for more than a decade and worked with him as both a federal prosecutor and as Inspector General. He was an outstanding federal prosecutor and as Inspector General, he has been one of the unsung heroes in leading the successful turnaround and revitalization of the storied Los Angeles Police Department. If nominated and confirmed, I have no doubt that he will serve the country and the district with great distinction.
Yep, yep, yep.
As Riordan said in a subsequent email, (and I am paraphrasing here) the distance that the LAPD has come in transforming itself in recent years is important to all of us who care about this city. "Andre was a big part of that."
Let's hope his next new direction will be into the U.S. Attorney's office.