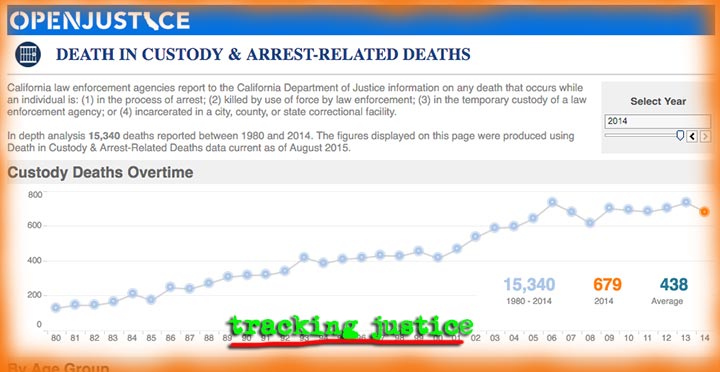 FASTER AND EASIER PUBLIC ACCESS TO LAW ENFORCEMENT SHOOTINGS AND OTHER CRIMINAL JUSTICE NUMBERS UNDER AG KAMALA HARRIS' NEW BILL
On Monday, California Attorney General Kamala Harris and state Assemblymember Jacqui Irwin (D-Thousand Oaks) announced a bill that would modernize and speed up the way law enforcement data—like officer-involved shooting statistics—is reported and shared with the public in the name of law enforcement transparency.
"Data and technology have the power to dramatically increase transparency and accountability in our criminal justice system," Attorney General Harris said. "This legislation will bring criminal justice data reporting into the 21st Century."
Last September, AG Harris launched the OpenJustice website to bring transparency to the state's criminal justice system by publishing crime and policing statistics. The website shows city, county, and state crime and arrest rates, deaths during arrest, deaths in custody, and the number of law enforcement officers killed or assaulted. Users can view data on interactive maps and graphs, and sort data groups by race, gender, and age.
Harris and Irwin's bill, the OpenJustice Data Act, would require law enforcement agencies to start reporting data to the California DOJ electronically, rather than on paper, making frequent updates to the published data possible.
"Right now we are sitting on mountains of valuable criminal justice data that local law enforcement work hard to provide in the public interest," Assemblymember Irwin said. We need to make sure that this information is available to the public and that we are using it effectively."
---
LA COUNTY SUPES HIRE FORMER HIGH SCHOOL DROPOUT TO HEAD THE OFFICE OF EDUCATION
The LA County Board of Supervisors has selected Dr. Debra Duardo, a former high school dropout, to lead the LA County Office of Education.
Besides overseeing the finances of LA's school districts, the Office of Education provides schooling to the county's locked-up kids, as well as disabled students.
Duardo knows first-hand the barriers to education that rise up, particularly for poor and minority kids. Duardo dropped out after her first week of ninth grade to work full time. Soon after, she eloped and had a baby. The birth of Duardo's son, who was born with Spina Bifida, lit a fire under her to complete her high school education and work toward a college diploma. As a single, working mother, it took Duardo ten years of classes to finish high school and obtain her Associate's Degree. (Listen Duardo tell her story in the video above.)
"Dr. Duardo is an expert administrator with years of experience in trauma-informed education systems," said Supervisor Mark Ridley-Thomas. "She will bring her outstanding leadership on dropout prevention strategies, restorative justice and special needs education – and she will put students first."
Duardo currently holds the position of Los Angeles Unified School District's executive director of Student Health and Human Services.
The LA Times' Howard Blume has more on the appointment and LA County's new head of the Office of Education. Here's a clip:
"Because of her role at L.A. Unified, Debra is uniquely qualified to run the Los Angeles County Office of Education," said Supervisor Sheila Kuehl. "I'm thrilled."

The county's education office also manages the payroll for nearly all of the county's dozens of smaller school systems. In a watchdog role it also provides an early warning system about districts that face insolvency.

But the county's own programs, including services to the disabled, also have come under scrutiny. This has contributed to a decline in revenue. In 2011-12, the education office's special education programs received almost $84 million in state tax revenue. The estimate for 2014-15 was $38 million, according to a recent outside review.

In 2012-13, the county programs employed 772 teachers. Two years later, that number was down to 408.

"There have been some real complaints from school distrcts about the quality of programs we put together," Kuehl said. "Some districts have already pulled out."

Kuehl added that there also have been shortcomings in classes for juvenile offenders, but said that a new, successful pilot program showed promise and needed to be expanded. Other county-managed operations, such as a huge Head Start effort for preschoolers, are performing better, she said.
---
JUDGE DENIES LA COUNTY'S REQUEST TO DISMISS MISTAKEN LASD RAID CASE
US District Judge Otis Wright denied a petition from LA County to dismiss a civil case brought by a federal Immigration and Customs Enforcement official whose house was mistakenly raided by LA County Sheriff's Department members.
LASD officers out of the Malibu/Lost Hills Station raided ICE official Raymond Kovacic's Westlake Village home in 2013. Two deputies on patrol, Jonathan Boden and Christopher Redenbaugh, said they heard a loud crash, and saw someone inside Kovacic's house who appeared to be holding a flashlight and robbing the place. (Kovacic and his son had friend spending the night.) The deputies called for backup—helicopter included.
Mistaking Kovacic and his 17-year-old son, Jared, for suspects, officers ordered the federal agent, who was in his house slippers, onto his knees with their guns drawn. Jared, who had come outside in his boxer shorts, said an officer pointed a gun at his head from less than a foot away. Not listening to Kovacic's attempts to identify himself, officers reportedly handcuffed father, son, and several house guests while the home was searched.
After the bizarre raid was over, Kovacic asked for a copy of the incident report. A sergeant allegedly replied, "Oh well, that's easy. I'll tell you right now there won't be one."
Raymond and Jared Kovacic filed a lawsuit alleging officers violated their Fourth Amendment rights against unreasonable search and seizure and unreasonable use of force, among other complaints. Judge Wright has allowed the charges to move forward with the exception of one claim against LA County for inadequate LASD training.
Courthouse News Service's Jon Chown has the story. Here's a clip:
The officers went to investigate and when they approached the front of the Kovacic home, they saw a person inside holding a flashlight who looked like he was robbing the place. They called for backup and soon more police arrived and a helicopter was overhead.

All the noise startled Raymond Kovacic, so he put on shorts and slippers, grabbed his wallet and ID and went outside to see what was going on. He turned on his porch lights and opened his door to officers with their weapons drawn, ordering him on his knees. He was handcuffed and taken to a patrol car while we tried to show them his wallet and tell them he owned the house.

Jared, then 17, opened the door, wearing only his underwear and a T-shirt, to see what was going on and he was detained. Jared says one officer was pointing a gun at his head from "not even a foot away," while half a dozen others had their guns trained on him.

"We got you Fred," the officers allegedly told Jared while he cuffed him. When Jared told them he was not Fred, one replied, "Well, if you're not Fred, then where's your sister?"

Three guests were then handcuffed and then the residents were told a dog would be sent in to get the other guest, who police were told was a heavy sleeper, if he did not come out himself. The officers finally went into the home and conducted a sweep before finally realizing that their mistake.

According to Wright's ruling, what was said and done during the exchange are in dispute. After being released, a sergeant allegedly told Raymond Kovacic that they were only responding to a security alarm. When Kovacic told him he didn't have one, the sergeant changed his story and said they'd heard a loud crash.

Deputy Redenbaugh claimed that one of the house guests told him that he had accidentally slammed a sliding glass door and had been using his cellphone to pack his bags to leave without waking the other guests.

Raymond Kovacic said the sergeant told him, "Look, these are two of my best guys. They're a little zealous, but they're really good. I'd hate to see anything happen to them." When Raymond asked for copy of the incident report the sergeant supposedly said, "Oh well, that's easy. I'll tell you right now there won't be one."
---
EDITOR'S NOTE: This story was updated on March 23, at 1:30 p.m., at which time we made a correction. Mr. Kovacic and his son live in Westlake Village, although Kovacic works in Ventura County. The new version reflects that correction.