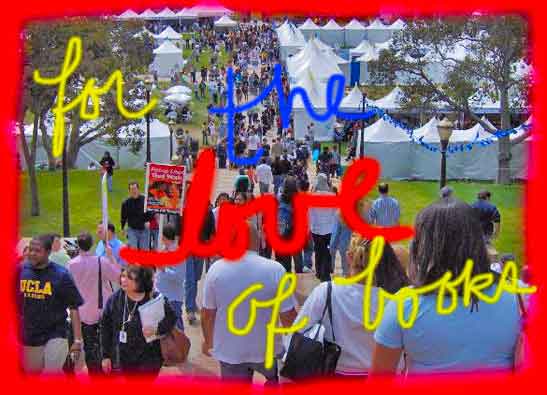 This weekend the glorious LA Times Festival of Books will be held at its new location on the USC campus, after 15 years at UCLA.
The line up of authors and other intriguing panelists is, as usual, excellent. (You can find the Saturday and Sunday schedules here.)
Both days are filled with more great events than you can possibly fit in.
So to help you with this pesky dilemma, I've devised 7 TIPS FOR GETTING THE MOST OUT OF THE LATFOB
In no particular order they are:
---
TIP #1: GO TO SEE MY PANEL (Yes, this is a self-serving pitch, but it's also a really good panel). Specifically, I am moderating a panel on Sunday, at 2 pm at Taper Hall 101. It's called History: Democracy and Its Discontents, and the LATFOB folks gave me a GREAT threesome to interview: Barry Siegel, Scott Martelle, and Thaddeus Russell—all of whom have written books that tell of crucial yet unreported times in American history that have deep resonances for the health of our democracy now.
For instance, I'll be asking my brilliant pal Barry (Siegel) about his book, Claim of Privilege: A Mysterious Plane Crash, a Landmark Supreme Court Case, and the Rise of State Secrets, which reads with the depth and pacing of a novel as it relates how the American government began its obsession with state secrets—starting with the Supreme Court case that jump started the now, it seems, ever-expanding habit of hiding away any paperwork that might prove inconvenient to those in power.
And then there is Scott Martelle and his book, The Fear Within: Spies, Commies, and American Democracy on Trial, which just came out this month and tells the story of the 1949 trial of 11 of the mouthpieces of the then minuscule American Communist Party.
The third panel member is Thaddeus Russell, who I'll ask about his outrageously original A Renegade History of the United States, a book that tells of many of the unlikely people who affected the course of American cultural and political development, but whose tales of influence rarely seem to turn up in most history books.
It'll be a dynamic exchange, I promise. So y'all come on down.
Okay, now that the personal pitch is out of the way, here are the other six tips:
---
TIP # 2: GO TO SEE ANY AND ALL PANELS THAT INVOLVE TOD GOLDBERG. Tod is moderating two on Sunday, and he's on a third one on Saturday. I don't think anybody except for LAT book reviewer David Ulin is on that many panels. There's a reason for this. Tod is fantastically entertaining. By "entertaining" I mean, eye-leakingly funny. Plus he's really, really smart and…really, really….you know…. literary.
---
TIP #3: GO TO SEE FATHER GREG BOYLE on Sunday at 11 am at Bovard Auditorium being interviewed by LA Times columnist Steve Lopez. Father Greg is really as good as it gets as speaker. Last year at the FOB, Warren Olney interviewed him and, during one of Greg's stories, Warren started to tear up, with a quiver in the voice, and all. Most of those in the audience were teary too. But Warren Olney's a pro's pro, so you've got to really have something unusually moving to say to get Warren to cry.
---
TIP# 4: GO TO SEE EGGARS AND SMITH—TOGETHER AT LAST. On Saturday, David Ulin will interview musician Patti Smith and writer/novelist/publisher Dave Eggars. at 12:30 at Bovard. No, I have no idea why in the world those two are being interviewed together, but it's a weirdly inspired idea. I'm betting the combo will alchemize something that you will miss at your own peril. (Yes, I know alchemize isn't a verb.)
---
TIP #5: IF YOU'RE A DAVID FOSTER WALLACE FAN (or even if you're not), GO TO SEE Ulin again at 4 pm on Saturday, this time moderating a panel on DFW and The Pale King with Bonnie Nadell, Wallace's longtime agent, DT Max, the guy who is writing a book about Wallace (and who wrote that heartbreaking New Yorker piece), and Michael Pietsch, DFW's editor and the guy who had to knit together the piles of incomplete and fragmented manuscript pages that Wallace left after his suicide, into a….book. (This will be sold out, so get a ticket now, or show up on Wednesday and just camp out for three days. I really don't think this is too extreme a plan.)
---
TIP #6: GO TO ANY PANEL FEATURING SOMEONE NAMED AMY. It's a good basic rule. The Amy strategy will, for example, get you to a couple of panels with the fabulous Advice Goddess and author, Amy Alkon, or with witty Texas grrrll novelist, Amy Wallen, or with the soulful and gifted nonfiction writer, Amy Wilentz, or with the incandescently talented poet, Amy Gerstler.
Alternately, I recommend going to any panel with the word MYSTERY in its title. So Cal has produced some fine mystery writers from Raymond Chandler forward, a vein of literary genre gold that continues to get richer, and the array at this year's LATFOB is a satisfyingly bright and shiny one—Don Winslow, Michael Connelly, Robert Crais, T. Jefferson Parker, and more.
---
TIP # 7. WALK INTO ANY PANEL RANDOMLY. Seriously. I've done this many times over the years and never been disappointed. There are so many wonderful conversations that will take place in front of microphones over that two day period, it's hard to go wrong.
On Saturday Janet Fitch talks to T.C. Boyle; Robin Abcarian interviews Andrew Breitbart; Garrett Graff of the Washingtonian, Eric Alterman of the Daily Beast and the Nation, and Katrina vanden Heuvel, the Nation's editor/publisher all talk about Obama; Jennifer Egan and other fictionistas talk about breaking boundaries in fiction—and I have only slightly dented the surface,

On Sunday, the LA Times' Carolyn Kellogg moderates Publishing: the New Shape of the Book. featuring Tom Lutz, the editor/publisher of the about-to-launch Los Angeles Review of Books, along with Ethan Nosowsky, editor-at-large, Graywolf Press, …..and…. Oh, you get the picture.
---
Just plan to go, whatever you do.
We can talk about non-literary news tomorrow.