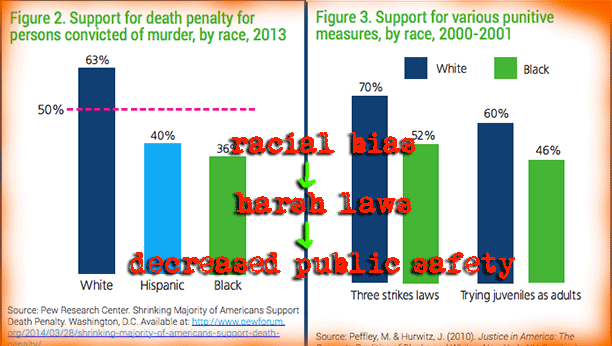 WHITE PEOPLE'S RACIALLY BIASED PERCEPTIONS LEAD TO HARSHER CRIMINAL JUSTICE LAWS AND HARM PUBLIC SAFETY
A new publication from the Sentencing Project takes a look at how racially biased perceptions of crime beget harsher criminal justice laws and policies.
According to a 2010 survey, white people overestimate by 20-30% the percentage of crime committed by blacks and Latinos.
The study found that although white Americans are less frequently victims of crime than blacks or Latinos, they are more likely to favor more punitive laws (like the death penalty, "three strikes" laws, and trying kids as adults). And those that associate higher crime rates to minorities favor those aforementioned punitive laws more than white people who don't attribute a higher percentage of crime to minorities.
These perceptions, which negatively affect public safety, are also perpetuated by the media and policymakers. Here are some clips from the findings:
Media crime coverage fuels racial perceptions of crime. Many media outlets reinforce the public's racial misconceptions about crime by presenting African Americans and Latinos differently than whites – both quantitatively and qualitatively. Television news programs and newspapers over-represent racial minorities as crime suspects and whites as crime victims. Black and Latino suspects are also more likely than whites to be presented in a non-individualized and threatening way – unnamed and in police custody.

Policymakers' actions and statements amplify the public's racial associations of crime. Whether acting on their own implicit biases or bowing to political exigency, policymakers have fused crime and race in their policy initiatives and statements. They have crafted harsh sentencing laws that impact all Americans and disproportionately incarcerate people of color. Through public statements, some have stoked the public's heightened concern about crime and exaggerated associations of crime with racial minorities.

Criminal justice practitioners also operate with and reinforce racial perceptions of crime. Disparities in police stops, in prosecutorial charging, and in bail and sentencing decisions reveal that implicit racial bias has penetrated all corners of the criminal justice system. Moreover, policies that are race- neutral on their surface – such as "hot spot" policing and certain risk assessment instruments – have targeted low-income people of color for heightened surveillance and punishment.

Racial perceptions of crime have distorted the criminal justice system. By increasing support for punitive policies, racial perceptions of crime have made sentencing more severe for all Americans. The United States now has the world's highest imprisonment rate, with one in nine prisoners serving life sentences. Racial perceptions of crime, combined with other factors, have led to the disparate punishment of people of color. Although blacks and Latinos together comprise just 30% of the general population, they account for 58% of the prison population.

Racial perceptions of crime have undermined public safety. By increasing the scale of criminal sanctions and disproportionately directing penalties toward people of color, racial perceptions of crime have been counterproductive for public safety. Racial minorities' perceptions of unfairness in the criminal justice system have dampened cooperation with police work and impeded criminal trials. In 2013, over two-thirds of African Americans saw the criminal justice system as biased against blacks, in contrast to one-quarter of whites. Crime policies that disproportionately target people of color can increase crime rates by concentrating the effects of criminal labeling and collateral consequences on racial minorities and by fostering a sense of legal immunity among whites. Finally, racial perceptions of crime have even led to the deaths of innocent people of color at the hands of fearful civilians and police officers.
---
PATT MORRISON INTERVIEWS LAPD CHIEF CHARLIE BECK
In an interview with the LA Times' Patt Morrison, LAPD Chief Charlie Beck shares his thoughts on Ferguson and LA's Ezell Ford shooting, police militarization, "broken window" vs. "community policing," his reappointment, and a lot more. It's worth reading the whole thing for yourself, but here are some clips:
There's community anger about the fatal shooting of a mentally ill South L.A. man, Ezell Ford. Incidents like these make people afraid that L.A. could tip over into violence again.

Of course we're afraid. I'm worried too. They don't pay me not to worry! We've built relationships and put money in the bank of trust, and we're more open and transparent than we've ever been, and we try to be as open and transparent as we can within the parameters of public safety and the law. If you do those things, you should be able to get through an Ezell Ford.

[SNIP]

In Ferguson, Michael Brown was stopped by police for jaywalking, a minor violation that might be prosecuted under the "broken windows" policing practice. Is there a contradiction between "broken windows," which some people might regard as harassment, and "community policing"?

Everybody interprets "broken windows" and "community policing" in their own way. There are people who believe they contradict each other. I'm not one of those. I think they complement each other. But it doesn't mean enforcing all minor crimes; it means enforcing the ones that are precursors to more serious crimes. It's about working to eliminate an obvious prostitution stroll because it's a magnet for violent crime and it leads to human trafficking and the degradation of women and the breakdown of families.

I want to make sure people understand this is a department that believes in community policing and building trust. Are we a perfect department? There's no such thing. Do we strive to be that? I think we do.

[SNIP]

Is a national database for violent police-civilian encounters a good idea?

We would have no problem doing that. Those are part of the statistics that I read weekly to the Police Commission. I say how many categorical uses of force we've had this year, how many officer-involved shootings, assaults on police officers… The real discussion: Why are some communities more susceptible to violence than others?

Violence between the police and public occurs [where] there's also a huge amount of general violence. I'm not excusing police violence; I'm saying it's more than that. You bring down general violence, you bring down violence between the police and the community too. A lot of that has to do with things that are far outside the control of the police and maybe outside the control of government, but I wish we had that discussion as vigorously as we do about violence toward and by the police.

The Defense Department provides police with military-grade equipment. In Ferguson, it seemed to heighten the tensions.

These things have an application but must be limited. You see what the LAPD does for crowd control — our primary line of crowd control is our bike officers. We may have the equipment, but we certainly don't brandish it; we don't show it when it's not needed because it just escalates. You have to have strong rules. Nobody wants a police state, certainly not me, and nobody wants a militarized police department.

[Recently] a suspect was firing an assault weapon with dozens and dozens of rounds at his disposal, and he shot one of my SWAT officers. If we hadn't had an armored vehicle and were able to approach him, we'd have had many more injured. But in a crowd-control situation, absolutely not.
Be sure to read the rest.
---
LA MENTAL HEALTH CLINICS WORK TO KEEP THE THOSE WITH MENTAL ILLNESS OUT OF LOCK-UP AND EMERGENCY ROOMS
A string of clinics in Los Angeles are successfully keeping people with mental health emergencies out of jail and emergency rooms. The four county-run clinics (with a fifth on the horizon) are all open 24-hours-a-day and predominantly serve the poor and homeless. As well as providing immediate services to people experiencing psychological crisis, they connect patients with more long term outpatient care and rehab centers. Data from the past few years shows that nearly everyone who visits one of these clinics stay out of jail and the emergency room during the month after a visit.
KPCC's Rebecca Plevin has more on the clinics. Here's a clip:
One of the clinics, Exodus Eastside Urgent Care Center, sits across the street from the L.A. County/USC Medical Center. Patients are referred from other hospitals, rehab programs, social service agencies, and law enforcement. Roughly one in five is homeless, and most are poor.

The clinic is open 24 hours a day, 365 days a year. Patients come with a range of mental health needs. Some need a refill of their psychiatric medications. Others have been placed on involuntary psychiatric holds, and can remain at the clinic up to 23 hours.

"The emergency rooms aren't really a great place for treating people who are in psychiatric crisis," says Marvin Southard, director of the L.A. County Department of Mental Health, noting that ERs are chaotic, overcrowded with medical patients and expensive.

There are currently four mental health urgent care clinics, which together serve about 23,000 patients a year. A fifth is scheduled to open on Thursday on the campus of the Martin Luther King, Jr. Community Hospital.

The clinics are more than emergency rooms for the mentally ill. They're better understood as service hubs, stabilizing people in the short-term, and connecting them to outpatient mental health care and longer term alcohol and drug treatment, Southard says.

Establishing those links between patients and services is challenging but critical, says Kathy Shoemaker, vice president of clinical services for Exodus Recovery Inc., the nonprofit agency that runs Eastside Urgent Care Center for the county.

"Every individual that comes to see us will leave here with a very definitive plan as to how to continue with mental health services," Shoemaker says.

That "warm hand-off," as the center's team calls it, allows patients to continue to recover – instead of ending up back on the streets, in the ER, or possibly in jail.
---
GROUP REPRESENTING 69 CA MAYORS BACKS GUN RESTRAINING ORDER BILL
Late last week, the California Gun Restraining Order bill, AB 1014, landed on Gov. Jerry Brown's desk. The bill, which would allow family members and law enforcement to petition a court to temporarily restrict individuals displaying certain warning signs from possessing firearms. (Read WLA's previous post on the issue, here.)
Now, the California coalition of Mayors Against Illegal Guns, a group representing 69 mayors throughout the state, has sent Gov. Brown a letter urging him to sign the bill. Here's a clip from their letter:
We watched with horror on May 23, 2014 as a young man murdered six people in Isla Vista, CA. The killer's parents had contacted police after he made suicidal and homicidal statements. But police decided he did not meet the standard for emergency commitment—and no one could act in time to keep guns out of his hands. AB 1014 would empower law enforcement and family members who see troubling warning signs in cases like these to petition a court and temporarily prohibit a dangerous person from having guns.

Gun violence restraining orders (GVROs) would create an opportunity to stop gun violence in real life-or-death situations while still protecting the Second Amendment rights of lawful gun owners. Under current federal and California state law, a person is only prohibited from buying or possessing guns if they have been convicted of a prohibiting crime, have been adjudicated as mentally ill or hospitalized to a mental institution, or else is subject to a restraining order protecting a particular individual. Other dangerous people may display significant and serious warning signs of violence, but will still be able to buy guns. GVROs would allow family members and law enforcement—often the first to see these warning signs—to present evidence of such danger to a judge, who could temporarily prohibit a person from gun possession and order them to temporarily turn in their guns if they were able to meet the high burden of proof the law requires.
(The LA Times' Patrick McGreevy has more on the issue.)