by Barbara Barrett, Managing Editor of Stateline, an initiative of The Pew Charitable Trusts

In recent days, several governors and state lawmakers have proposed additional restrictions on gun purchases, and other safety measures in the wake of the May 24, school massacre at Robb Elementary in Uvalde, Texas, which left 19 children and two teachers dead, and the slaying of 10 Black shoppers at a Buffalo, NY, supermarket, ten days earlier.
The proposed gun reforms, almost exclusively from Democrats, range from stricter background checks, and raising the age to 21 for purchases of long guns, to exposing gun makers to civil lawsuits.
In some Republican-controlled states, however, lawmakers are pushing ahead with measures to expand access to firearms.
Ohio Republicans, for example, are supporting a bill that would allow school officials to carry a handgun with two hours of training, according to a News5Cleveland roundup of proposed gun legislation. The new bill is presently being considered in the state Senate after passing Ohio's House of Representatives.
In mid-March of this year, Ohio passed a bill allowing residents to carry concealed handguns without permits. The concealed carry law went into effect earlier this month.
Florida lawmakers are close to passing a similar bill that likewise would allow for concealed carry without a permit. GOP Gov. Ron DeSantis has said he'll sign the measure.
Alabama has passed its own permitless concealed carry bill, which Republican Gov. Kay Ivy signed on March 10, 2022.
Democratic governors, however, are doing what they can to restrict gun access.
In California, Gov. Gavin Newsom announced he'd work with lawmakers to expedite bills that would limit gun advertising aimed at minors, restrict ghost gun kits, and allow governments and gun victims the right to sue manufacturers.
New York Gov. Kathy Hochul, also a Democrat, last week issued a pair of executive orders. One establishes a domestic terrorism task force. The other requires state police to file protective orders under the state's red flag law, when they have reason to think that a person might be a danger to themself or others. 
Hochul said she will push two additional gun-related bills in the legislature. One would require microstamp-enabling of semi-automatic pistols made or sold by licensed dealers in New York, putting in place a technology that could help investigators match bullet casings to the guns that fired them.
The other proposed bill would require law enforcement to report within 24 hours the recovery of a gun at a crime scene. If passed, Hochul said, both bills would help streamline investigations. 
Lawmakers in Albany, meanwhile, want to strengthen the state's red flag law. It wasn't invoked against the Buffalo gunman, even though a school official had alerted police about his threatening statements.
New Jersey Gov. Phil Murphy, a Democrat, called on lawmakers to take a vote on every gun-related measure before them—both those strengthening and weakening gun control. "Let's make every legislator choose whose side they have chosen to be on; the people of New Jersey on the one hand, or the gun lobby on the other hand," he said, according to WHYY.
In Connecticut, Democratic Gov. Ned Lamont too reiterated his desire for stricter gun measures. In addition to the recent mass shootings, Lamont recalled the deaths of 26 people at the December 2012, shooting in Sandy Hook Elementary in Newtown, CT.
"We clearly have a gun problem in America," he said in a statement. "There are more damn guns on the street than ever before, especially illegal guns."
Yet during Connecticut's most recent legislative session, Lamont's efforts to rein in ghost guns—firearms without serial numbers—and to expand the state's assault weapon ban, were both blocked by Republicans, according to The Middletown Press.
---
This story was first published in Stateline, an initiative of The Pew Charitable Trusts."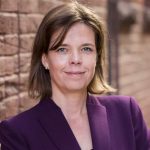 Author Barbara Barrett is the managing editor of Stateline. Before joining Pew, Barrett was national editor at McClatchy's Washington bureau, where she worked with reporters covering Congress and the federal government for the chain's 30 newsrooms around the country, including the Miami Herald, The Kansas City Star and The Sacramento Bee. She previously was the Washington correspondent and state roving reporter for The News & Observer of Raleigh, North Carolina, and has worked as a reporter or editor for the York (Pennsylvania) Daily Record, the Tampa Bay (Florida) Times and the Battle Creek (Michigan) Enquirer. Her work includes coverage of state and local policy, veterans affairs, rural issues, immigration, occasional sports events and a lot of hurricanes. She covered the 2014 Winter Olympics in Sochi, Russia, and was part of the team at The N&O that was a finalist for the Pulitzer for its coverage of Hurricane Floyd.
Photo at top: Screen shot PBS News showing mothers and children of Uvalde Elementary