Poetry & Lock-Up & Community Education
Earlier this month, an innovative youth program called We'Ced Youth Media, located in Merced, California, co-hosted an event called #SchoolsnotPrisons Merced. The event's stated purpose was "to educate the Merced community about the impact of the school-to-prison pipeline and mass incarceration." A portion of the event included poetry that expressed the pain of incarceration, both for the one who is locked-up, and for those who lose a family member to jail or prison.
What is particularly affecting about the poems, three of which you can read below, is the fact that each is clearly written from personal experience. In fact, one of the poems was written by Claudia Gonzalez, the program's director, whose own background of former gang membership and run-ins with the criminal justice system before she rerouted her life and got a full scholarship to U.C. Berkeley, give her an unusual facility for connecting with the youth she now helps to mentor and inspire.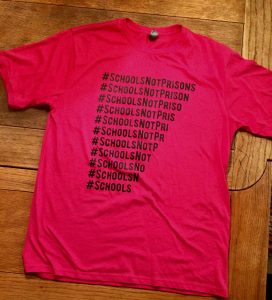 When it's not helping with community events, We'Ced Youth Media teaches groups local kids the essentials of journalism and other forms of writing in order that they can tell their stories, and the stories of their communities, with the idea of "changing the narrative around young people" like themselves and, in so doing, "challenge the status quo" in their city and county.
As it happens, Merced—the city where We'Ced is based—is a place that could use its status quo to be challenged. Last month, USA Today named it one of the ten worst cities in the U.S. when it comes to jobs, poverty, violence and crime. Its annual unemployment rate is 10.7%, with a poverty rate of 35.1%, more than double the national rate of 14.7%. And Merced's crime rate is spiking, with murders already exceeding the number for the whole of 2016.
Yet, the youth who are learning to write and report through the We'Ced program, are not afraid to take on these and other difficult issues that face their community's residents, and the young reporters themselves.
Three times a year, We'Ced (pronounced We Said) recruits and engages a new group of more than a dozen young people, ages approximately 13-24, who come from a variety of different backgrounds. Once chosen, the youth meet twice a week after school for writing, mentoring, instruction, discussion, and the creation of reporting assignments.
Interestingly, the topics that the We'Ced writer/reporters elect to explore are usually difficult enough to challenge a seasoned professional.
In April, for example, a 15-year-old student reporter Layla Ornelas wrote about how Merced high schools were allegedly punishing kids who didn't fit gender norms.
Also in April, 23-year old Crystal Rivera wrote a story called "Was It My Fault?"—Surviving Sexual abuse. In the story Rivera—who is Program Assistant for the program, as well as a reporter—delved into the issue in general, and how to recognize the warning signs of sexual abuse in children. But Rivera also wrote about her own life-altering experience of being violently sexually assaulted when she was five.
Then in June, 17-year-old student reporter Gabriela Morales wrote a Father's Day story about her immigrant dad who, for the last 27 years "has worked as a truck driver and field worker" to support his family, jobs that keep him away from home for days at a time, while his daughter struggles with "narrative around immigrants…that they are criminals, drug dealers, rapists, and thieves."
Presently, We'Ced has 17 youth reporters and 4 youth mentors, along with Claudia Gonzalez, who runs the program together with two other staff member/reporters, and Alyssa Castro, who joined at 15 as a founding youth member, who is now an intern and in-house photographer. Together they produce a stream of remarkably smart and timely stories that are published online year round, and appear in two print publications a year.
The group also participates in various community forums on a regular basis, like the "Schools Not Prisons" event, which drew 300 people, and showcased the poems below.
We'Ced is sponsored by New America Media via the YouthWire collective, and is Funded by the California Endowment.
Now here are the poems.
---
On Our Side of The System
by Nisa Salazar
As a little girl, my weekends were spent at the infamous 'California Youth Authority.'
It was "YA," the place my uncle was going to "school," but I was no fool.
It was a baby prison. A place you sent kids who did not listen.
To step foot inside you must be checked from head to toe.
My mom always told me, "it's ok we are going to see Tio in a minute." But it felt like an eternity before I could see him.
Feelings of discomfort, CO'S checking and looking at me and my family, thinking we belong there.
I was scared. The system didn't care. Incarcerating babies wasn't fair.
Vending machines everywhere. My uncle eating as if he hasn't eaten a good meal in days.
Twirling my hair, seeing the sad look in everyone's eyes. They knew the system did not CARE.
The outside area had one lonely slide, I knew then, as a little girl, that the system wasn't on our side.
No youth should spend their childhood behind bars.
Give them a chance at life. Let's fight to get the system on our SIDE.
---
La Sopa: My Incarcerated Noodles
by Claudia Jo (Gonzalez)
Add limon and tapatio, and now this famous Asian dish has a unique Mexican twist.
With every spoonful I can taste my freedom.
Only 25 cents on the streets, but to buy one sopa in here, it takes working long hours on your feet.
I am helluva chef when I prep this ramen dish.
Share with the homies or hustle to make ends meet, these sopas I eat bring me fond memories.
Counting the days, but time goes by slowly.
No visits from the family. No letters. I'm lonely.
Only concrete walls, and feelings of defeat.
These incarcerated noodles have me fiening* for the streets.
But with every spoonful I take, I can taste my freedom. With every sopa I eat, it's a whole new dia.
It's hard to imagine I'll be home one day. These sopas bring me comfort, they also mask my pain.
---
Commentary
by Tina Curiel-Allen
I didn't want to write this poem.
I have too many things to say on the subject, and to
too many people.
I'll tell you I looked my name up
recently, its something I do periodically,
to see what shows up. I found some 10+ arrests
on the initial search. I didn't even bother with
aliases or convictions. Suffice it to say,
court records will outlive us all.
My fines followed me for over a decade, refusing the
possibility of swift removal. Money has never come
easy for my family, not enough funds to pull from.
I was positive when I opened a bank account that
my name would raise flags, I distinctly recall larceny
charges that never resulted in convictions.
Paranoia has always come easy for my family,
we have too many examples to pull from.
I resisted the urge to run when the woman
walked away with my ID. There are things to
take for granted, and things to not.
My mother would give you a list of reasons
I didn't belong in jail. Her ability to overlook fact
and circumstance (evolving from a long line of co-
dependency, addiction, and struggle) was remarkable
and necessary for her at the time.
She visited me every weekend, dutifully putting her hard
earned money on my books. I have thanked her more times
than I can count for her dedication.
My father knew better.
His past was etched onto his skin while inside,
like a predetermined fate for his offspring.
He refused to see me while I was in there.
The industrial strength cleaner, the process for visits,
the armed guards, the controlled time and foods,
they held too many memories for him.
I don't fault him for this.
They had hoped that a geographic, that homeownership
in an agricultural town far from the city, would
shield us. Afford their next generation a new life.
But my blood, my inclinations, they told a different story.
And institutional memory runs deep, history reaches out
for us, past what we can see.
I think you expect me to apologize.
For the goods that I stole, for the crimes I committed.
That if I had to do it all again, my story wouldn't
involve jail. But the truth is: I'm not sorry.
I refuse to make it that easy for you. I didn't build
this system, made to house bodies so like my own.
Those decisions were made long before I came into the picture.
My past has become experiential knowledge,
not easily commodified. It is mine to own, to do with
as I will. I share it collectively, with those that
came before me, that haven't left, and the inevitable
future holders. It is armed with this awareness
that I hold this pen, that I walk these streets,
that I work for my community.
Forgetting is not an option, and apologies
are not for me to make.
---
Nisa Salazar is a 19-year-old veteran Youth Reporter at We'Ced. She says she likes to write about young people, relationships, the environment, and incarceration. Passionate about helping others, Nisa spends her off hours taking care of her sisters and various animals. She hopes to achieve her dream of receiving a Master's Degree in Psychology.
Tina Curiel-Allen is a Modesto poet, a student at UC Davis, and the co-founder of Beyond the Stats, an organization for formerly incarcerated students at UC Davis. She is also the co-editer of exist(ir), a zine documenting the Xicanx/Latinx experience in the Central Valley. And Tina is a thrifter and a cat lover.
Claudia Jo (Gonzalez) is We'Ced's Program Manager whom we'll be writing lots more about next week. So stay tuned.
---
"Schools Not Prisons" art by Claudia Jo
This story was updated on July 21 at 2:21 p.m.