At 9:37 PM on the evening of Monday, April 11, 2022, a veteran staff member, who has worked with youth for more than a decade at Los Angeles County Probation, got a text from a friend who also works for probation and was, at the time, on duty at Barry J. Nidorf Juvenile Hall.

"BJNJH on lockdown," the friend wrote. "5 unit disturbance. Minors on roof. DPO injured fell through the roof. Juveniles have taken over the facility. Armed units responding. What're they going to do? Shoot them? It's not looking good…"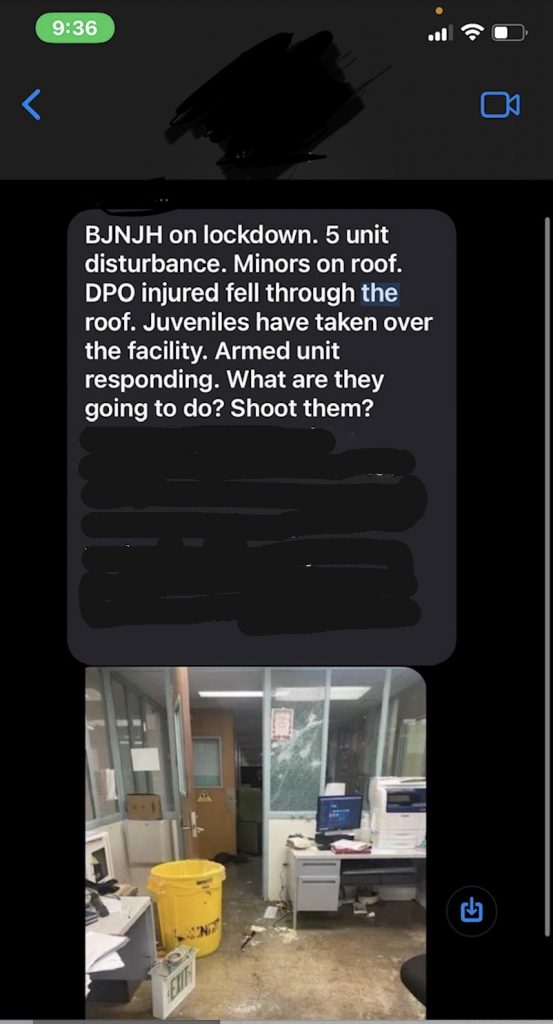 DPO stands for Deputy Probation Officer,* which are the staff members who work with kids in the county's youth camps and treatment facilities.
Barry J. as is the facility in question is known, is located in Sylmar, CA, and is the only one of county's three youth halls that still remains open.
The hall had been in a worsening state of chaos for weeks, and also suffering from critical staff shortages, so DPO's were being assigned to the Sylmar facility on an emergent basis. But on Monday, April 11, matters went from bad to far worse for both youth and staff.
Members of the department's Special Enforcement Operations Unit (SEO) otherwise known as the "armed units," did indeed show up (as the staff member wrote in the above text). But, six of the members of the SEO people reportedly wound up getting injured themselves trying to get the youth under control.

There's a lot more to this story. However, to better understand this new catastrophe we need to backtrack a bit.
The BSCC factor
In mid March of this year, in response to the looming threat that the state's Board of State and Community Corrections (BSCC) might declare Central Juvenile Hall unfit for youth habitation if the county doesn't make the proper corrections, LA County Probation Chief Adolfo Gonzales sent a notification to Central's staff telling them that both kids and staff needed to be moved out of Central to Barry J Nidorf Juvenile Hall right away. The idea was that everyone would remain in Sylmar for 90 days while needed repairs were made at Central.
The BSCC sword hanging over probation's head was a real one.
As readers may remember, last fall the BSCC voted unanimously to declare that LA County's two juvenile halls — Barry J. and Central — were so far out of compliance when it came to multiple basic standards of care, the two lock-up for kids were declared "unsuitable for youth habitation.")
Yet, sudden nature of the move, which was reportedly insisted upon by county officials, triggered at least two youth riots, as the Central kids and accompanying staff arrived at Barry J over the mid-March weekend.
Unfortunately, according to veteran probation staff members we interviewed, 90 days is not close to enough time to do the clean up, the repairs, and the other long delayed upgrades and maintenance needed if Central is going to become reasonably habitable for both kids and staff.
"I'd write up reports about things that needed to fixed," said one of our sources, "and months would go by, and I'd check, and see that nothing happened. This happens over and over."
Culture of favoritism
Probation sources we spoke with attributed many of the problems at both Central Juvenile Hall and Barry J, to poor management by many of those in charge at both facilities, up to the level of bureau chief, who they say have been promoted and kept in their positions based on favoritism instead of merit
Many praise Chief Gonzales, who came on the job in January 2021, as a reform-minded leader who intends to root out the culture of favoritism and corruption that has long-plagued LA County Probation. Yet, it has been not been an easy task, especially on the youth side of probation.
"Those are the people who undermined the last chief, and they're doing their best to undermine this one," said one probation veteran.
Nevertheless, Gonzales and his two top deputies, Chief Deputy Probation Officer Adam Bettino, and Chief Deputy Probation Officer Karen Fletcher, have reportedly been working to make the needed personnel changes among the supervisors at the two juvenile halls, along with those higher-up on the executive ladder who put those supervisors in place, and on whose watch troubling events have occurred.
The need for some kind of change at Barry J, was most recently demonstrated by the now notorious event of January 29, 2022, when a mystery intruder was able to waltz past two levels of security at the facility, then proceed to make his way into one or more youth living units, where reportedly still no one stopped the guy in a paper painter's suit, and an orange baseball cap, as he pulled out implements and proceeded to swab possibly as many as 15 kids for the COVID virus.
All this brings us back to Monday, April 15
The phone and text blackout
Whether or not the mystery intruder was the last straw, Chief Gonzales and his administration have replaced the management of Barry J Nidorf Juvenile Hall with a hand-picked new group they reportedly hope will start to turn things around.
Sylmar's new administration was scheduled to start on Monday, April 11.
But, rather than finding an appropriate way to pass the baton to the new slate of supervisors—including making the new people aware of any simmering problems—the old administration instead simply stopped coming to work on Thursday, April 7.
This meant that during the period from Thursday until the new group was to arrive on Monday, there was reportedly no higher level supervisors on site at all.
Furthermore, when problems began to heat up at Barry J, causing staff members reach out to their former bosses until the new group took over on Monday, they found that, from Thursday onward, the outgoing cabal refused to answer their phones, or to respond to texts.

And so it was that, by the time the new administration arrived on Monday morning, one or more units at Barry J had reached the powder keg status.
By Monday night the powder keg had blown, kids were on the roof of one of the facility's tool shed, and a female staff member who'd followed the kid on to the roof. fell through and was injured. Armed units were called, and so on.

The situation has not been helped by the fact that a significant percentage of the staff assigned to the the Sylmar-located facility are simply not going to work due to the volatile conditions. Instead, they "call out" sick.
"We don't have the programs we need for the kids, we need more health officers, and the minors are assaulting staff, and don't feel like they're going to face any consequences for their actions," said a probation source. "This has to change."
The Pizza cure
So, the problems continue. In the evening of Saturday, April 17, three kids reportedly tried to escape the facility, and one of the kids fell off a roof during the attempted getaway and was, said sources, badly injured.
There was, however, one bright spot that occurred earlier on that same day when, in an effort to reward the majority of the kids at Barry J who are not taking part in the riots, escape attempts, and violence, some justice advocates brought over 100 pepperoni pizzas for the youth, and for the staff members assigned to keep them safe.
"The truth is," said a staff member, "nobody feels safe."
Further illustrating the issue, on Sunday afternoon just before 5 p.m., Local 685, the rank and file union for LA County probation officers, sent out the following "E-Gram" message to its members:
"The Department is experiencing a crisis at BJN and, as professional peace officers, we are asking all members to consider reporting for duty. You can work OT in incremental shifts that work for you and your family: 2 hours, 4 hours, 6 hours, etc. Any availability is accepted. Just call and give the times you can work.
"We need to try to avoid the Department declaring a non-Covid emergency, which will lead to another round of deployment.
"We must assist this effort. This is a high alert."
More as we know it.
---
*Correction: We initially wrongly defined a "DPO," which is a deputy probation officer, as a "DSO," or a detention service officer. DPO's generally work in the county's youth camps and treatment facilities, whereas DSOs work in the juvenile halls. Due to dangerous staff shortages, however, some DPOs are being asked to work at Barry J. Nidorf Juvenile Hall on a temporary basis. At WitnessLA we promise we really do know the difference between the two designations, but did not initially catch the error until two commenters kindly brought it to our attention. (Correction made at 9:56 a.m., 4-18-2022.)