For a little over six months, kids accused of some serious crimes in Los Angeles County have the opportunity to avoid incarceration, court, and convictions through a special youth diversion program that brings kids into a restorative justice process with the individuals they have harmed, and gives victims a voice in the process.

The program is modeled after Make It Right, a successful pre-file diversion program LA County District Attorney George Gascón launched as San Francisco's DA in 2013.

LA's version, the Restorative Enhanced Diversion for Youth (REDY) program, was launched in November 2021, and expanded in December to cover more serious felony cases, including burglary, arson, robbery, grand theft, and certain assaults. The DA's office evaluates all cases to determine whether they are appropriate for the program, and cases involving murder, rape and forcible sexual acts, and cases in which the victim suffered great bodily harm. Additionally, kids who would be charged with low level crimes are, instead, referred to Teen Court and other diversion options.

The REDY process

Kids the DA's office does deem eligible for REDY must also agree to participate.

Because the diversion process occurs pre-charging, "we're not in a place of leveraging people's cooperation," said Cristine Soto DeBerry, who served as Gascon's Chief of Staff in the SF DA's Office for nine years.

Instead, "we're having a really honest conversation with them about the ways they can repair the harm they have caused," said Soto DeBerry, now founder and executive director of Prosecutors Alliance of California.

Those teens who want to enter diversion, receive an individualized program that takes into account the problems that may have led the teen to get into trouble, including substance use and mental health issues.

The community based organizations partnering with the DA's office on REDY — Centinela Youth Services and the California Conference for Equality and Justice — assess kids' needs, connect them to services, help them prepare for meeting with crime victims, and monitor them as they complete the terms of their diversion.

Kids who successfully complete the program will not face charges. Conversely, the DA's office can interrupt the process and file charges against a young person who does not show accountability or who commits a new crime or otherwise fails to meet the program's requirements.

In addition to having the opportunity to talk with the teens who have caused them harm, survivors have a say in the terms of each youth's diversion agreement.

"While victims cannot generally attend the juvenile court process, through restorative justice, we can give crime victims a chance to be a meaningful part of the process to determine appropriate restitution and resolution," said Jessica Ellis, executive director of Centinela Youth Services and the Everychild Restorative Justice Center.

Giving victims the opportunity to express their needs need is critically important and all but absent from the regular court process, Soto DeBerry said. As a society, we like to say that the traditional justice system approach is about the victim, she said, but "it's actually quite tough on them."

Victims' only option for having their voice heard in the traditional court setting, is "reading a victim impact statement after the case has already been resolved," said Soto DeBerry. Under normal circumstances, victims have "no ability to say, 'I would like an apology,' or, 'I would like them to contribute to the community,' or 'I would like them to get the help they need so they don't harm somebody else the way they harmed me.'" 

Participating victims reported high levels of satisfaction with the Make It Right experience, saying "that they [felt] more respected and more central to the process than they [did] in a courtroom process," Soto DeBerry noted.

Program proves effective

Recognizing the importance of data collection to judge a program's efficacy, the San Francisco DA's Office enlisted the non-partisan California Policy Lab to conduct a comprehensive study of the program as soon as it launched. From October 2013 to May 2019, eligible teens facing criminal charges in San Francisco were randomly assigned to either the Make It Right program or to a control group of young people who would face prosecution.

Between 2013 and 2019, 99 of the 143 cases identified as eligible were randomly referred to Make It Right, while the remaining 44 were referred to face traditional prosecution. Nineteen of the 99 youth referred were ultimately deemed unsuitable, leaving 80 kids enrolled in the program. The California Policy Lab report noted that when kids were rejected as "unsuitable," it was often because they lacked family support crucial to the process.

An enrollment rate of 4 out of 5 is high, according to the report, which said that, nationally, enrollment rates for restorative juvenile justice programs land under 50 percent.

Of those 80 enrolled kids, 53 percent completed the program and did not face charges.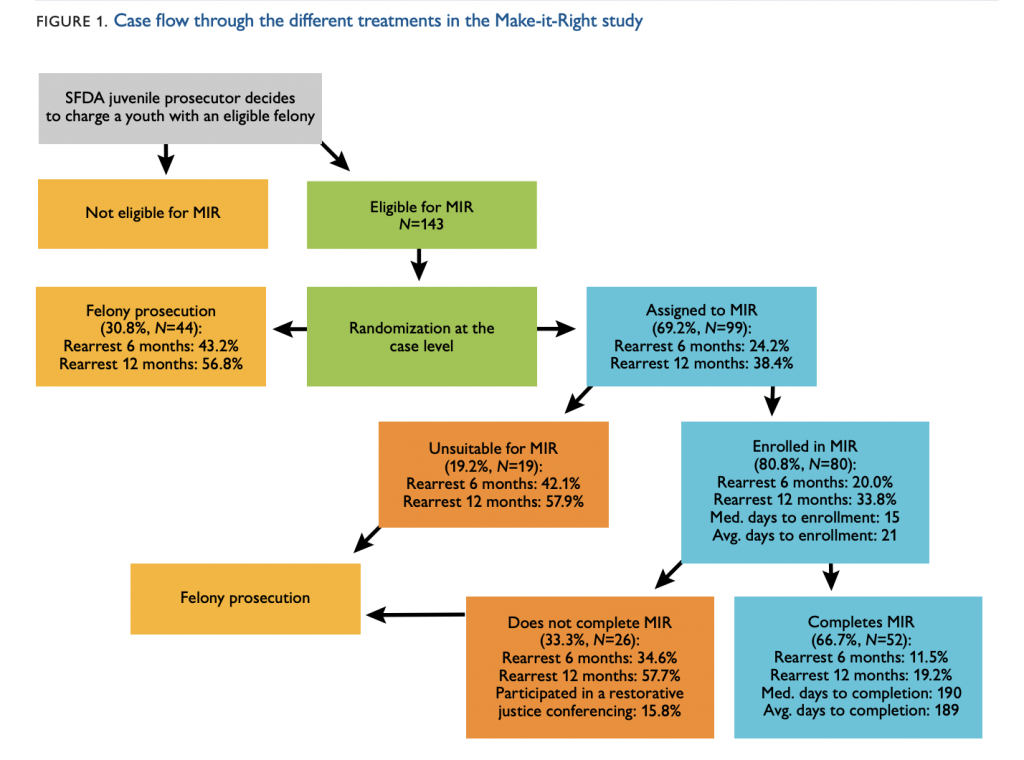 California Policy Lab researchers found that Make It Right led to marked reductions in recidivism. At the six-month mark, 43 percent of the control group had been rearrested, compared with 24 percent of those offered diversion. The reduced likelihood of arrest continued long beyond that first six months. At the four-year-mark rearrest rates were 32 percent lower for the MIR group than the control group.

And those kids who actually completed the program had even lower recidivism rates than the whole group of kids offered diversion. Just 19 percent of MIR graduates had been rearrested by the end of the first year, compared with 57 percent of those youth referred for felony prosecution instead of diversion.

The program's results, said Soto DeBerry, "demonstrate the power of accountability versus the power of punishment."

Yet, it's unclear what the fate is in store for Make It Right and the REDY program.

After George Gascón was elected LA County DA in November 2020, his successor, Chesa Boudin, expanded the Make It Right program to include young people between the ages of 18 and 25. But the progressive Boudin was ousted from office by recall during the June 2022 primary elections. Gascón, too, is facing a recall over his progressive policies. 

Boudin's replacement, Brooke Jenkins, campaigned on behalf of the effort to recall Boudin, and has vowed to get tough on crime. Upon assuming the role of SF's DA, Jenkins quickly fired 15 prosecutors Boudin hired, and has also announced she wants her office to have the discretion to request cash bail and to charge juveniles as adults, and says that she may revoke pending plea deals in drug cases.
---
Top photo: a restorative justice circle by Community Works West.