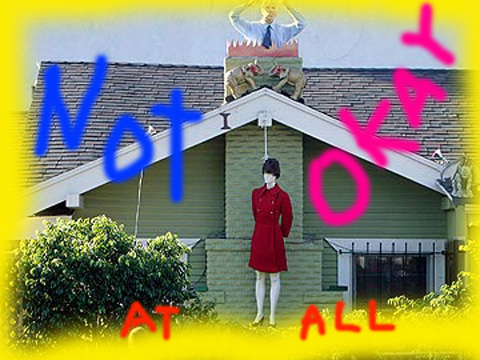 UPDATE: After a long chat with WeHo Mayor Jeffrey Prang, late today Morrisette took the effigy down. Finally.

****************************************************************************************************************

The fact that you can say or do something, doesn't mean you should.
The Sarah Palin effigy that ChadMichael Morrisette put up in front of his West Hollywood home as a so-called Halloween display is deeply offensive.
Morrisette's attitude of "Oh, it's all just Halloween fun"—or whatever it is he's been chattering to the press—does not wash.
Keith Olbermann had it right on Monday night when he chose Morrisette as his Worst Person In the World. "This is not the spirit of Halloween, sir," Olbermann said. "It is the spirit of violence."
Morrisette has assured media types who questioned him that he wouldn't have done the same thing with an image of Obama because he knew that hanging a black man was a cultural no-no.
So-o-oooooo, let me get this straight. The image of a black man being lynched is bad. But the image of a white woman being lynched is….Halloween art?
We can't force Mr. Morrisette (and his partner in poor judgment, housemate, Mito Aviles) to take the Palin effigy down. But it would be nice if the men had the good sense to do it themselves.
Instead, it seems that idiocy in this matter is being piled on top of idiocy: Yesterday, LA County Sup Mike Antonovich jumped feet first into the mix by calling for an investigation as to whether the bad taste Halloween decoration constitutes—yep, you guessed it—a hate crime.
(sigh.)

OKAY MIKE, LISTEN UP: We can save your county counsel guys the trouble, and I can give you the answer to your question right now:
NO. It's not a hate crime.
"Had this stupid act been done to Senator Obama," prattled Antonovitch officiously, "there would appropriately have been a national outcry."
Well, actually, Mike…. an Ohio man named Mike Lunsford did just that. And we were really, really creeped out by his display too.
But we didn't try to get it charged as a hate crime.
(And while we're on the subject of creepy….)
Get a grip, people.