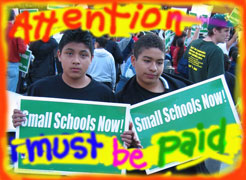 Friday, Antonio Villaraigosa said that he's going to give up on his quest for mayoral control of LA schools—a reality based decision. The four new FOA (Friends of Antonio) LAUSD board members clustered around AV at his press conference like a back-up group behind the lead singer. Along with them for the photo op was Board Prez, Marlene Cantor, a well-meaning, if ineffectual leader, and Julie Korenstein, who always seems to pay far more attention to her manicure than, say, school governance. (And, no, that isn't a metaphor.)
Conspicuously absent, was recently reelected board member Marguerite LaMotte, whose antagonism toward the mayor (she likened his school takeover attempt to the "Tuskegee experiments") and the burgeoning charter school movement are often breathtaking in their virulence.
At the event, the mayor and the board members talked cheerily of "common goals," … smaller, safer schools ….parent involvement …increased input from teachers….yadda, yadda, yadda. It was nothing that we hadn't heard….oh…a zillion times.

(Did I say I was optimistic about the future effect of the newly Antonio-tilting Los Angeles school board? My bad. I'm over it.)

ON THAT SAME DAY, there was, however, one genuinely promising development on the LA public school front: THE GROWING PARENT REVOLT.


You see, Friday was also the day that a group called the Courage Campaign, along with the 2006-formed LA Parents Union, sent out a mass email urging all LA parents and any other concerned parties to sign a petition demanding that the school board start breaking up the district's big, failing schools into smaller more manageable ones. And to do it now. Not later.
Interestingly, the petition isn't just another passive plea. It carries with it an unstated threat: IF YOU WON'T DO IT, WE WILL. You don't think so? Take a look at Locke High School, babe.
As threats go, it's a pretty good one. And, in terms of pure drama the unfolding Locke High School saga is definitely the best show in town.
In case you've forgotten, here's a quick rundown of the details….

Last week, LAUSD fired Locke's principal, Frank Wells, because he supported a Green Dot administered, small schools charter conversion of the catastrophically failing school—-and so did the majority of his tenured teachers. Thursday, parents held a rally at the school site—mostly to reaffirm their support of Wells and the teachers, and to make clear that, in terms of the conversion, they're not backing down.

Originally, LAUSD Sup Admiral David Brewer and the Board had claimed an intention to partner with Green Dot in a Locke transformation plan since the schools test scores are bottom dwelling, with drop out rates hovering at a disastrous 44 percent.

Yet, after many promises of marriage, so speak, there was never any wedding.

So the teachers, parents and Green Dot took things into their own hands. As Frank Wells put it at one of the conversion meetings, he was tired of going to so many student funerals. (The violence in and around Locke is notorious.) "I want to go to more graduations," he said.
Nothing stops a bullet like a school.
Faced with a righteous legal challenge to their authority over Locke, the district and the union claim that the faculty signatures calling for the conversion aren't valid, that the teachers didn't know what they were signing.
(Right. The teachers are idiots. Great approach.)
In the coming months, Locke will be a fascinating legal test to track-–because, if the parents and teachers can really force a conversion of the 2800-student campus into 10 smaller schools, why not Roosevelt, Manual Arts, Jefferson….and any other middle or high school that's on the state's "Program Improvement" list (which, at last count, I believe, is 103 schools out of 713).
Equally significantly, if Locke and Green Dot pull off the conversion as they intend, they will no longer be under LAUSD control. A the Times reports here, the proposed Green Dot/Locke conversion charter mandates that the money to run the school will come directly from the state of California's coffers, and not be filtered through LAUSD's bank accounts.

This means that a converted Locke will, in effect, be seeding its own mini district. In other words, this isn't merely a move to convert one 2800-student high school to smaller schools. In truth this is also the first step in a campaign to break up LAUSD, bit by bit, from the inside out.
It's about damn time.
Back in the spring of 2005, when he was right in the midst of his mayoral campaign, Antonio Villaraigosa said something prescient to Green Dot's Steve Barr who then later told me. "Nothing is going to change in this city in terms of education," said Antonio, "until you create a parent revolt."
In the end, I think Antonio articulated the key to it all. It isn't about mayoral control. It's isn't about new board members. It's about the parents and others who care desperately about the fate of this city's kids getting fed up enough to group together and then—not to ask for change—but to force it.
So if you want to really do something about this dysfunctional mess we call a school district? Sign the petition. You don't have to have a school age kid to sign it. Caring about kids is enough.
Smaller class size, smaller schools, smaller district.
Now.
Pass it on.