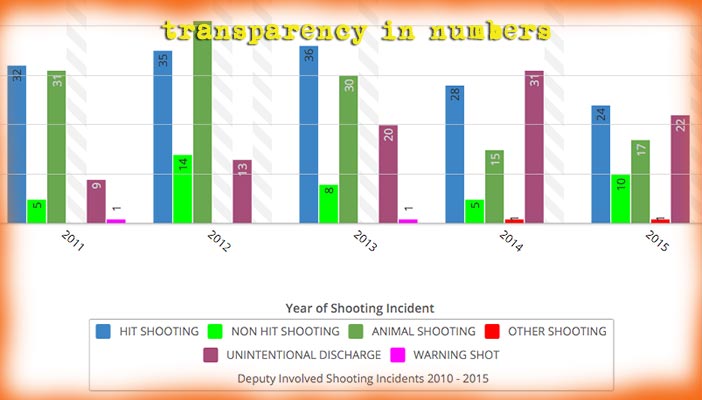 WHITE HOUSE HONORS LA COUNTY FOR IMPLEMENTING ONE OF THREE MODELS FOR TRANSPARENT POLICING
The Los Angeles County Sheriff's Department is among 53 jurisdictions participating in the Obama Administration's Police Data Initiative (PDI), which focuses on data as a means to increase law enforcement transparency and improve police-community trust.
At a PDI event, the White House honored three jurisdictions with model programs, including LA County, which was was recognized for its data sharing project.
The county's open data program publishes detailed information on deputy-involved shootings, including incident date and location, suspect's age, race, mental health concerns, criminal history, whether the suspect was wounded or killed, on probation or parole, under the influence, weapons involved, the number of involved deputies, whether force and tactics were within policy, and whether the deputy received training or discipline.
The other California jurisdictions involved in the initiative are the cities of Los Angeles, San Diego, San Francisco, San Jose, Santa Rosa, Vallejo, Oakland, Richmond, Menlo Park, and Chula Vista.
---
MORE FROM THE WHITE HOUSE: HUNDREDS OF EVENTS IN LOS ANGELES AND ACROSS THE NATION MARK NATIONAL REENTRY WEEK
The US Department of Justice has designated this week (April 24-30) National Reentry Week. The 94 United States Attorney's Offices and Bureau of Prison facilities are holding more than 570 events across the country aimed at improving outcomes for people touched by the criminal justice system.
As part of National Reentry Week, the DOJ and Dept. of Housing and Urban Development (HUD) announced a pot of $1.75 million to go to Public Housing Authorities teamed up with non-profits to help youthful offenders successfully return to their communities, by helping them with housing and employment.
The Housing Authority of the City of Los Angeles in collaboration with the non-profit Public Counsel, was selected as one of the 18 grant recipients, and was awarded $100,000. LA's project will be bolstered by an in-kind match of $1,390,650 ($1.3M of that funding will come from the Mayor's Office of Gang Reduction and Youth Development), which will provide case management for hundreds of youth. (Read more on the individual local efforts: here.)
"The future of our nation depends upon the future of our young people – including young people who have become involved with our justice system," said Attorney General Lynch. "By helping justice-involved youth find decent jobs and stable housing after they return home, these critical grants provide a foundation for a fresh start and offer a path towards productivity and purpose."
---
LASD DEPUTY CLEARED ON FELONY ASSAULT, CONVICTED OF MISDEMEANOR ASSAULT, IN JAIL BEATINGS
On Monday, Los Angeles County Sheriff's Deputy Jermaine Jackson, accused of beating three jail inmates—Cesar Campana, Derek Griscavage and Jonathan Murray—in separate incidents between 2009-2011, was acquitted of the final felony charge in a string of charges against him.
Jackson was acquitted of three felony counts of assault likely to cause great bodily injury, three felony counts of assault by a public officer, and three felony counts of filing a false report, but was convicted of three misdemeanor counts of simple assault.
Jackson says he punched Murray in the eye after the inmate kicked him in the groin. He also says he punched Campana in the ear and kicked him in the head while trying to gain control.
During the trial, Deputy District Attorney Ann Marie Wise said that Jackson "solves problems in the jail with his fists," and then covers up his actions with falsified incident reports. But defense attorney Richard Hirsch said LASD officials made Jackson a scapegoat.
Jackson, who is relieved of duty without pay, is scheduled to be sentenced June 6.
City News Service's Elizabeth Marcellino has the story. Here's a clip:
"We feel that Jermaine Jackson was sort of made a scapegoat for all of the failings of the Sheriff's Department," defense attorney Richard Hirsch told City News Service outside court.

"Because of a lack of training" and because of approvals he received from superiors, "he was led to believe that certain ways of dealing with inmates were OK," Hirsch said…

Hirsch said the three misdemeanor convictions were "inconsistent" with jurors' other findings and that he planned to file a motion for a new trial.

Wise focused on the acquittals, saying, "Despite the increase in public awareness of police abuse, this shows just how difficult it can be to secure a conviction against a member of law enforcement."

Jackson was accused of assaulting three inmates — Cesar Campana, Derek Griscavage and Jonathan Murray — in separate incidents between 2009 and 2011.

During the trial, Jackson took the stand and admitted to punching Murray in the eye when "he tried to kick me in the groin."

Jackson also agreed that he punched Campana in the ear and kicked him in the head, saying that was the only way he could control the inmate.

Griscavage head-butted the deputy during a physical encounter, Jackson said.

[SNIP]

"Deputy Jackson solves problems in the jail with his fists" and then "filed false reports … to justify his actions," Wise argued.
---
SF PUBLIC DEFENDER JEFF ADACHI TAKES ON BAIL IN SAN FRANCISCO WITH INNOVATIVE PRE-TRIAL INTERVENTION TEAM
While black defendants in San Francisco are more likely than their white counterparts to be qualified for pre-trial release, judges were far less likely to allow black defendants to await trial at home instead of jail, according to a report commissioned by San Francisco Public Defender Jeff Adachi in 2015.
The cash bail—punishment-until-proven-innocent—system has a disproportionately negative impact on poor and minority Americans, and contributes to overcrowding in jails.
( target="_blank">John Oliver has an excellent segment on the horrors of the cash bail system.)
To address this issue, Adachi established a Bail Unit to help more defendants win pre-trial release. Of the 220 cases handled by the team of two lawyers, two paralegals, and a few interns, 70 defendants have either had their bail reduced or eliminated altogether.
Kamala Kelkar has more on the issue for PBS NewsHour. Here's a clip:
"This is often the most important decision that can be made in the case," Adachi said. "If the client is not released, the chances of them pleading guilty, the chances of them losing their housing and their job and everything else are much higher."

In San Francisco, only about six percent of the population is black, according to the U.S. Census, yet an analysis commissioned by Adachi found nearly half of the city's inmates are black. Nationally, the Federal Bureau of Prisons reports that 37.6 percent of its inmates are black while the U.S. Census reports that black people encompass about 13.2 percent of the national population.

[SNIP]

"Part of what we're trying to do is get the court to acknowledge that there is an implicit bias," Adachi said.

In Adachi's view, many defendants behind bars may not pose a public safety or flight risk, but are awaiting trial in jail because they cannot afford to post bail, the monetary deposit levied to ensure a defendant will be present at trial. In San Francisco, bail is set by a judge during a quick hearing within 72 hours of the arrest and it is based on a predetermined fee schedule that is weighted by the severity of the charges.

Bail fees in general are intended to incentivize a defendant to return to court when needed, preserving public safety. Under California law, every defendant in the state has the right to a hearing to reevaluate his or her initial bail. But public defense lawyers rarely have enough time to do the vigorous work of collecting evidence that might merit an inmate's release. That's where Adachi's team comes in.

Since September, almost all of the public defender's cases have been sent to the Bail Unit for investigation.

District Attorney George Gascón has also been in favor of restructuring the city's bail system, but is engaged in a different approach.

In May, San Francisco will start using an automated survey called the Public Safety Assessment. It uses nine factors that predict on a scale of one to six whether the defendant will flee or offend before the trial. The results will be given to the judge for consideration.