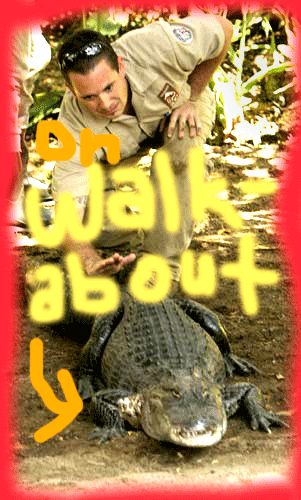 Okay, yes, granted, I should be writing about something entirely different right now (and if my editor is reading this, I AM working very hard, really I am), but sometimes an important story breaks and it—-of necessity—moves to the top of the priority list.

Clearly this is such a case:

A little while ago, smart WLA commenter, Listener On the Sidelines, tipped me to the fact that…..REGGIE THE 'GATOR ESCAPED the Los Angeles Zoo last night. (For back story on Reggie look here.)
He was discovered missing from his exhibit early this morning. Zoo detectives eventually found him about 10 am, calmly sunbathing at a spot approximately 400 yards from his enclosure.
Turned out the 7 1/2 foot long, 120-pound critter climbed a five-foot, chain-link fence to make his break out. (The zookeepers know this because they followed Reggie's "slime trail" in order to track how he'd managed to stage his getaway.)
Even higher level zoo officials couldn't stop themselves from making jokes about the flight of the famous 'gater.
"I think he was trying to find the 110 (Harbor Freeway) south," said zoo Director John Lewis.
Word is there was a bit of wrestling needed to get Reggie back inside.
Janice Hahn, an LA City Councilwoman and admitted Reggie groupie, opined that maybe the 'gater was headed back to Harbor City. "We all know that Reggie is a very smart and elusive gator," she said.

However local CBS News reporters felt it was really more of an issue of the 'gater feeling lonely.
"If you know any single, female Alligators – preferably named Regina – please contact CBS 2/KCAL 9 News immediately," they wrote, in a rare moment of courageous journalistic advocacy.
Roger. Will do.

Go, Reggie!

(Reggie photo by Mel Melcon/LA Times)