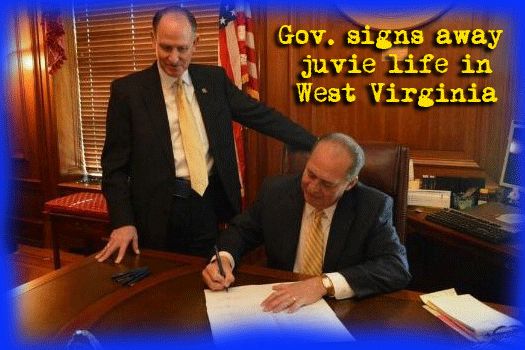 EDITOR'S NOTE: LIGHT POSTING TODAY….as I'm a bit under the weather. More news coming tomorrow.
---
WEST VIRGINIA ELIMINATES JUVIE SENTENCES OF LIFE WITHOUT PAROLE
The state of West Virginia voted on Friday to make all those sentenced as juveniles in adult court to be eligible for parole after 15 years, a decision that lawmakers hailed as maintaining public safety as well as being sound policy.
The Campaign for the Fair Sentencing of Youth has the story:
Here's a clip:
West Virginia has eliminated the practice of sentencing children to die in prison. Every child convicted and sentenced in adult court will be eligible for parole no later than after serving 15 years. With this new law, West Virginia is among a growing number of U.S. states that have either abandoned this sentence or severely limited its use. The U.S. is the only country in the world that imposes this sentence upon children.

"We applaud West Virginia for responding in a meaningful way to the recent U.S. Supreme Court rulings that children are 'constitutionally different' from adults and should not be subject to our nation's harshest punishments," said Jody Kent Lavy, director & national coordinator of the Campaign for the Fair Sentencing of Youth. "This new law ensures young people are held accountable for harm they have caused in a way that accounts for their unique characteristics as children and offers them hope of a second chance."

Gov. Earl Ray Tomblin signed HB 4210 into law on Friday. The bill passed with overwhelming bi-partisan support in the House of Delegates and unanimously in the Senate.

"This bill demonstrates that we take seriously our responsibility of caring for young people and for making sure our communities are safe," said Sen. Corey Palumbo, D-Kanawha, Chair of the Senate Judiciary Committee. "Under HB 4210, children who are convicted of serious crimes will be held accountable for their actions. However, they will also be given a meaningful opportunity to demonstrate later in life that they have been rehabilitated and deserve a second chance. This bill represents our understanding that children are different from adults and that our courts need to take these differences into account when dealing with children. It is also sound fiscal policy for West Virginia, allowing us to maintain public safety while ensuring that we make the best use of our state's limited financial resources."
---
LA SHERIFF'S DEPUTY CLIQUE DEMANDED SEX FROM FEMALE TRAINEES, SAYS LAWSUIT
In a lawsuit filed last week, Guadalupe Lopez, a ten year veteran of the force who is now getting her law degree, describes how members of an 80 member deputy clique who called themselves the Banditos sexually harassed, threatened and demanded sex from her as part of "training" when she was transferred to the department's East LA station in 2011, according to a story first broken by NBC's Andrew Blankstein.
Here is a clip:
Guadalupe Lopez, who was assigned to the East Los Angeles Sheriff's station in Boyle Heights beginning in 2011, is seeking unspecified damages for alleged sexual harassment, hazing and retaliation that included being run off the road by another deputy, being slammed into a wall while she held a loaded shotgun, and having a dead rat placed under her car after she reported objectionable behavior, according to the lawsuit.

There were about 80 deputies associated with the Banditos, whose full members sported numbered tattoos of a skeleton with a sombrero, bullet sash and pistol, the suit alleges. Probationary deputies, meaning trainees, were allegedly described as "prospects" or "puppies."

Female trainees were expected to "submit" and "provide sexual favors for male training officers and their associates," according to the 33-page suit filed by attorney Jason M. Wymond. The suggestion was that if a trainee provided these favors, she would become a full-fledged patrol deputy rather than being forced to work at a Los Angeles County jail, where most deputies begin their careers.

"Plaintiff was made to understand that she was expected to be 'One of the Girls,' which included drinking, partying, and the fulfillment of the 'sexual needs' of her male training officers and their associates," the complaint alleges.
Several other lawsuits alleging sexual harassment by superiors have been filed in the last two years against the sheriff's department, as have other lawsuits reporting threats and repeated retaliation aimed at department members who attempt to report wrongdoing in the LASD.
---
SHERIFF'S CANDIDATE CRITICIZED FOR GAG CALL
Assistant Sheriff James Hellmold, who is one of seven candidates running for sheriff, is in the news for using what sounds like an attempt at an east Indian accent in a 2010 faux complaint call that the Los Angeles Times reports was part of a prearranged skit recorded for a watch commander's retirement party.
LAT's Robert Faturechi reports:
The gag call starts out with Hellmold asking for "the watching commander," a play on the traditional title of watch commander. In accented English, Hellmold says: "Deputy sheriff don't care about the community….That's why I call now."

Back in 2010, when The Times first inquired about the call, a sheriff's spokesman mostly defended the incident, calling it a "prearranged sound bite" that "did not influence public safety."
But records reviewed by The Times show that after the newspaper's inquiry, Hellmold received "documented counseling" in connection with the joke. Hellmold's boss at the time wrote "you disguised your voice in a manner that sounded representative of another ethnic group."
WLA obtained the recording as well, and learned from LASD sources that the call was criticized by department members at the time as immature and showing less than ideal judgement for someone of Hellmold's then rank of captain.
On Friday, Hellmold's campaign spokesman told the LA Times that the "candidate 'certainly meant no disrespect" with the gag, 'and regrets if anyone may have taken offense.'"
---