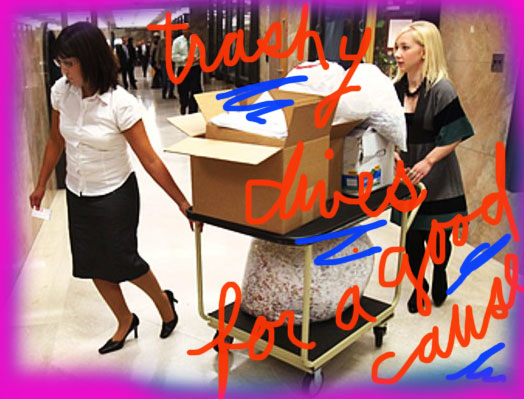 CSU STUDENTS GO DUMPSTER DIVING AND FIND SHREDS OF PALIN CONTRACT CONTROVERSY…
It all started on Friday when some enterprising political science students from the California State University at Stanislaus decided to poke around in a trash bin outside the university's administration building, and found some shredded documents and something that appeared to be a contract. They fished the rest of the documents out and discovered that six pages out of a nine-page document were still intact and, indeed, appeared to be some kind of speaker's contract. The speaker—while not named— was coming from Anchorage Alaska on June 25, the date that Sarah Palin was set to show up on campus for a $500 a plate dinner being put on by the CSU Stanislaus Foundation.
Those six pages spelled out all kinds of fun details of what the speaker required—from flex straws for water to a diagram showing how furniture should be arranged for the post-speaking photo shoot with audience members. (The Sacramento Bee has most of that.)
The find was relevant because, for the past month, there had been a on campus about Palin's appearance, what she was being paid, and where the proceeds of the night were going. And, in response to inquiries on the subject, both university officials and foundation administrators had been extremely non-disclosing.
The biggest kerfuffle was about whether or not the public had the right to see any relevant speaker's contract for an event such as this one being held on the campus of a public university. In response to a Public Records Act request, CSUS officials reportedly claimed there was no contract anyway, which is what led students to go dumpster diving. Et voila!
The divers turned their finds over to State Senator Leeland Yee, and a joint press conference was held early on Tuesday featuring Yee and students Alicia Lewis, and Ashli Brigg, now cleaned up and wearing heels. By afternoon the docs were handed over to Attorney General Jerry Brown who has launched an investigation.
The San Francisco Chronicle (among others) has reported on the unfolding story here and here.
"This is not about Sarah Palin," Brown said in the statement his office put out Tuesday. "She has every right to speak at a university event, and schools should strive to bring to campus a broad range of speakers. The issues are public disclosure and financial accountability in organizations embedded in state-run universities. We're not saying any allegation is true, but we owe it to the taxpayers to thoroughly check out every serious allegation."
Yee likened the whole thing to a mini-Watergate-–which overstates the matter's importance by about 1000 degrees. But it is nonetheless an intriguing story to follow, in part because of the pro-active student participation, but also because it has implications that, as Brown said, go to the heart of what our public universities do and do not owe us in terms of information and accountability.
---
AND WHILE WE'RE ON THE SUBJECT OF SMART STUDENTS, BILL BOYARSKY PROFILES USC'S NEON TOMMY FOR TRUTHDIG
Respected LA journalist Bill Boyarsky looks at how Annenberg's student-run digital publication, Neon Tommy, is filling some of the gaps left by traditional media and finds himself heartened by young reporters' and editors' "nothing can stop me" attitude.
Here's how Boyarsky's column opens:
My search for the I.F. Stone of the 21st century took me to the campus of the University of Southern California and the highly energized office of the Web-based news operation Neon Tommy, sponsored by USC's Annenberg School for Communication & Journalism.

The university, long shackled with a reputation for conservatism, might be considered an odd place to look for a potential successor to Stone, a crusading liberal journalist ostracized by the mainstream media during the Cold War who nevertheless broke major stories in his own I.F. Stone's Weekly. But USC is changing. And even the old conservative USC produced progressives such as my personal hero, Carey McWilliams, who was editor of The Nation from 1955 to 1975. Truthdig's editor, Robert Scheer, is on the Annenberg faculty.

I wanted to talk to some of the Neon Tommy staff because I think that the salvation of journalism rests with young people who are talented, ambitious, intelligent, obsessive and crazy enough to jump into what is rapidly becoming a low-paying, insecure business. As Alan Mutter said of young journalists in his Reflections of a Newsosaur blog, "The starving-artist lifestyle may be colorful and appealing for a while, but it gets old fast if you are bunking on a friend's sofa, living under the same roof you did in junior high and lying awake at night wondering how you are going to repay your staggering five-figure student loan.
Read the rest. It's hope producing.
---
ARIZONA PASSES STRICTEST IMMIGRATION LAW IN NATION, TURNING COPS INTO ICE AGENTS
And not all law enforcement is thrilled. The LA Times has the story. Here are the first few 'graphs.
Arizona lawmakers on Tuesday approved what foes and supporters agree is the toughest measure in the country against illegal immigrants, directing local police to determine whether people are in the country legally.

The measure, long sought by opponents of illegal immigration, passed 35 to 21 in the state House of Representatives.

The state Senate passed a similar measure earlier this year, and Republican Gov. Jan Brewer is expected to sign the bill.

The bill's author, State Sen. Russell Pearce, said it simply "takes the handcuffs off of law enforcement and lets them do their job."

But police were deeply divided on the matter, with police unions backing it but the state police chief's association opposing the bill, contending it could erode trust with immigrants who could be potential witnesses.

Immigrant rights groups were horrified, and contended that Arizona would be transformed into a police state.
Sheriff Joe Arpaio must be ecstatic.
---
AVERAGE PEOPLE TURN TO SOCIAL MEDIA TO DODGE DRUG WAR VIOLENCE
The Houston Chronicle reports—almost offhandedly at the end of a news article—that in the ever escalating Mexican drug gang battles that have, in many cases, frozen traditional media in the area, people are turning to social media to communicate news and dangers. (Chapeau tip to Grits for Breakfast for flagging this piece.)
Here's the relevant clip:
With the traditional media gagged by gangster threats and officials' desire to downplay events, common citizens have largely taken to reporting on the violence on their own though You Tube, Twitter and blog postings.

State and local officials first blamed such "social networks" for fueling unfounded fear.

But Reynosa officials started twittering in late February about gunbattles and other "risky situations." And the official Web site of Tamaulipas state, of which Reynosa is the largest city, has begun carrying news about such clashes.

"It could be a gunshot, it could be a grenade, it could be a threat," Triana, who directs Reynosa's Twitter efforts, said of what merits a tweeted alarm. "We are just trying to advise people so they don't run risks."
---
Photo by Rich Pedroncelli / Associated Press