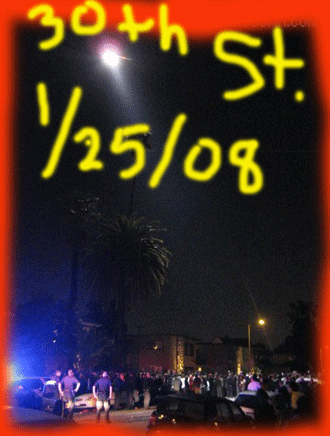 Did the LAPD use excessive force at a USC block party this past Friday night? Or were officers simply doing what needed to be done to control a bunch of drunken and rowdy college students who were getting out of control?
The answer may be somewhere in between. But information available thus far suggests the behavior of the police bears further scrutiny.

I first heard about the incident through two of my USC journalism students, both smart kids, who each called me the next day, Saturday, to talk about what they'd seen and experienced. Here's the picture I've been able to gather from them and from other sources:

This past Friday night, January 25, some USC students organized a party on 30th Street near Orchard, an area where many have off campus housing. It was billed as an Around the World block party, and was reportedly open to anybody at the University Before the revelry started, students were warned by the event's organizers to keep all alcohol inside the various host houses, and not to drink in the street.

But you know how that goes.
Student bloggers who have since written about the night say the booze ran out early, the DJs turned off the music just after midnight, but around a thousand kids were having too much fun to leave, so stayed and hung out. Around the time the music ended, USC's school security (USC DPS), which had been monitoring the event, called the LAPD for help in breaking up the party.
Worried that they wouldn't have enough officers to handle this size crowd, the department called a a tactical alert, meaning everyone going off shift had to stay on. Eventually somewhere upwards of 75 to 100 cops showed up at 30th and Orchard. They came predominantly from the Southwest division of the LAPD, with some from 77th and elsewhere in the department. Using bullhorns, the officers told partiers that the gathering was now an unlawful assembly and that the students had to disperse.

Many of the kids did indeed scatter for shelter, but several hundred, at least, it seems did not. Instead they either stood or sat down in the middle of the street and refused to move. According to the police and some student witnesses, several of the drunker, stupider partiers threw beer bottles at the cops, and officers moved in to handle the offenders.
It is at his point that the accounts of what happened diverge. Students who were present say officers used force on not only the handful of bottle throwers, but also Tased and hit students who were in no way aggressive. And of the nine students arrested that night, not all were actual troublemakers.
Here's a clip from what the Daily Trojan, USC's school newspaper (which did a credibly professional job of reporting) had to say:
Many students said they were Tasered by officers or struck with nightsticks.

Daniel Bell, a junior majoring in communication, said he was recording LAPD officers struggling with students on his cell phone when one of the officers pointed at him.

"Three officers jumped me and threw me onto a car. I didn't struggle or anything. They made me put my head down and spread my legs."

When Bell realized he had lost his phone and asked for it back, "The officer picked it up, looked down at it, pressed the delete button, switched it off and put it in my pocket."

Some students also said LAPD shot them with rubber bullets. [NOTE: A police spokesman assured me that this last was impossible, that those particular weapons were not present that night.]

One student also said that an officer covered up his badge when the student tried to read the number. Another student claimed an officer denied a mark on his ribs was caused by a Taser shock.

"When I was filling out my police report, I told one of the cops I got Tasered," said Dan, a USC student who asked that his last name not be used. "The cop looked at the big mark on my ribs and told me it wasn't a Taser mark."

Dan also said that while he filled out his police report, he attempted to read a police officer's badge number, but the officer covered his chest.

"I got a baton to the face and I tried to scuffle backward, but they came at me too fast," Dan said. "I got another baton to the knee, and the wall of police just continued to move at us."

Mario Imbert, a student at the Art Institute of California, said a police officer used a Taser to subdue him.

"Dan got hit, and I tried to help him up," Imbert said. "Then [police] tased me a couple times. It felt like my entire body was out of control. They Tasered me in my ribs, and I could feel it in my jaws and in my feet."

Now, no one would argue against an officer having the right to use appropriate force on a large, drunk, bottle-throwing college guy. But, in multiple instances eyewitnesses insist that they saw an indiscriminate use of Tasers and batons on non-agressive students. According to an LAPD spokesman, if this happened, it is well outside department policy.
In one of its reports on the May Day/ McArthur Park debacle, the LAPD made it clear that officers do not have the right to whack people with batons simply because said people refuse to move when ordered to do so. According to LAPD policy, batons are only to be used when a suspect is "aggressive and combative." The same principle is true of Tasers.

Sgt. Robert Rivers, who was the night's incident commander, told me that a Taser was only used once, and then only on an out-of-control boy who slugged a police officer. So why did so many kids who attended, my students among them, say that Tasers were used on partiers who were either trying to get out of the cops' way, or were simply not moving?
(Naturally there are several" frameborder="0" allowfullscreen> videos on YouTube of the night's events, none of them terribly conclusive.)

To his credit, Sgt. Rivers (who seemed like an intelligent, straight-shooter) said that if students had witnessed or experienced additional Tasings or baton whackings, they should call him personally and report it. "I want to know," he said.
Okay, USC students, what about it? If you believe the LAPD used excessive force, time to step forward. Make the call. 213-485-2582.
(photo from SketchyTown)