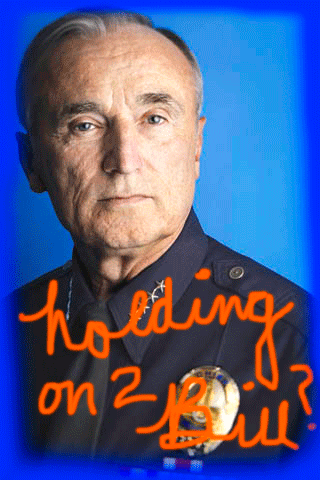 SHOULD THE RULES BE CHANGED SO LAPD CHIEF BILL BRATTON CAN SERVE A 3RD TERM?
Hmmmm. Yeah. Probably so.
Yesterday, Los Angeles City Councilman Herb Wesson called for public hearings on whether to do away with the two-term limit for the city's police chief. If Wesson's idea gets legs, this means Bratton Could serve as chief until 2017.
Certainly there are other talented people who could replace the Chief, if it comes to it. But it would sure be great to hold on to Bratton.
Here are some details from the story by the LA Times' Phil Willon and Joel Rubin:
Removing the term limits would require voter approval and revise one aspect of the police reforms that stemmed from the riots after four LAPD officers were initially acquitted of brutality in the 1991 beating of Rodney G. King. Those reforms limited the police chief to two five-year terms.

Bratton is the first LAPD chief to serve a second five-year term since voters approved the reforms in 1992. Previous chiefs Bernard C. Parks and Willie L. Williams each served one term and were not reappointed by the city's civilian Police Commission.

"Why would you not want to have an option to retain a person who is doing a good job?" asked Wesson, who plans to bring a motion before the City Council on Friday seeking public hearings. "I think at this point, we just want to begin the conversation."
******************************************************************************************************
WHY ISN'T LAUSD SPENDING ITS STIMULUS MONEY ON TEACHERS?

in a follow-up to this week's bleak news about teacher layoffs, ex-school board member, David Tokofsky, has an opinion piece in today's LA Times in which he points out that LAUSD will likely get $1 billion in stimulus money. So why, Tokofsky wants to know, isn't Roy Cortines using that money to retain—even hire—teachers, when having enough quality teachers is so crucial to giving students what they need to succeed.

Here's the heart of it:
My fifth-grade daughter, Rebecca, came home the other day with the news that her dedicated, talented teacher had received a pink slip. Ms. Stanco's notice that she might be laid off — a Xeroxed form letter with her name filled in at the top — arrived just two weeks after the team of kids she coached brought home the gold medal from the Los Angeles County Science Olympiad.

I know from experience how she feels. In 1992, during another of California's fiscal crises, I received a pink slip shortly after winning the California Teacher of the Year award. Like my daughter's teacher, I also had put in countless hours of my own time to coach a team of students. That team became the first in the Los Angeles Unified School District to win the national Academic Decathlon.

[SNIP]


It's all the sadder because this time the pink slips were sent out at the very same time President Obama came to town to deliver a message of hope. His plan to stimulate the economy includes education funding, and the LAUSD could receive more than $1 billion from the package.

Now is the time for Supt. Ramon C. Cortines to think about creating jobs and improving education. Instead, he wants to slash, not because he has to, one has to suspect, but because it's a way of accomplishing his vision of a decentralized district.

The money is intended as a stimulus, not as a hedge against future needs. It needs to be spent quickly, and it needs to be spent saving jobs

EXTRA: USC'S SOUTH LA REPORTING PROJECT reporter, Alex Caputo-Pearl, gives us a look at teacher organizing around the pink slip issue.
*******************************************************************************************************
SCHWARZENEGGER LOSES SEND COURT BATTLE IN A ROW OVER PRISONS

Here's the SF Chronicle's story on the slapdown Governor Arnold Schwarzenegger received from the 9th Circuit Court of Appeals around the issue of the state's prison healthcare system:
A federal appeals court reinstated contempt-of-court proceedings Wednesday against Gov. Arnold Schwarzenegger for defying a judge's order to pay the first $250 million of a multibillion-dollar plan to rebuild the state prison health care system.

The ruling by the Ninth U.S. Circuit Court of Appeals in San Francisco was the second rebuff in two days for state officials challenging federal authority over medical care in California prisons.

On Tuesday, U.S. District Judge Thelton Henderson of San Francisco rejected the state's attempt to regain control of the prison health system. Henderson appointed a receiver to manage the system in 2006 after finding that one inmate a week was dying because of inadequate health care and that the state was unable to meet constitutional standards. Schwarzenegger said he would appeal.

Whatta mess! It would have been helpful if Schwarzenegger and the state leg had managed to fix the problem earlier, then we wouldn't be in the fix.