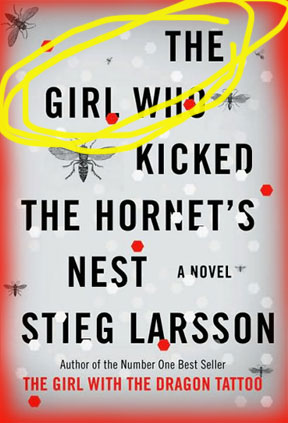 The cover of Sunday's New York Times Book Review is devoted to the third book in Stieg Larsson's staggeringly popular Swedish thriller trilogy, The Girl Who Kicked the Hornet's Nest.
Good call, NYT.
For those of you who have not (yet) succumbed and are aghast that your normally sensible friends have been so relentlessly effusive about a freakishly best-selling series—(or even worse, couldn't stand the wait for book 3 so persuaded somebody in Europe to send it to them ahead of the American pub date)— reviewer David Kamp explains everything.
Here's the short form:
All three books are centered on two ­principal characters: a fearless middle-aged journalist named Mikael Blomkvist, who publishes an Expo-like magazine called Millennium, and a slight, sullen, socially maladjusted, tech-savvy young goth named Lisbeth Salander, the "girl" of the books' titles, who, in addition to her dragon tattoo, possesses extraordinary hacking abilities and a twisted, complicated past. Together, Blomkvist and Salander use their wiles and skills to take on corporate corruptos, government sleazes and sex criminals, not to mention these miscreants' attendant hired goons.

This all might sound rather Euro-cheesy, a bit Jean-Claude Van Damme, but it's not. Larsson was a cerebral, high-minded activist and self-proclaimed feminist who happened to have a God-given gift for pulse-racing narrative. It's this offbeat combination of attributes — imagine if John Grisham had prefaced his writing career not by practicing law in Mississippi but by heading up the Stockholm office of Amnesty International — that has made the series such a sui generis smash.
Exactly—especially the Grisham/Amnesty International part.
Don't misunderstand. The books do not belong in the realm of belles lettres. Larsson is occasionally a bit pedantic with his exposition and his prose sometimes veers toward the ham handed. But none of that matters because, at the center of the series' appeal is Lisbeth Salander, one of the most irresistible literary creations in recent memory.
We're only halfway through the holiday weekend, meaning there's still much reading time left before Tuesday. So what, really, are you waiting for???
Start with book one and enjoy. (Resistance is futile.)
Heck, I envy those of you who still have the whole three-book experience ahead of you.
---
PS: Once you've read the trilogy, go to last week's NY Times Magazine and read about the ridiculously complicated real life drama that's been occurring over the rights to Larrson's literary estate.