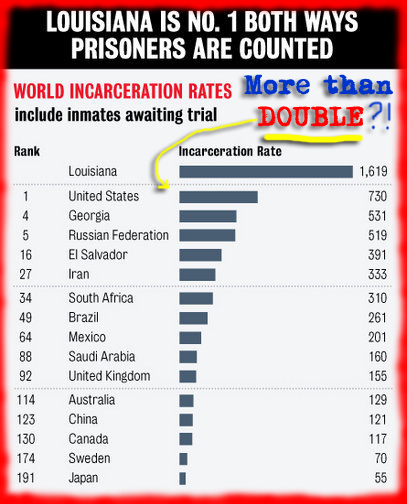 LOUISIANA LEADS THE WORLD IN INCARCERATION RATES
Louisiana has more people behind bars per capita than anywhere else on earth, with a rate of one in 86 residents incarcerated. From the for-profit prisons that keep their facilities over-crowded to keep cash flowing, to the minimal rehabilitation opportunities at the local level, to the preposterously lengthy prison sentences–New Orleans Times-Picayune's eight part series sheds light on the poor infrastructure that makes Louisiana the prison capital of the world.
NOLA's entire series is worth reading, but here is a clip from Part 4: Unusual Punishment:
Brian Martin is serving 24 years behind bars — without the possibility of parole — for a car burglary. The 22-year-old had two other burglaries on his record when he was arrested near Abita Springs on June 8, 2011, after stripping a BMW of its stereo and steering wheel. If charged as a three-time offender, he could have received life without parole. His attorney, Doyle "Buddy" Spell, persuaded prosecutors to consider only the two most recent car break-ins, taking a life sentence off the table, but doubling the 12-year maximum for a first-timer.

Martin, a drug addict with a mop of unruly blond hair, will be 46 when he is released from prison in 2036. "I would suggest that we just threw away a life and that the punishment did not fit the crime," Spell said.

Sentences of several decades, or even life, for nonviolent crimes are not unusual in Louisiana. The state's prisons are filled with Brian Martins — petty criminals who in another state would have received a much shorter sentence or no jail time at all. Unusually tough sentencing laws are one major reason Louisiana has the highest incarceration rate in the world.

"We see the only goal that is being reflected accurately might be retribution," said Katherine Mattes, a professor at Tulane Law School and interim director of the university's Criminal Litigation Clinic.

In Texas, no bastion of liberalism, a two-time car burglar would be guilty of a misdemeanor and sentenced to a maximum of six months. California's famous three-strikes law does not kick in unless at least one of the crimes was a rape, murder, carjacking, residential burglary or other major felony. There, Martin would have received no more than a year behind bars.

In Louisiana, about 160 habitual offenders whose most recent crime involved nothing more harmful than marijuana are serving 20 years or more. More than 300 people serving life without parole in Louisiana have never been convicted of a violent crime.
---
LONG BEACH MAN EXONERATED OF RAPE CONVICTION
Brian Banks was cleared of a 2003 rape conviction with help from the California Innocence Project. His accuser, Wanetta Gibson, was secretly recorded admitting the accusation was false during a meeting with Banks. Now Banks suing California for his false imprisonment.
KPCC's Patt Morrison had Brian on the show to tell his story. Here's a clip:

Banks, who was 17 at the time of his trial, pleaded no contest to the charges in order to avoid the possibility of facing 40 years to life in prison in a conviction. He spent six years in prison and was under very restrictive parole until his accuser was recorded saying she wasn't raped and that she is afraid of coming forward because she might have to return the $1.5 million her family won from the Long Beach Unified School District in a civil suit.

"I received a Facebook friend request last year from the woman who accused me of raping her, where she wanted to reconnect and, in her words, 'let bygones be bygones,'" said Banks. After receiving this message, Banks hired a private investigator to set up and record their meeting, in which his accuser admitted to falsely accusing him. "From there I took that information to the California Innocence Project, who accepted my case. The rest is history, and here I am today, a free man," said Banks.

Justin Brooks is the defense attorney handling Banks' case. He said that in the history of the California Innocence Project, they have never taken a case of someone who had already been released from prison.
The Daily News has the story on Banks' lawsuit against the state, and includes a video of the emotional hearing. Here's a clip:
Brooks said that Banks is entitled to $100 a day for every day he was falsely imprisoned under State Law 4900.

If successful, the lawsuit against the state of California would net Banks about $188,500.

Banks, a football standout at Poly, had been heavily recruited by colleges, and had a verbal offer for a scholarship at USC.
---
KIDS FROM MORE AFFLUENT COMMUNITIES WITHIN LAUSD MAY BE BETTER PREPARED FOR THE SATS
Andrea Lopez, 17-year-old LA Youth writer, felt extremely under-prepared for the SAT prep course she attended at UCLA. Lopez was surprised that she could be one of the top students in her grade, and still be so far behind other students from the same school district. Like many other kids in minority communities, she began to worry that her Sylmar public school education was not adequate enough to get her into a good college.
Here's a clip from the LA Youth story:
I thought I had a great vocabulary, but I had never heard words like "spurious," "cogent" and "plaudits." It's disappointing that the schools I've been to didn't give me as good an education as these kids. Usually I'm proud of getting some of the best grades in my classes, but I was jealous of what these students knew.

I realized that these kids probably grew up with parents who spoke English and used impressive-sounding words. But having Spanish-speaking parents, I learned most of my grammar and vocabulary on my own. I've never been ashamed of having parents who weren't born here or didn't graduate high school but sometimes I wish they were more educated so they could help me in school.
Be sure to read the rest of Andrea's story–it has a very inspirational ending.