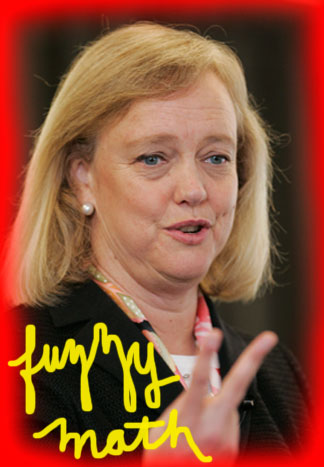 In the competition between Republican gubernatorial candidates to win the who's-going-to-sound-the-hardest-core-on-the-immigration-issue, the Sacramento Bee reports that former eBay CEO, Meg Whitman, made the following statement.
Stopping illegal immigration "is absolutely essential because the costs are enormous," Whitman said. "I don't know if you know this, but 30 percent of the state prisoners are probably illegal immigrants. We don't get reimbursed for those monies. And it's putting a burden on every element of the state budget."
Well, no, Meg, undocumented (or illegal or whatever word you want to use) immigrants aren't 30 percent of California's prison population. They are 11 percent of our state prisoners. And, yes, that's still significant. But Whitman overstated the significance by…um…around 200 percent.
Oh, and she's also dead wrong about the reimbursement thingy. The state doesn't get enough federal reimbursement for incarcerating immigrants, but had she bothered to ask someone, Whitman would have known California definitely gets fed money to help cut our expenses.
In any case, we would humbly suggest that before the Megster starts making pronouncements, that she checks her facts.
The errors may seem trivial. But when we are choosing someone to lead us through California's budget morass, it would be nice if that person was at least marginally accurate with their figures rather than treating them as clay to be molded this way and that for political gain.
---