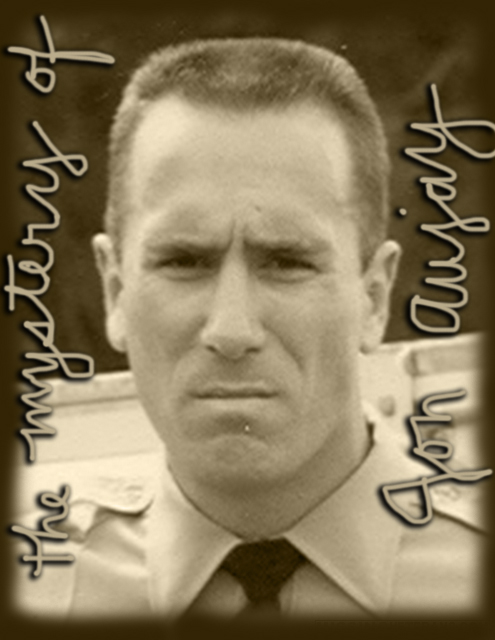 WHAT REALLY HAPPENED TO LOS ANGELES COUNTY SHERIFF'S DEPUTY JON AUJAY?
In 1998, LA County Sheriff's K-9 deputy Jonathan Aujay went out for a run in the Antelope Valley and never came back. Higher-ups in the department at the time concluded that Aujay likely killed himself. However, many friends and former department colleagues don't buy the suicide explanation at all, and believe that Aujay was murdered.
In a deeply researched longread for the November issue of Los Angeles Magazine, on the news stands right now, journalist Claire Martin writes about the case, its aftermath, and about those who are still haunted by it.
I spoke with Claire Martin several times at length while she was working on the story, so know a little bit about what she was uncovering.
The story is not yet on line (although it's out there in hard copy), so to whet your appetite for the whole thing, LA Mag's executive editor Matthew Segal interviewed Martin about the story and about what it points beyond itself to say about the Los Angeles Sheriff's Department during the reign of former Sheriff Lee Baca.
Here are a couple of clips:
This story been almost four years in the making and took you to places, mentally and geographically, that you couldn't have anticipated. How did you learn about Jon Aujay?

In the fall of 2011, I learned about a trial that had just begun in downtown L.A. A former sheriff's deputy was suing the Los Angeles County Sheriff's Department for wrongful termination. I'd heard a few details about the case—that it involved meth cartels in the Antelope Valley, a DEA joint task force dubbed Operation Silent Thunder, and the mysterious disappearance and possible murder of Aujay by a fellow deputy. I was surprised I'd never read anything about the case before, and when I did some quick Web research, nothing much turned up. I decided to drive downtown and listen to a day's worth of testimony. I ended up returning every day for a couple of weeks, until the closing arguments.

The testimony from the various agents, deputies, and sheriff's officials proved to be jaw-dropping at times. Aside from the murder allegations, there were details of misconduct among deputies, some of whom were accused of getting too cozy with the meth manufacturers of the area. How bad did things get for the sheriff's department in the Antelope Valley?

Things were bad enough that the DEA was called in to dismantle the meth rings as rumors circulated that sheriff's deputies were befriending drug dealers and leaking information to them in advance of busts. The allegations against deputies ranged from fraternizing with cartel members, to warning them of investigations, to operating meth labs with them, to murder.

This is where Aujay's story comes in. As you you'd heard when you started attending the trial, one theory being pursued by a couple of LASD investigators was that a fellow deputy, someone with alleged ties to the meth world, had killed him. There's a theory from a former LASD captain—Aujay's last boss—that he was killed by a deputy, but not the deputy who was being investigated. And there were vague suspicions within the department that whatever the case, Aujay's stern demeanor could have provoked his murder. Workplace politics can be tricky, but it's remarkable that more than one officer or former officer thought that his coworkers would be capable of murder—of fratricide.

That's right. The LASD quickly ruled that Aujay had likely committed suicide, but tipsters and confidential informants told the department they'd heard he may actually have been murdered by the operators of a meth lab, which included a fellow deputy. Separate investigations by a sheriff's homicide detective and the Operation Silent Thunder drug task force turned up similar intel. So did the FBI. Years later, Aujay's former boss, Mike Bauer, began to suspect that a different deputy, someone who's now retired, had murdered Aujay. Bauer had worked under three sheriffs during his career and told me he'd watched the LASD's checks and balances for handling internal corruption collapse under Baca.

Sheriff Lee Baca.

Right. Other people I spoke with described an environment under Baca in which deputies weren't held accountable for their unethical or illegal actions.
And we will, of course, link to the actual story the minute it's online. But why wait? It's a great read, so hit the news stand!