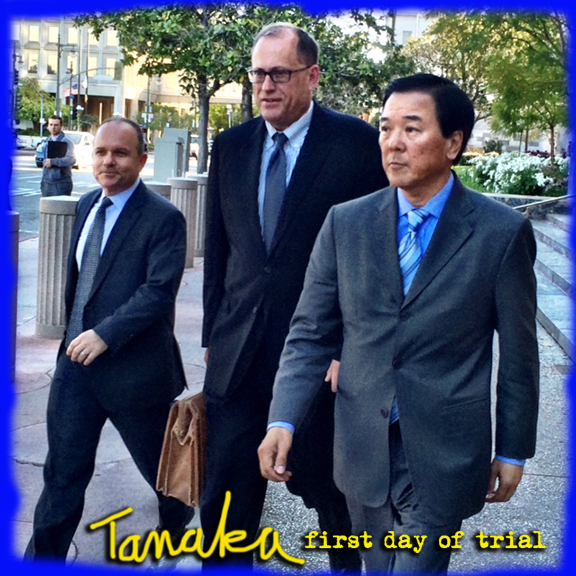 TWO DIFFERENT OPENING STATEMENTS, TWO DIFFERENT STORIES
It was just after 4 p.m. on Thursday afternoon when opening statements finally began in the trial of Paul Tanaka, the former second in command of the Los Angeles Sheriff's Department, and the man whom many viewed as the real power behind former sheriff Lee Baca's throne.
Tanaka is charged with obstruction of justice, and conspiracy to obstruct justice in relationship to what the government alleges was both a deliberate and a criminal attempt to undermine a federal investigation into brutality and corruption in the county jail system. The alleged obstruction occurred after Lee Baca and Tanaka discovered the investigation's existence. According to the government, Tanaka was the chief obstructor and that he did so through multiple means, including ordering what became an elaborate plan to hide an inmate-turned-federal-informant named Anthony Brown from his FBI handlers. The prosecution will also try to convince the jury that teams under Tanaka's direction endeavored to keep potential deputy witnesses from talking to the FBI, and also secretly surveilled and threaten a federal agent.
Voir Dire, as jury selection is called, had taken nearly two days, as scores of potential jurors were asked about any severe hardships they might experience if they were selected to sit through what is expected to be a three week trial, not counting jury deliberation. They were also asked if they had any relatives in law enforcement. Or, alternately, would be jurors were queried about any prejudices against law enforcement. There were other questions of that nature, including some pertaining to whether any of the jurors or their families had been in jail or prison. (A startlingly high percentage of the jury pool answered yes to this last question.)
But eventually a jury of seven women and five men, plus four alternates, was seated in the courtroom of U.S. District Court Judge Percy Anderson.
And, the curtain on the main event was finally raised.
---
"HE TRIED TO CONCEAL THE CRIMES OF HIS DEPUTIES AND COMMITTED A CRIME OF HIS OWN IN THE PROCESS"
During their opening statements, the prosecution and the defense described dramatically different views of the events that took place in August and September of 2011
The prosecution, as is customary, was up first, with Assistant U.S Attorney Brandon Fox delivering the opening for the government.
In 2011, said Fox, defendant Paul Tanaka was confronted with the discovery of a federal investigation into abuse and corruption in the county jail by his jail deputies.
At that point, Fox told the jury, Tanaka "had a decision on his hands."
And Tanaka "decided to conceal the crimes of his deputies— and committed a crime of his own in the process."
Specifically, Tanaka and his coconspirators, according to the prosecution, hid a federal informant from his handlers, tampered with potential witnesses, and threatened the arrest of the FBI case agent.
But "every crime has a context," said Fox.
In this case, to explain the government's theory of the "context" of the alleged obstruction of justice, Fox laid out a narrative beginning in 2006, in which he described deputy cliques working inside Mens Central Jail on the 2000 and 3000 floors, and severe problems with force and physical abuse of inmates in MCJ and other jails in the system.
Similarly, said Fox, in 2007 at one of the LASD's high crime stations, the station's captain "noticed excessive force," among the deputies and—as had been the case at MCJ—the rise of a deputy clique.
Fox then talked about various supervisors—including a lieutenant, two captains, and a commander— whom he said reported the problems to the former undersheriff along with suggested solutions, only to have the defendant allegedly undo their attempts at reform and, in several cases, sideline the reformers.
Thus, in 2011, when Baca and Tanaka discovered the existence of the FBI's undercover investigation into brutality and other wrongdoing in the jails, "since he could not overrule it," said Fox, "he undermined it."
At the end of his presentation, Fox repeated his opening refrain: "Paul Tanaka tried to cover up the crimes of his deputies, and committed his own crime in the process."
---
"HIS GOAL WAS TO BE A GOOD COP"
When it was the defense's turn, attorney Jerome Haig assured the jury that the real facts of the case were far different and far simpler than what the prosecution contended
"His goal was to be a good cop, not to be well-liked," said Haig of his client. But while Haig presented Tanaka as a fair but tough supervisor who demanded excellence from himself and those around him, and who "showed up every day to do what the sheriff wanted him to do," he also stressed that Mr. Tanaka would not tolerate any crossing of legal lines.
He "would never look the other way" if he encountered wrongdoing, said Haig.
But the facts of the case, said Haig, were not about Tanaka's style as a manager. "The facts of this case" are about "what happened between August 18, 2011 and September 26, 2011," in other words, when Baca and Tanaka heard about FBI informant Anthony Brown and his contraband cell phone. That was when, according to the defense, Baca ordered the protection of inmate Anthony Brown for his own safety, along with an investigation into how and why a dangerous contraband cellphone had made its way into the possession of an inmate in the county jail.
What occurred during that August/September, 2011 time period, as Haig spelled it out, was lawful and, in the case of Tanaka, done at the direction of his boss, the Los Angeles County Sheriff Lee Baca.
---
THE PRESENTATION OF "CONTEXT" BEGINS
The trial resumes at 8 a.m. Friday morning at which time the prosecution is expected to call Al Gonzales, a former LASD lieutenant, now retired, who was one of those who reportedly tried to rein in problem deputies in Men's Central Jail. Gonzalez will likely be asked to describe how he was slapped down forcefully by Mr. Tanaka when he attempted some kind of discipline and reform in LA County's largest and most historically troubled jail.