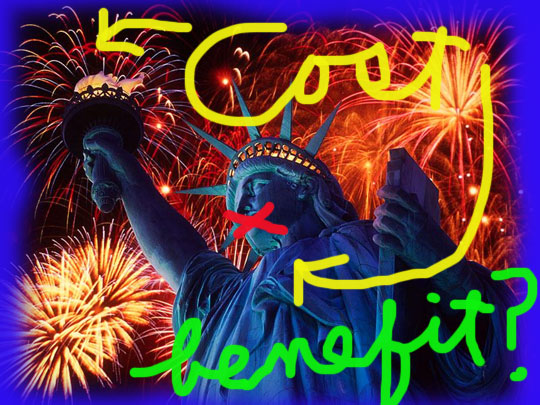 Can the Patriot Act make it a crime for an American to advise a group that has been designated a terrorist organization—if that advice pertains only to human rights and ways to seek peace?
It is this question that was heard before the U.S. Supreme Court on Tuesday.
The Americans challenging the restriction are the LA-based Humanitarian Law Project and its president, USC professor, Ralph Fertig, who has advised a Kurdish rebel group in Turkey.
This is from the AP:
The Supreme Court struggled Tuesday to balance the constitutional rights of humanitarian aid groups with the government's efforts to combat terrorism.

The issue arose in a challenge by aid groups and individuals to parts of a key anti-terror law that bans "material support" to foreign terrorist organizations, even when that support consists of training and advice about entirely peaceful and legal activities.

The aid groups involved had trained a group in Turkey on how to bring human rights complaints to the United Nations and assisted them in peace negotiations, but suspended the activities when the U.S. designated the Turkish outfit a terrorist organization in 1997. They also wanted give similar help to a group in Sri Lanka, but it, too, was designated a terrorist organization by the U.S. in 1997.
Now keep in mind, we are not talking about groups like Al Quaeda that have been designated as our enemies, and thus are subject to a host of restrictions, Patriot Act or no Patriot Act.
The organization in question is a Kurdish rebel group called the PKK.
NPR's Nina Totenberg does a good job of teasing out more of the issues.
And the LA Times David Savage has this post-hearing update.
A ruling is expected in June—with Kennedy again the swing vote. (Or maybe Roberts will also have a sensible moment. At least it is comforting to think so.)
---
PS: AND THE TWISTED LOGIC AWARD FOR TUESDAY'S HEARING GOES TO Antonin Scalia for this dandy quote: "It hasn't criminalized speech. Most of that aid and assistance that is prohibited is not in the form of speech, but it happens to include speech as well.I think that is quite different from a law that is directed explicitly at speech."
(Um, Antonin. Dude. That's like saying if you advise the criminal to turn his or herself in, or if you similarly tell the criminal not to shoot the hostage, we can criminalize that speech as aiding and abetting, and such a statute in no way impinges on the First Amendment. That's—-what's the phrase I'm looking for?—oh, yeah: totally whacked.)