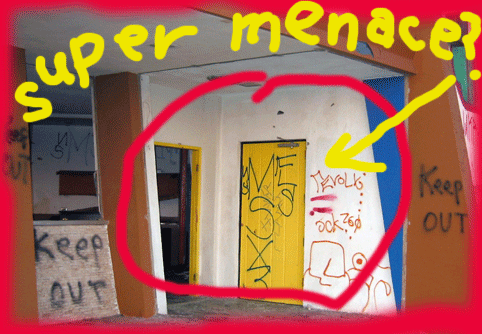 In my utterly sleep-deprived, road-addled state, I was scheduled this morning to be interviewed for a new NPR show that's being done specifically for web-radio and podcasting. It's called the Bryant Park Project.
The subject was the Newark murders and whether we should blame the gang MS-13—Mara Salvatrucha—for the awful kllings of the three college students. It seems that two of the alleged killers, the 28-year-old and 24-year-old, were members—or purported members of MS-13. Plus the 15-year-old killers had MySpace pages that were filled with MS-13 imagery.

So was this a gang "hit" the Los Angeles MS-13 gangs had ordered? the very nice young host wanted to know. You can hear what I said when the segment goes online this afternoon. (I have NO idea if I completed any of my sentences in my entirely fatigued state.)
But for the record, the answer is….of course not.
The Newark murders were ghastly, ultra-predatory crimes that have everything to do with three messed-up, disaffected young teenagers who came under the sway of some truly evil adult predators. (Why in the world were 15-year olds hanging out with a 28 year old?)
When the MS-13 connection came up, I called my friend Alex Sanchez, to find out what he thought about what the media was saying about the MS-13 link. Alex is the executive director of Homies Unidos, a respected gang intervention group in LA. He's a terrific man, and a former gang member who straightened out his life and now is of great help to others. He also happens to be from El Salvador, and his contacts among LA's MS-13 homeboys are better than most anyone I know.
He said the guys on the street were as mystified as the rest of us as to why three college students would be lined up and murdered, another shot, in the most cold-blooded and vicious way possible—for nothing other than maybe some gold chains, cell phones, and whatever pocket change. This isn't gang behavior. It's psychopathic behavior.
More than with any other gang within memory—including the Crips and the Bloods—the media has mythologized Mara Salvatrucha to a ridiculous degree. "The Most Dangerous Gang in America!" the headlines scream! Oh, please.
All that media-driven hysteria accomplishes is to tell a sad, broken 15-year-old that if he wants to feel powerful—and like "somebody"—he should live up to this overblown media myth.
All gangs are dangerous and tragic—MS-13 among them. But most of the LA gang murders that, year after year, tear terrible, irreparable holes in families and communities are not the result of the organized actions of supergangs. They're inevitably over something far more depressingly ordinary
A random example: A year or two ago, the mother of one gang member in East LA got her car stolen, and a couple of members of another gang saw it and failed to stop it. (They didn't do the car jacking, it just came to light that they hadn't prevented it.) Words were exchanged. Threats were made. Threats escalated. Someone got shot. And then retaliations piled on retaliations. At last count, there have been three deaths that I know of over that one incident.
Horrible, horrible stuff. But organized? No.
PS: For the background on MS-13 (a gang that certainly does have its own unique character and history) this film is quiet good. And another very good film on the subject, "Hijos de la Guerra" will show in LA in October. (I'll let you know as the time approaches.)