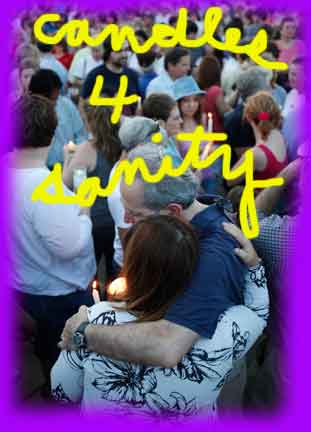 Wichita, Kansas physician, Dr. George Tiller, was one of the three doctors in the U.S. who performed late term abortions. Yesterday, Dr. Tiller was shot to death as he was standing in the foyer of the Reformation Lutheran Church, preparing to serve as an usher. His wife was with the choir downstairs when the killer walked into the church and reportedly dropped Tiller with a single shot. Now there are two doctors left.

The photo above is from last night's candlelight vigil for Dr. Tiller.
It was not the first time violence was aimed at Tiller. In 1993, he was shot in both arms, and in 1995, his clinic was bombed.

Yet the father, grandfather, husband continued because he believed the services he offered helped women in a time of need.
So who are these women who have late term abortions? A commenter at John Cole's Balloon Juice tells the story of the dilemma that brought him and his wife to Dr. Tiller for help.
In 1994 my wife and I found out that she was pregnant. The pregnancy was difficult and unusually uncomfortable but her doctor repeatedly told her things were fine. Sometime early in the 8th month my wife, an RN who at the time was working in an infertility clinic asked the Dr. she was working for what he thought of her discomfort. He examined her and said that he couldn't be certain but thought that she might be having twins. We were thrilled and couldn't wait to get a new sonogram that hopefully would confirm his thoughts. Two days later our joy was turned to unspeakable sadness when the new sonogram showed conjoined twins. Conjoined twins alone is not what was so difficult but the way they were joined meant that at best only one child would survive the surgery to separate them and the survivor would more than likely live a brief and painful life filled with surgery and organ transplants. We were advised that our options were to deliver into the world a child who's life would be filled with horrible pain and suffering or fly out to Wichita Kansas and to terminate the pregnancy under the direction of Dr. George Tiller.

We made an informed decision to go to Kansas. One can only imagine the pain borne by a woman who happily carries a child for 8 months only to find out near the end of term that the children were not to be and that she had to make the decision to terminate the pregnancy and go against everything she had been taught to believe was right. This was what my wife had to do. …
There's more to the story here.
Many Right to Life advocates have sincerely condemned Tiller's murder in strong terms as the lawless act of terrorism that it was.
However, when Bill O'Reilly does his proforma condemnation of the murder on his show tonight, writes Gabriel Winant of Salon, it will ring as just a bit hollow.