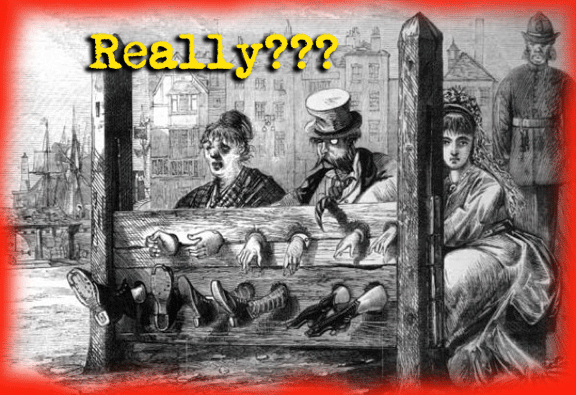 Since the news described in the following story broke, we have been bothered by the seemingly blithe disregard for the lives of those most affected, on the part of those who really ought to have known better. So we asked WitnessLA reporter David Lynn to look into the matter. This is what he found.
---
---
THE VERY PUBLIC OUTING OF THE MANHATTAN BEACH 18
by David Lynn

---

Devices known as pillory stocks have been used for centuries to shame public offenders by trapping their head and hands and forcing their body into a ninety-degree angle stoop. They were all the rage in colonial America, but at some point we got it together and decided enough was enough. Fret not, colonial enthusiasts – thanks to the Internet, the good old days are back.

After the Manhattan Beach Police Department wrapped up its sting investigation of a beach bathroom they say had recently become a popular sex den for gay men, eighteen men were arrested on charges which include soliciting or engaging in lewd conduct in a public place, loitering in and around a public toilet for the purpose of engaging or soliciting a lewd or unlawful act, utilizing a restroom peephole, invasion of privacy, resisting arrest and indecent exposure. All of the charges are misdemeanors.

Once the objects of the sting were safely booked, the Manhattan Beach PD thought it would be a swell idea to distribute the booking photos, names, birth dates, and cities of residence of the eighteen men arrested to media outlets. They did so in the form of a press release.

Upon receiving the release, a string of the news outlets dutifully posted, published and/or broadcast the 18 mugshots. The Daily Breeze was one of the first to post the photos and personal information to their website. The L.A. Weekly followed suit and later wrote, "We were a little surprised ourselves to receive said PDF from the Manhattan Beach Police Department…."

They may have been surprised, but they sure ran with it, taking the time to also post links to some of the suspects' Twitter accounts, LinkdIn and Facebook profiles and, in the case of one suspect, his IMDB profile.

KTLA and NBC4 covered the story in their broadcasts, both of which featured footage of MBPD's press release. The L.A. Times posted KTLA's video to their website and the Huffington post did the same with NBC4's coverage.

WitnessLA spoke to MBPD's Press Information Officer, Stephanie Martin, and asked her what exactly the department was thinking in posting photos of the 18 men, one as young as 20-years old, none of whom have actually been convicted of anything.

"Whenever we issue a press release and we have access to mugshots and booking information at the time, we include it. Even in the case of misdemeanor crimes," Martin said.

Well, did Officer Martin think the MBPD foresaw this press release gaining the amount of attention that it has?

"We anticipated that it was going to be a fairly large story since it was a significant arrest for us," said Martin, "but really it's just another arrest, another press release."

There is no question that using public spaces for sex acts—straight or gay—is illegal. The offenders should have been arrested and given due process. But should they have been publicly shamed for it, especially without having the benefit of a conviction? By posting their names, faces and towns of residence online, the MBPD and their media collaborators effectively pilloried these men in a virtual town square. In the age of Google, even if some of the men are found to be innocent of any charges, they will never really be released.

WitnessLA contacted the Daily Breeze's Assistant City Editor, Josh Grossberg for comment, since his paper was among the first to publish the information.

"We always run mugshots and booking information when it's available. It's not any different than anything else we've covered," Grossberg said. "We also put up a picture of the mother who killed her family who was arrested for texting in her car while holding a baby on her lap.** We have a long record of doing this, it's not the first time. If it's an issue because they may be gay, then you're asking us to exclude people based on their sexuality."

Well, no, that's not what we're saying. The bathroom sting is not a high profile case where the public's right to know demands immediate and detailed reporting. We are talking about men arrested for misdemeanor offenses, but misdemeanors that, in many circles still carry a daunting social stigma.

The day after the mugshots hit the news, The Los Angeles Gay and Lesbian Center issued a statement to that effect.

"The consequences of being 'outed' or perceived as gay in such a homophobic society are very real. The publication of these photos serves no purpose other than to embarrass them, and has the potential to destroy their lives," said the center's press release.

When we questioned the Center further, Communications Manager Stevie St. John told WitnessLA in an email that since the story broke, "…at least three of the men arrested have contacted the Center for counseling. From one of the callers, we learned that one of the 18 made a suicide attempt."

WitnessLA spoke to attorney/journalist and law professor Henry Weinstein about the ethics of the matter. Weinstein, a former longtime staff member at the L.A. Times, is currently a professor of law at the University of California, Irvine.

"I would love to hear their rationale for why they chose to run those men distinct from other, more serious criminals. A lot of people are accused of crimes and most don't have their pictures in the paper. Murderers, sure. But what about mortgage fraud or armed robbers?" When was the last time we saw them in the papers, Weinstein asked.

"It seems like a double standard to me, and a troubling one at that," said Weinstein. "Society has made a lot of progress, but there are still places where there's a stigma to being gay. If someone chooses to keep their sexual orientation a secret, they're entitled to that privacy."

One would think.

With the 43rd anniversary of the Stonewall Riots in Greenwich Village, an event which many credit as the start of the Gay Rights movement, only a few months away, it seems like a good time to take the pillory stocks out of the town square once and for all.
---
**CORRECTION: I have no idea how we garbled this quote so thoroughly. But, Daily Breeze editor Josh Grossberg has kindly given us the correct reference. WitnessLA strives to be extremely careful with the words of others entrusted to us. Thus we are grateful for the note informing us of our error.