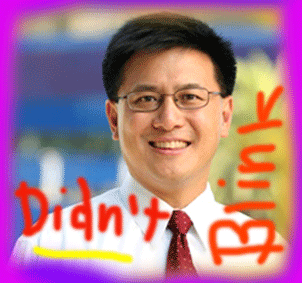 At least somebody's got their head screwed on rightside up. Actually, make that two people in that State Controller John Chiang already said, Oh, hell, no! (or words to that effect) to Schwarzenegger's absurd and callous take-the-state-workers-hostage-to-get-the-legislature-to-pass-the-budget plan.
The Sacramento Bee has the story.
The Legislature's legal adviser is siding with Controller John Chiang in his defiance of Gov. Arnold Schwarzenegger's plan to cut state workers to the federal minimum wage of $6.55 an hour.

In an opinion requested by state Sen. Dean Florez, D-Shafter, Legislative Counsel Diane Boyer-Vine wrote Friday that an executive order issued by Schwarzenegger could not force Chiang to start paying state workers the minimum wage in August.

Boyers' opinion cited cases in which courts found that the controller may sometimes wield his or her authority independent of the governor.

[SNIP]

Chiang, who believes the state has enough cash to pay full salaries through the end of September without a budget agreement, has said he plans to defy Schwarzenegger's executive order should the governor sign it.

Florez asked the legislative counsel, the Legislature's chief lawyer, to determine if the governor had the power to force Chiang to lower paychecks via executive order.

Florez said he hopes the legal opinion will cause Schwarzenegger to "reverse his actions and apologize."

"We want to avoid any kind of lawsuit between the controller and the governor," said Florez, who added that such a suit would be a "huge waste of energy, resources and time."

The paycheck reduction idea was "very repulsive," said Florez, who said the move showed "the governor at his lowest point."

"There are a lot of ways to negotiate a better budget, rather than taking hostage state workers and forcing a minimum wage statute on them because he thinks he's king and he can do it," Florez said.
Uh, yeah. What Flores said.
Now if we can just get the brave and excellent Mr. Chiang to audit….this.