Juvenile Court Presiding Judge Michael Nash did a brave and important thing on Friday—and then again on Monday. On Friday he issued a draft order to open the Juvenile dependency courts to the press, allowing fresh air into a system in Los Angeles County that has long been disastrously closed. Then on Monday, he had a hearing on the matter and announced that he planned to make the order permanent.
In case you've forgotten, Juvenile dependency courts are the places that hear child abuse and neglect cases.
Nash was originally going to open the courts to the public as well as the press, but he ran into a lot of resistance.
So, according to Friday's draft order, the courts will remain closed to the public unless a certain set of criteria are met in individual cases. However, the new default position will be that press will be allowed in— unless anyone can show clear cause that having reporters in a hearing will harm a child.
As the order itself states:
Members of the press shall be allowed access to Juvenile Dependency Court hearings unless there is a reasonable likelihood that such access will be harmful to the child"s or children"s best interests.
Richard Wexler of the NCCPR—the National Coalition for Child Protection Reform— expressed the view of the many child welfare experts who have been advocating for LA's court to get some fresh air. Here's a clip from Wexler's blog post on the topic:
If Judge Nash proceeds with this order as written, it will be a significant step forward in holding the county Department of Children and Family Services and the courts themselves accountable for what the system does to children and families in Los Angeles. As we explain in our Due Process Agenda, none of the many other state and local systems that have opened these courts has closed them again because all the fears of opponents proved groundless…
Not everyone agrees. Former foster child, Marcy Valenzuela wrote an Op Ed for the LA Times last fall explaining why she felt the courts should stay closed.
Juvenile dependency courts exist to protect children and youths who have been neglected and abused, so it's shocking that the presiding judge who oversees the Los Angeles County Superior Court's juvenile division is pushing a plan that puts foster children and youths at risk of further harm.

If Judge Michael Nash's order stands, vulnerable children, youths and their families, who are already dealing with painful consequences of neglect and abuse, would face the additional burden of proving why the most intimate details of their lives should be kept private.
The primary movers against letting light into the courts, are not child advocates, but the unions for the grown-ups, those who represent the social workers, et al. They have fought hard to keep the hearings secret.
However, Nash is clear on the issue.
There is a lot that is not good [in the dependency courts], and that's an understatement," the LA Times reported that Nash said earlier this year at a Sacramento hearing on the issue. "Too many families do not get reunified…. Too many children and families languish in the system for far too long. Someone might want to know why this is the case."
Exactly.
According to advocates who were present at Monday's meeting, Nash said he would issue a final order very soon.
---
AND LEST WE STRAY TOO FAR FROM THE LASD & JAILS…THE LA TIMES EDITORIAL SAYS: YES, LA COUNTY'S JAILS ARE BROKEN, BUT EVERYBODY NEEDS TO THINK BEFORE PRESCRIBING A $1.4 BILLION DOLLAR ONE-DIMENSIONAL, BUILD-A-JAIL FIX
Or words to that effect. Mainly, Monday's very well written editorial echos what we said last week before and after the board of supervisors meeting, regarding the need to look at the whole picture before rushing off and throwing a billion and a half dollars at jail building.
And by "the whole picture, this includes the suggestions contained in the very lengthy and very smart Vera Institute report on the county's jail over crowding issue and what to do about it ( a report that was, by the way, ordered and paid for by the county). And it also means waiting to look at the upcoming report on the same issue from jails and prison expert Jim Austin, due in late February.
Anyway, a big thank you to the Times editorial board, who said all of the above more elegantly than we did.
---
THEN WHILE WE'RE ON THE SUBJECT OF WISE GOVERNANCE….WHAT'S UP WITH GOV. JERRY TRYING TO DO AWAY WITH THE HAYDEN BILL, WHICH HAS PROTECTED CALIFORNIA'S PETS FROM NEEDLESS EUTHANASIA SINCE 1998?
Former California senator Tom Hayden (and current critter owner) explains everything. (See above video.)
Yes, yes, we've heard that the legislative analyst says that doing away with this bill will save the state money. Okay, sure. And having no shelters at all will save the state even more money. BUT THAT DOESN'T MAKE IT A GOOD IDEA.
Raise fees. Whatever. But do not even think of trying to vaporize the law that prevents precipitous critter euthanasia—which could, in turn, mean that if by some chance our four-footed family members get lost, get out of the house for an unscheduled walkabout, or get separated from us by some unforeseen force majeure, they could be killed dead before we've had the chance to track them down.
No. Not a workable solution, Jerry.
Seriously—Ask yourself, WWSD? What would Sutter do?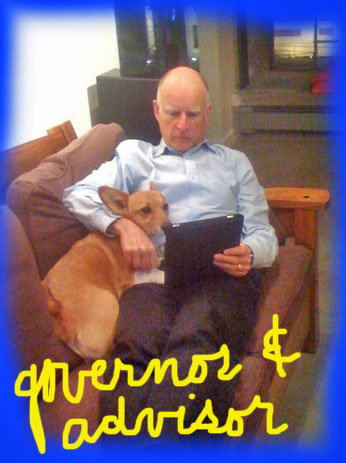 Okay, see? I rest my case.