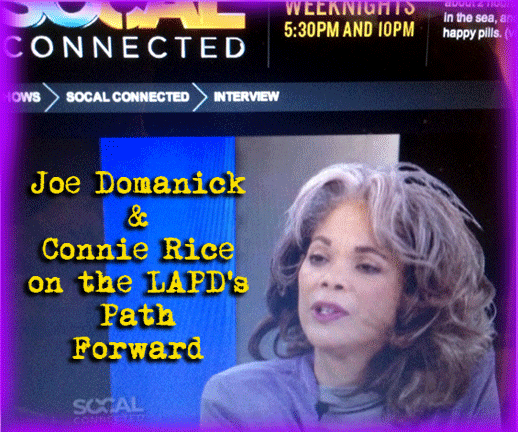 DORMER, THE LAPD AND A PSYCHOLOGICAL "CEMETERY FULL OF GHOSTS"
"We've got a cemetery of ghosts from LAPD's past raised by this tragic—beyond tragic— catastrophe," said civil rights attorney Connie Rice, when she and LAPD expert, Joe Domanick, associate director of the Center on Media Crime and Justice, and author of the definitive history of the LAPD, "To Protect and to Serve," were interviewed by Madeleine Brand on KCET's So Cal Connected about what the Dorner nightmare means for the LAPD going forward.
Both Rice and Domanick have looked into the LAPD deeply over the years, and thus have much to add to the developing conversation. Here's the link.
---
LA WEEKLY REPORTS THAT SHERIFF LEE BACA SEEMS TO PLAY FAVORITES WHEN HE GIVES OUT CONCEALED CARRY PERMITS
Gene Maddeus at the LA Weekly reports, based on documents obtained by the Weekly through the public records act, that Sheriff Lee Baca approves very few concealed weapons permits but those he does approve are likely to be for his friends and/or his donors.
Here's a clip from the story:
The L.A. County Sheriff's Department is known in gun-rights circles for being stingy with concealed-weapons permits. Sheriff Lee Baca has total discretion over who is allowed to get a permit, and he hasn't given out many.

As of May 2012, only 341 people had been granted them, according to sheriff's records. Compare that with the San Bernardino County Sheriff's Department, which had 1,754 permit holders in 2011, despite a population of just 2 million people to L.A.'s 10 million. The Kern County Sheriff granted even more, with 3,564 permit holders in a population of 800,000 people.

In L.A. County, records show, most of the permits go to judges and reserve deputies. But there is another group that seems to have better luck than most in obtaining permits: friends of Lee Baca. Those who've given the sheriff gifts or donated to his campaign are disproportionately represented on the roster of permit holders.

Chuck Michel, a gun-rights attorney who has pushed for greater access to concealed-weapons permits, says practices in many "anti-gun" jurisdictions are "corrupted by favoritism and cronyism."

Michel had not looked in depth at L.A. County's practices, but the Weekly did. Last year, the Weekly filed a public records request for all 341 active concealed-weapons permits granted by the Sheriff's Department — as well as a list of the 123 people who applied for concealed weapons over an 18-month period but were denied….
And here's where you can find the list of permit holders that the Weekly acquired.
---
MORE ON THE DORNER SEIGE AND THE USE OF "BURNERS"
The LA Times Joel Rubin and Andrew Blankstein have the best story I've read thus far on the ongoing question of whether the San Bernardino Sheriff's Department SWAT team deliberately set fire to the cabin where Dorner was barricaded.
The department has said no, then declined to comment on the matter further. But based on the Times' and other reporting this seems a bit disingenuous. Whether or not it was the stated intent, it was the all but guaranteed outcome after sending in seven highly incendiary tear gas devices into a mountain cabin.
Rubin and Blankstein find expert opinions on both sides of the question of whether the move was justified. In the end, however, one is left with the picture of an extremely difficult and deadly situation with no perfect choices after Dorner did not respond, except with gunfire, to repeated calls to surrender.
---
CONFIDENTIAL COUNTY REPORT SHOWS AN INCOMPETENT AND OVER BUREAUCRATIZED FOSTER CARE SYSTEM THAT RESULTED IN 13 RECENT KIDS' DEATHS WHEN DCFS WORKERS' MADE INCOMPREHENSIBLY BAD DECISIONS
Jason Song and Garrett Therolf report for the LA Times. Here's a clip:
A stifling bureaucracy and inept workforce have crippled Los Angeles County's child protective agency, resulting in a system that allowed children to remain in unsafe homes, sometimes to die at the hands of their caretakers, according to a confidential county report.

The investigation, conducted by an independent counsel for the Board of Supervisors, looked at 15 recent child deaths and a torture case. In all but two instances, investigators found that casework errors began with the agency's first contact with the children and contributed to their deaths.

The report is the harshest assessment of the Department of Children and Family Services in recent memory, echoing complaints from child advocates that the county has rejected for years.

Investigators largely blamed the department's problems on its decision to place its least experienced social workers in its most crucial job: assessing dangers to children. Many of those workers — facing a total of 160,000 child abuse hot line calls each year — are "just 'doing their time,'" according to the report.

Supervisors are poorly qualified and often disregard policy, creating a situation akin to "the blind leading the blind," with workers rarely held accountable for "egregious" errors, the report said.

The result has been deaths that might have been prevented had social workers taken basic steps to assess the risks.
Here's a link to the report that the LA Times obtained.
In short, this is an agency in need of an overhaul. We very much hope that Philip Browning, the newest DCFS chief who came on just as the report was being completed, is up to the task of making the "wholesale changes" the report recommends. Browning was picked because he's known as a solid nuts and bolts guy capable of turning things around.
He cautions that this will not be a quick fix.
No kidding.
---
GUN ADVOCATES & DEATH THREATS: SENATOR LELAND YEE GETS A THREAT "LIKE NO OTHER."
On Thursday, State Senator Leeland Yee, held a press conference to announce an extremely chilling threat against his life. Rather than paraphrase, let me quote from his statement on the matter:
Four weeks ago, I received an email to my Senate account detailing a very explicit threat on my life. The author of the email specifically stated that if I did not cease our legislative efforts to stop gun violence that he would assassinate me in or around the Capitol. He stated that he was a trained sniper and his email detailed certain weapons he possessed.

This threat was unlike any other I had ever received. It was not a racist rant on my ethnicity or culture, but instead it was very deliberate and specific. As a psychologist, I was deeply concerned by the calculating nature of this email.

My Chief of Staff immediately forwarded the email to the Senate Sergeant at Arms and the CHP to investigate.

As you know, law enforcement made an arrest on Tuesday and executed a search warrant of the suspect's home in which they found illegal weapons and bomb-making materials. I have no other details regarding this case and all such questions should be directed to the CHP.

With that said, I want to make it crystal clear – these threats and any others will not deter me and my colleagues from addressing the critical issues surrounding gun violence. This case is very troubling and only further demonstrates the need to address this epidemic.
The San Francisco Chron has more on the story.
EDITOR'S NOTE: Because of the nature of what I've reported on over the years, I've gotten more than my share of angry letters and the occasional not-so-veiled threat. But nothing approached the flood of hatred and genuinely scary threats I got back the spring of 2000 for an essay I wrote for MSNBC (where I was, at the time, a regular columnist) about my experience bringing my then-fourteen year old son to the so-called Million Mom March for gun control.
---
AND WHILE WE'RE ON THE TOPIC, NEW REPORT SAYS LA RESIDENTS APPLY TO BUY 200 GUNS A DAY
Yikes.
Rick Orlov of the Daily News has the story. Here's a clip:
Los Angeles residents apply to buy 200 guns a day, an alarming number making it difficult to get weapons off the street, City Attorney Carmen Trutanich said in a preliminary report on gun purchases in Los Angeles.

"With Angelenos buying an average of nearly 200 firearms every day, thousands every month and tens of thousands every year, I will do everything in my power to keep guns out of the hands of people interested only in destroying the lives of children, families and police officers," Trutanich, who is in a close re-election race, said in a written statement.

The results are based on letters his office began sending out in December during the 10-day waiting period for people buying guns. The letters reminds gun owners to keep the weapons safe and report when weapons are lost or stolen.

"If we can stop just one person from buying a gun who is prohibited from possessing a weapon, or stop someone from buying guns for felons or the mentally ill, then perhaps we have also stopped another senseless tragedy," the letter said.

The letters were sent out as a follow-up to a study by the RAND Corp. that said 50 percent of people will voluntarily comply with local laws if they are informed of the requirements.

"Our intent was to make them aware of the laws and what they have to do under the law," Trutanich said in an interview. "Our purpose was to get more compliance."