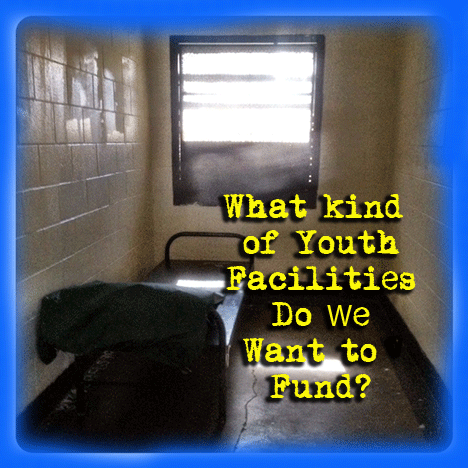 CALIFORNIA PLANS TO SPEND $79 MILLION ON YOUTH, & ADVOCATES PRESS FOR $$ TO GO TO COUNTIES WITH CLEAR REHAB GOALS
Right now the California Board of State & Community Corrections (BSCC) is working on structuring an RFP so that it can give away $79 million to various counties in the state for the construction of new juvenile facilities.
The $79 mil is the second round of post-realignment funding for county youth lock-ups; $220 million has already been awarded to 14 California counties.
With this new round of money, research and advocacy organizations like the Center on Juvenile and Criminal Justice (CJCJ), the National Center for Law, and the Ella Baker Center see a rare opportunity to stimulate reform through the enticement of funding, so have been trying to educate and persuade the BSCC about what kind of youth facilities are likely to produce the best results.
According to Kate McCracken, CJCJ's Director of Policy & Development, the the BSCC's Executive Steering Committee, which is responsible for developing the crucial RFP, has "demonstrated openness" to crafting a competitive process would give the edge to county proposals that are designed with "clear rehabilitative goals."
Ideally, McCracken writes, "the language of this RFP will guide the way counties develop their own proposals, and is thus essential to the development of long-term dispositional options and rehabilitative services available to young people in the community."
Thus she hopes "the RFP will be rooted in what we know works for young people."
"Research has proven time and time again that facilities are not effective when they have artificial environments, living quarters designed to confine large numbers of youth, and minimal programming space. If California is going to spend $79 million dollars — plus matching funds from the counties — on more juvenile facilities, let's do it in a meaningful way."
Some counties, like Santa Clara and Santa Cruz, are already committed to juvenile programs that emphasize rehabilitation and treatment over conventional youth corrections facilities.
Los Angeles County, which has the state's (and the nation's) largest juvenile justice system, was stuck for years in a punitive pattern that has resulted in years of federal monitoring along several class action lawsuits. Now LA County's juvenile probation is moving toward some reform, with such programs as the in-the-works transformation of Camp David Kilpatrick. But, the tentative move in the direction of rehabilitation over containment is nothing close to system-wide.
If the purse-string-holding BCSC were to make clear that future $$ will be linked to reform, such fiscal incentives cannot help but have a salutary effect on counties like Los Angeles and others that may have made some improvements, but need to make many more.
"The future of California's juvenile justice system is in the 58 counties," writes McCracken, "as we observe pockets of innovation throughout the state that require support and incubation in other counties. There is significant evidence that a continuum of community-based services is the most effective approach to serving youth, as well as promising programs available to promote a new way of justice in California. This RFP is just one example of an opportunity for the state to rethink its approach to justice and challenge the status quo with innovative development."
Yep. Exactly.
---
CHP HEAD MEETS WITH CIVIL RIGHTS LEADERS OVER FREEWAY BEATING VIDEO
Concerned about a building furor over the bystander-taken video of a California Highway Patrol officer beating a woman next to the 10 freeway, on Tuesday, CHP head Joe Farrow met Tuesday with civil rights leaders.
KPCC's Frank Stolze has the story. Here's a clip:
In an indication of the agency's increasing concern over the videotaped altercation between an officer and an African-American woman on the 10 Freeway, California Highway Patrol Commissioner Joe Farrow met Tuesday with civil rights leaders in Los Angeles.

"I believe that right now, we are somewhat wounded because of what people have seen," Farrow told reporters afterward outside the CHP's West L.A. office. "I was deeply concerned when I saw the videotape. I was shocked."
---
AN INNOCENT MAN TELLS OF HIS 25-YEARS BEHIND BARS, AND MORE
Michael Morton's memoir, "Getting Life: An Innocent Man's 25-Year Journey From Prison to Peace," about the wrongful conviction that led him to serve a quarter century in prison for murdering his wife, has just been released to reviews that, thus far, are uniformly glowing.
For instance, here's a clip from the review by Jesse Sublett of the Austin Chronicle:
Even for readers who may feel practically jaded about stories of injustice in Texas – even those who followed this case closely in the press – could do themselves a favor by picking Michael Morton's new memoir, Getting Life: An Innocent Man's 25-Year Journey From Prison to Peace. It is extremely well-written, insightful, infuriating, and, in places, quite funny. The "peace" part of the title is no exaggeration, either. For everything he's been through, Michael Morton seems to be a very well-adjusted person with a sense of Zenlike calm…
Morton' wife, Chris, was bludgeoned in their bed while he was at work. When he returned home to find the family home surrounded by yellow police tape he became frantic. Morton was arrested soon after and railroaded by Williamson County D.A. Ken Anderson, who withheld crucial information and documents from the defense. Morton was eventually cleared by the Innocence Project using DNA evidence. After that, the DNA led officials to the actual killer.
Here's a clip from what NY Times columnist Nicholas Kristof said about Morton's book:
A great deal has been written about the shortcomings of the American criminal justice system, but perhaps nothing more searing than Morton's book, "Getting Life." It is a devastating and infuriating book, more astonishing than any legal thriller by John Grisham, a window into a broken criminal justice system.

Indeed, Morton would still be in prison if the police work had been left to the authorities. The day after the killing, Chris's brother, John, found a bloodied bandanna not far from the Morton home that investigators had missed, and he turned it over to the police.

Morton had advantages. He had no criminal record. He was white, from the middle class, in a respectable job. Miscarriages of justice disproportionately affect black and Hispanic men, but, even so, Morton found himself locked up in prison for decades.

Then DNA testing became available, and the Innocence Project — the lawyers' organization that fights for people like Morton — called for testing in Morton's case. Prosecutors resisted, but eventually DNA was found on the bandanna: Chris's DNA mingled with that of a man named Mark Alan Norwood, who had a long criminal history….
Parade Magazine has an excerpt from "Getting Life".
Here's an excerpt from the excerpt:
The door closed.

Not with a click or the sound of tumblers finally hitting their marks or the sturdy clunk of wood and metal meshing as if they were made for each other.

This was different.

It began with the long, hard sound of steel sliding against steel.

Like a train, the heavy door built speed as it barreled along its worn track, the portal to the real world growing smaller as the barrier of thick and battered bars roared into place.

It locked with a cold, bone-shaking boom that rattled me— literally—me, the guard outside my door, and any other inmates unlucky enough to be nearby.

I was alone in my cell, alone in the world, as alone as I had ever been in my life.

And I would stay there—alone—listening to that door close, over and over and over again, for the next twenty-five years.

Twenty-five years.

My wife, Chris, had been savagely beaten to death several months earlier. Before I had time to begin mourning, I was fighting for my own life against a legal system that seemed hell-bent on making me pay for the murder of the woman I would gladly have died for.

I was innocent.

Naïvely, I believed the error would soon be set right.

I could not have been more wrong.
---