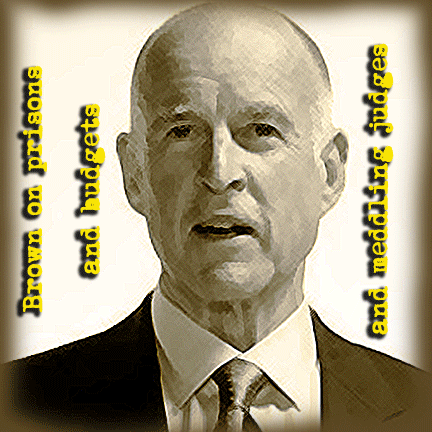 GOVERNOR SAYS PRISON POPULATION CRISIS IS OVER, THAT FEDS SHOULD REMOVE THE POPULATION CAP—MEANWHILE SOME CA LOCK-UPS STILL RUN AT WAY PAST CAPACITY
On Thursday, California Governor Jerry Brown will introduce his new proposed state budget which is expected to have some innovative and possibly controversial ideas about how better to run the state's prison system.
In the meantime, in a press conference this past Tuesday, Brown was also talking prison policy when he announced that the prison population crisis is at an end, and that the gaggle of interfering federal judges should buzz off and give the responsibility of running the California state prisons back to the state of California.
Here's a clip from the San Francisco Chron's coverage of the story:
A defiant Gov. Jerry Brown declared an end to the overcrowding emergency in state prisons on Tuesday and said that the courts should return all the responsibility of overseeing prisons to state officials.

That action came hours after the state faced a deadline to inform a federal court how officials plan to further reduce the prison inmate population by June. State attorneys instead filed an appeal requesting that federal judges undo an order that had set a limit on California's prison inmate population.

"We've gone from serious constitutional problems to one of the finest prison systems in the United States," Brown said at a news conference, where he announced that he had signed a proclamation declaring an end to a state of emergency in state prisons.

That emergency was declared in 2006 by then-Gov. Arnold Schwarzenegger because of overcrowding. But since then, the population of inmates has decreased by about 43,000 to 119,200, largely because Brown's prison realignment program shifted incarceration of inmates from prisons to county jails. Some sheriffs now say their jails are overcrowded.
(One of the finest prison systems in the U.S…? Oh, Jerry, Jerry, Jerry! Improved, yes. One should hope so. But one of the finest…? Uh, no.)
While we can understand Brown's desire to do away with outside overseers and meddlers, and certainly, we don't want to see the courts force some kind of crazy prisoner release, advocates and experts, who are not quite the Calif. prison system boosters that Brown was on Tuesday, feel it's important that the pressure stays on the governor and the California Department of Corrections for just a bit longer.
And, although progress has been made, stories like this one by Joshua Smith in the Merced Sun-Star remind us that there are still challenges that remain, on the prison pop front. For instance, according to the Sun-Star, Chowchilla prison for women is running at 180 percent of intended capacity with 3,608 inmates, while earby Avenal prison is running at 171 percent capacity.
Here's a clip:
More than a dozen groups from around the state — including the California Coalition for Women Prisoners and Californians United for a Responsible Budget — have organized a rally to protest the conditions.

"These cells were set up for two to four people max, and they're up to eight people again," said Colby Lenz, campaign coordinator for the coalition. "They're not enough resources in terms of hygiene. They're not getting cleaning supplies or tampons. It's a public health disaster."
The protest will be held at 3 p.m. Jan. 26 in front of Valley State Prison outside Chowchilla.
However, corrections officials dismissed the groups' concerns.

"We're not overcrowded," said Dana Simas, a California Department of Corrections and Rehabilitation spokeswoman. "No inmate is being housed in nontraditional beds. We've been far more overcrowded than where we are now."
(NOTE TO CDCR'S DANA SIMAS: "We've been far more overcrowded" is not a reassuring thing to say at this juncture. Yes, of course we know you've been far more overcrowded. Catastrophic overcrowding is what brought the state the years of federal oversight, plus a US Supreme Court ruling that said the state's lock-ups are in violation of the 8th Amendment to the Constitution!)
Squabbles over prison oversight aside, we are looking forward to hearing Brown's budget proposals on Thursday.
---
USING TEST SCORES TO EVALUATE TEACHERS CAN DEFINITELY WORK, SAYS NEW GATES STUDY, BUT ONLY IF COMBINED WITH OTHER MEASURES
As the argument over how to measure teacher effectiveness continues, the Bill and Melinda Gates Foundation weighs in with a just released 3-year study involving 3000 teachers, which provides lots of data-driven food for thought. Their main conclusion was that, yes, the so-called value-added method of evaluating teachers by using changes in yearly student test scores to measure teacher performance can, in fact, be very useful. But the study also determined that the value added model works best if combined with other methods, like student surveys and certain systems of classroom observation and direct evaluation.
Here's a clip from the executive summary.
Despite decades of research suggesting that teachers are the most important inschool factor affecting student learning, an underlying question remains unanswered: Are seemingly more effective teachers truly better than other teachers at improving student learning, or do they simply have better students?Ultimately, the only way to resolve that question was by randomly assigning students to teachers to see if teachers previously identified as more effective actually caused those students to learn more. That is what we did for a subset of MET project teachers. Based on data we collected during the 2009–10 school year, we produced estimates of teaching effectiveness for each teacher. We adjusted our estimates to account for student differences in prior test scores, demographics, and other traits. We then randomly assigned a classroom of students to each participating teacher for 2010–11.

Following the 2010–11 school year we asked two questions: First, did students actually learn more when randomly assigned to the teachers who seemed more effective when we evaluated them the prior year? And, second, did the magnitude of the difference in student outcomes following random assignment correspond with expectations?
They found that, yes, effective teaching can be measured.
Read the rest of the photo and diagram-laden study for the details.
---
CITY COUNCIL WANTS REPORT FROM LAPD ABOUT REDUCING GANG VIOLENCE BY WORKING WITH GANG INVERVENTIONISTS
David Fonseca of Highland Park Patch has the story. Here's a clip:
Los Angeles Mayor Antonio Villaraigosa on Monday stated in a dual press conference with LAPD Charlie Beck that gang crime has been reduced by 47.5-percent since he took office and that a "record-low" 152 gang related homicides were reported in 2012.

Despite the marked reduction in gang crime, Chief Beck said the problem still required is "still unacceptable" and "requires much work."

One of the two motions passed on Tuesday, which was authored by Councilman Tony Cardenas, would require the Los Angeles Police Department to provide within 30 days a report detailing the level to which the department collaborates with gang intervention programs.

"Given the significant steps that have been taken to further professionalize the field of community-based gang intervention within the City of Los Angeles and the historic partnership that has developed among law enforcement and interventionists, a report from the Los Angeles Police Department (LAPD) affirming the integral role of community-based gang intervention in helping to reduce violence would substantially contribute to demonstrating the overall effectiveness and necessity of intervention services during these difficult economic times," Cardenas' motion states.
---
JUVENILE JUSTICE EXPERTS CALLED IN TO TALK TO THE WHILE HOUSE AND CONGRESSIONAL LEADERS ABOUT GUN VIOLENCE
We know the White House is meeting with a lot of people on this issue, but it's nice to know that juvenile justice experts are among them. Moreover a glance over their list of participants is heartening as they've got a lot of the right people included, people like Liz Ryan, founder and CEO of the Campaign for Youth Justice; Mark Soler, founder and CEO of the Center for Children's Law and Policy, and more of that ilk.
Kaukab Jhumra Smith of Youth Today has the story. Here's a clip:
Representatives from a group of more than 300 juvenile justice and delinquency prevention organizations at the national, state and local level have met with White House staff and Congressional minority leaders at their invitation in recent weeks to provide evidence-based expertise on ways to reduce gun violence in the country, a coalition leader said.

As tasked by President Barack Obama in the wake of mass shootings at an elementary school last month, Vice-President Joe Biden and his staff have spent the last few weeks meeting with gun-control advocates, pro-gun rights groups and dozens of concerned organizations in preparation for the release of the vice-president's recommendations for the prevention of gun violence.
According to Politico, Biden indicated today that the president could use an executive order to act on some of his recommendations, which are expected to be made public next week.