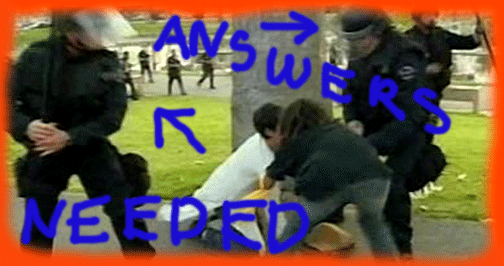 It's been five months since the Monster May Day Mess occurred in MacArthur Park, and the LAPD's main report on the situation is due to come out today.

So far, not much has been leaked about what's inside the report—except that the officers involved won't be named.
But stay tuned.

UPDATE # 1:
The broad strokes of the report attribute the May Day problems as being "primarily a result of command structure, planning and communication breakdown, as well as training insufficiencies."
Union folks also liked the fact that the report talks about cops who did the right and wise thing, in addition to those who did not.
The police union is generally happy with the overall direction of the report in that it blames brass not officers. Former Deputy Chief Caylor "Lee" Carter is said to be taking a heavy hit.
But officers are by no means off the hook. , As it stands now, 26 officers are under investigation for excessive use of force during the events of the day.
Details and commentary to come late this afternoon after I meet with some folks. In the meantime, the LA Times has some interesting pre-report information.

By the way, to date there have been more than 100 lawsuits filed as a result of the May Day actions on the part of LAPD officer.