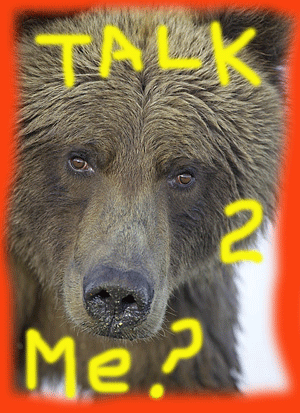 Today the LA Times has a feature on a man named Steve Searles who purportedly "talks" local Mammoth Mountain black bears out of bad bear behavior rather than having the authorities shoot the beasts. A bear whisperer, they have (naturally) dubbed him.
He tries to think like a bear. He studies their habits and social hierarchy. He has participated in Native American ceremonies to learn what the tribes perceive as bears' spiritual nature. He even has been known to spread his own urine to drive away territorial animals.

"I'm the biggest, baddest, meanest bear in this town — that's what I want them to think," said the 48-year-old. "I'm the alpha male, and they must obey me."
Actually, Searles doesn't so much talk as use negative conditioning—loud noises, shots with pellet guns, and the like— to discourage certain undesirable activities on the part of the bear . (He also has gone on a campaign with local residents to change the humans' undesirable behavior—namely their habits of leaving out unsecured, bear-attracting garbage and restaurant food scraps.)
According to the Times, the California Department of Fish and Game officials are "dubious." And Mammoth Lakes Police Chief Michael Donnelly praises Searles "out of the box" methods as "things Fish and Game or nobody else had ever suggested."
Well, not exactly. What the Times doesn't say is that Steve Searles' methods are not new or unusual at all. They are slightly more primitive versions of the "bear management" policy that biologists at Glacier and Yellowstone Parks have been using for well over a decade to deal with problem grizzlies:

It used to be that when bears in Glacier or Yellowstone became too unnervingly acclimated to people, they were trapped and relocated to wilderness areas where they were less likely to have human contact. Then biologists rethought the whole thing and realized they might be removing all the more socially balanced members of the local bear population, leaving the weird, loner, Ted Kaczynski bears—not exactly an ideal plan. Now, unless the griz proves to be agressive, biologists have found it's far better to leave the bear in place, but repattern its behavior using "aversive training"— banging on pots, shouting, rubber pellets, tossed bean bags and an occasional bout of barking and chasing by specially trained Karelian Bear Dogs.
On the other hand, maybe that's an even better story: with absolutely no formal training in biology, Steve Searles has devised the same successful bear management method that it took a team of experts years to design.
Not bad. Not bad at all.
(And, no, this isn't a social issue. It's a bear issue, and we're really into bear issues around here.)