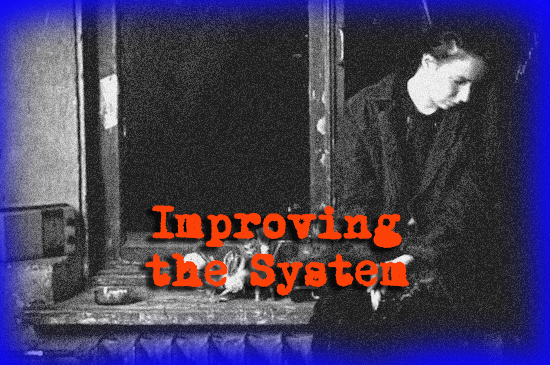 HELPING GIRLS ENTANGLED IN THE JUVENILE JUSTICE SYSTEM
A new report from the Georgetown Center on Poverty says that things like diversion programs, staff training, and gender-specific programming need to be developed in order to help the fastest-growing group in the juvenile justice system—girls.
NPR's Carrie Johnson has the story. Here's a clip:
Experts say girls make up the fastest-growing segment of the juvenile justice system, with more than 300,000 arrests and criminal charges every year. A new report by the Georgetown Center on Poverty, Inequality, and Public Policy says the system isn't doing enough to help those young girls.

Most girls who wind up tangled in the justice system have family problems, trauma or a history of abuse, says Georgetown University professor Peter Edelman, who co-authored the report, "Improving the Juvenile Justice System for Girls."

More than half of the girls detained these days don't commit big crimes. More often their transgressions are things like skipping school, breaking curfew or running away from home, says Edelman, who has studied justice up close since the 1970s.

"Getting them back into school and getting them back on a path without invoking the sanctions of the juvenile and criminal justice system," Edelman says, "that is so much better in terms of not leaving those wounds and scars and preserving the possibilities for the future."
---
REASONS BEHIND LAPD CHIEF BECK'S IMMIGRATION TACTICS
LAPD Chief Charlie Beck says that his recent immigration initiatives and policy changes are not based on his personal views on illegal immigration or political strategy, but directly related to public safety. (We're a day late on this story about LAPD Chief Beck and immigration, but it's important and we wanted to make sure you didn't miss it. For background, go here and here…and here.)
The LA Times' Joel Rubin has the very well-written story. Here are some clips:
A decade ago, Charlie Beck watched as William J. Bratton arrived in Los Angeles and began rebuilding a department deeply tarnished by the Rodney King beating, riots and corruption scandals. Bratton made many changes as chief, but Beck was particularly taken by his aggressive effort to rebuild the LAPD's broken relationship with the African American community, which over and over Bratton said was a cornerstone to his success.

Beck carried the lesson with him when he replaced Bratton three years ago as chief of the nation's second-largest police force. With nearly half of the city's population Hispanic and the federal government's aggressive efforts to identify and deport illegal immigrants sowing fear in immigrant communities, Beck believed that his success or failure as chief rested heavily on whether he could replicate Bratton's success — but this time with Latinos.

His actions have made him a lightning rod for criticism, even from some of his own police officers. But they have also established Beck as a forceful national voice for a more restrained approach to illegal immigration, a high-profile counterpoint to hard-liners like Sheriff Joseph Arpaio in Arizona's Maricopa County.

[SNIP]

In an interview, Beck said he was driven to act on some level by his sense that he can and should help level the playing field for illegal immigrants, whom he said have suffered unfairly from crude federal immigration laws. But Beck said those personal views were not as important as his more practical belief that extending an olive branch to immigrants in Los Angeles was vital to the LAPD's crime-fighting efforts.

"It's not so much that I am a dove on immigration," he said. "It's that I'm a realist. I recognize that this is the population that I police. If I can take steps — legal steps — to make them a better population to police then I will…. I do have sympathy for their plight, but my actions are not based mainly on that. It makes absolute law enforcement sense. Any one of these things I've done is directly tied to public safety."
---
LA CITY COUNCIL MEMBERS VOTE AGAINST PUPPY AND KITTY MILLS
LA City Council voted Wednesday in favor of banning the sale of non-rescue dogs, cats, and rabbits in pet stores. If it passes with a majority a second time, it will bring about a three year trial run to see if targeting puppy and kitten mills will bring down euthanization rates at shelters.
LAist's Lauren Lloyd has the story. Here's a clip:
City News Service explains that the ordinance "is intended to shut down puppy and kitten mills and reduce the tens of thousands of euthanizations performed on unclaimed animals each year." While it clearly mandates that pet stores cannot sell animals obtained from commercial breeders, pet stores would still be permitted to sell animals from shelters, humane societies and registered rescue groups. Individuals would still be allowed to buy directly from breeders as well.

Penalties for stores caught disobeying the law include misdemeanor charges and a first-time penalty of $250. A third strike would carry a fine of up to $1,000.
The wolves and Pomeranians at WitnessLA approved this message.
---
SUSPECT PLEADS GUILTY IN MISTAKEN IDENTITY MURDER OF LASD DEPUTY
A 28-year-old LA gang member pleaded guilty Tuesday to the murder of well-liked LA Sheriff's Dept. Deputy Juan Escalante, who at the time of his death was working at Men's Central Jail. (For background on Deputy Escalante's heartbreaking story, go here.)
The LA Times' Richard Winton has the story. Here's a clip:
Carlos Velasquez, 28, pleaded guilty to murder and one count of possession of a firearm by a convicted felon in the Aug. 2, 2008, slaying of Dep. Juan Abel Escalante, right. The plea was accepted by Superior Court Judge Ronald S. Coen.

Velasquez was originally charged with capital murder and could have faced the death penalty. He admitted he killed the deputy as he was leaving his parents' Cypress Park home to head to work at the Men's Central Jail.

Escalante was shot in the back of the head as he reached into his car to adjust a child's car seat.

Deputy Dist. Attys. Phillip Stirling and John Colello say Velasquez wrongly believed he was killing a gang rival and shot the deputy numerous times.