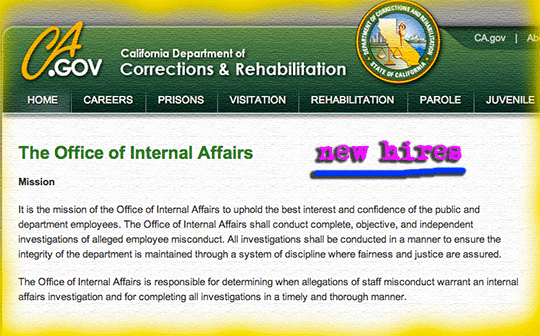 CDCR TO HIRE MORE EMPLOYEES TO INVESTIGATE PRISON STAFF MISCONDUCT CASES
The California Department of Corrections and Rehabilitation will be hiring more employees to the Office of Internal Affairs to help expedite prison staff misconduct investigations, according to CDCR spokeswoman Deborah Hoffman. Among other changes, the CDCR will also require wardens to refer cases of alleged misconduct to the OIA within 45 days.
The reforms come in the wake of a lengthy 341-page semi-annual report by the California Office of the Inspector General highlighting issues within the prison system.
Don Thompson of the Associated Press has the story. Here's a clip:
The changes come as a state inspector general released a two-volume, 341-page report criticizing the department for often failing to meet interim deadlines for investigating and disciplining cases of employee wrongdoing, including smuggling of cellphones and drugs, and having sexual contact with inmates. The report covers incidents between July and December 2013.

Hoffman said the department is drafting a new policy requiring wardens to refer cases for investigation within 45 days, fixing what the inspector general called "a heretofore neglected policy gap." She could not immediately say how many more employees will be hired to fill vacant positions in the department's Office of Internal Affairs to help reduce backlogs and delays.

She and the inspector general said their disagreement on the department's handling of employee dishonesty cases involves a small but significant proportion of all allegations against employees. The department agreed to have supervisors review dishonesty allegations if there is a dispute with the inspector general's office over whether formal disciplinary charges should be filed.
---
MORE ON THE BIZARRE LELAND YEE CORRUPTION CASE
If you missed it on Wednesday, California Senator Leland Yee (D-San Francisco) was arrested in an FBI corruption sting for alleged gun trafficking in exchange for donations to his campaign for California Secretary of State.
KPCC's Sharon McNary has a roundup of eight of the weirdest things in the affidavit against Yee, his associate Raymond "Shrimp Boy" Chow, and twenty-four others picked up in the sting. Here are the first four highlights:
Yee allegedly offers to connect the FBI's undercover operative (who claims to be in an East Coast mafia family) with a weapons dealer. The dealer claimed to have contact with Muslim dissidents in the Philippines who can sell $2 million worth of that country's military weapons, including shoulder-mounted missile launchers. Yee's response: "Do I think we can make some money? I think we can make some money."

Raymond "Shrimp Boy" Chow claims to be the "Dragonhead" of Chee King Tong, described as a fraternal organization that fronts for an organized crime group in San Francisco's Chinatown, the affidavit says. Chow tells the FBI's undercover operative that he can approve killings by group members. He's also identified as a top player in an international organized crime group known as a triad.

Ex-con Chow and Yee's campaign consultant Keith Jackson allegedly arranged to have a state Senate proclamation presented to Chow's group. The cost? Just $6,800 in donations to one of Yee's campaign committees. The ex-fugitive Chow also wanted to pay Yee to use his influence to have his bracelet monitor removed.

Yee allegedly confesses to the FBI's undercover fake mafioso that he is unhappy in his life as a high ranking California politician, and that, at age 65, he just wants to run off and hide in the Philippines. Yee to undercover agent: "There is a part of me that wants to be just like you…Just be a free agent out there."
Yee pulled out of the Secretary of State race, but had not yet stepped down from the Senate, as of Thursday night. His colleagues at the capitol are urging Yee to do so of his own volition, but are also preparing to vote, likely today (Friday), to suspend him with pay.
The LA Times' Patrick McGreevy and Melanie Mason have more on the Yee scandal and its implications in Sacramento. Here's a clip:
Senate President Pro Tem Darrell Steinberg (D-Sacramento) has called for a Friday vote to sideline the San Francisco Democrat — with pay — if he does not leave voluntarily, action supported by the leader of the Republican minority.

Yee, arrested by the FBI in a criminal sting operation that also ensnared a notorious Bay Area gangster known as "Shrimp Boy," abruptly ended his campaign to become California's secretary of state in this year's elections. But as of late Thursday, he had not quit the Senate.

"Leave," Steinberg had said in an open plea to Yee at a news conference Wednesday. "Don't burden your colleagues and this great institution with your troubles. Leave."
---
BACA DISCUSSES HIS TIME AS HEAD OF THE LASD, IN RETROSPECT, AND THE CURRENT SHERIFF'S RACE WITH LOYOLA MARYMOUNT STUDENTS
Not one for the spotlight since he announced his retirement in January, former LA County Sheriff Lee Baca spoke with students in a rare Q&A session at Loyola Marymount about his 15 years as sheriff, and what he would do differently in hindsight.
The LA Times' Robert Faturechi has the story. Here's a clip:
"What I'd do differently is … manage more," said Baca, looking relaxed during the two-hour question-and-answer session.

The former sheriff said he's also coming to terms with criticism over his leadership of the department, which has been mired in various scandals including an FBI investigation into inmate abuse.

"You won't hear anyone giving me credit for much of anything, which is OK," he said. "Did I give it my heart and soul? I didn't leave much space for anything else but the Sheriff's Department."

Baca said when he looks back, he realizes he spread himself too thin and should have focused more on the inner workings of the department. Baca was known for his community outreach as well as his frequent trips abroad for various cultural and law enforcement events.

"It's amazing how hindsight is always clearer than foresight. I think what I can be clearly faulted for is I tried to do all things for all people. That's asking for the impossible," he said. "It doesn't mean that the public doesn't come first. It just means that your time comes first."

One student asked Baca if he would have stayed on "if the scandals were not front page news."

Baca, 71, blamed his age instead, saying that being sheriff "is definitely a younger man's type of work."

"People who were political professionals" told him he would have been the front-runner, but that the campaign was going to be tough. "I decided to say this is one for the future. I'm not the future," he said.
---
"RENO 911!" CAST REUNITES IN ADS FOR LOS ANGELES SHERIFF CONTENDER TODD ROGERS' CAMPAIGN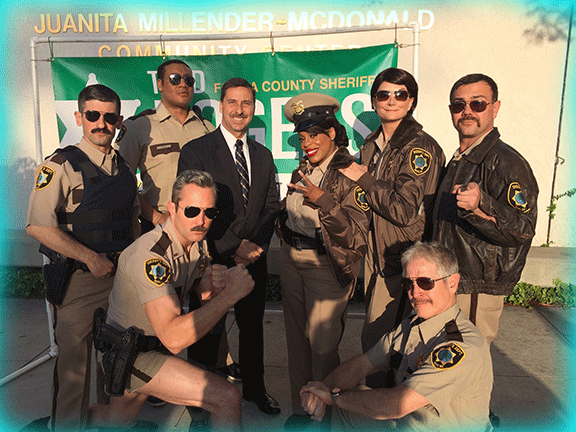 On Thursday, all but one cast member from the comedy television show "Reno 911!" reunited to film ads for sheriff candidate Todd Rogers' campaign.
The Daily Breeze's Beatriz Valenzuela has the story.
---
EDITOR'S NOTE: Todd Rodgers' Reno 911 campaign moment was definitely our favorite elections news of the week. In the midst of all that is at stake with this sheriff's race, it's nice to be able to take a break for a well-costumed injection of law enforcement humor.