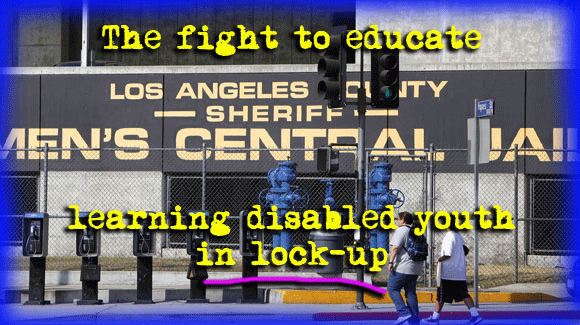 YOUNG, LEARNING DISABLED, AND LOCKED-UP—AND IN NEED OF EDUCATION
Michael Garcia, who is about to turn 23 in a California state prison, was sentenced as an adult to 12 years in lock-up for his part in a gang-related crime that occurred in 2006 when he was 15. Garcia will be released in 2016, when he's 26, at which point he is determined to reboot the trajectory of his life toward a positive—and legal—future. One important step along the way to that new life, Garcia knows, is a high school diploma.
Garcia, however, has a learning disability meaning that he does not fit well into conventional classes or instruction. Nevertheless, until he turned 22 years old, the state of California is legally required to provide him with the rest of his high school education, if he desires it, even if he's incarcerated.
But once Garcia was moved from a juvenile facility to the LA County jail, no state or county educational agency seemed to want to be the ones to provide him with that education—although everyone seemed to cheerily agree that it was in the best interest of society, and all that good stuff, for someone to do it. The question was: who?
Joanna Lin, from the Center for Investigative Reporting, has the story about Garcia and the growing number of young, learning disabled inmates like him who are falling through a yawning gap in the special education laws, never mind that education is one of the biggest predictors when it comes to determining how well or poorly a person does when he or she gets out of prison and attempts to reenter the legal, working world.
Here's a clip from Lin's story:
School ended for Michael Garcia with a routine transfer from juvenile hall to adult county jail. There was no fanfare, diploma or cap and gown. He hadn't graduated or dropped out.

He'd simply turned 18.

For the next 19 months, he was in limbo, unable to receive the high school diploma that he'll need for most jobs and to attend college. Despite being eligible for special education under state and federal laws – Garcia has a learning disability, an auditory processing disorder and a speech and language impairment – in the Los Angeles County Men's Central Jail, he was a student that no one wanted to teach.

California and federal laws allow students with disabilities to receive special education services until age 22. But the laws are vague enough that deciding who should provide that education is unclear.

Garcia has spent nearly five years in legal battles trying to hold someone accountable. This year, the California Supreme Court is expected to hear Garcia's case to determine whether an incarcerated student's local school district – the one in which his or her parents reside – is responsible for his or her special education.

The case has implications for county inmates with disabilities and school districts across the state that could be required to send teachers into jails to instruct special education students. In L.A. County jails alone, attorneys for Garcia estimate, between 400 and 700 young adults are eligible for special education on any given day.

The court's decision will come too late for Garcia, who is incarcerated at a state prison – a system beyond the scope of his petition. Still, said Garcia, who turns 23 in June, "it's the least I can do."

"I know other people are struggling to get education too but don't have the courage to keep pushing," he said. "I already went through that struggle. Why not keep going to help everyone else?"
NOTE: just to be clear, it is not the job of the Los Angeles Sheriff's Department to educate people like Garcia. It's LAUSD and/or the state of California that is dropping the ball with young inmates with learning disabilities. (The LASD's Education-Based Incarceration program is an entirely different kind of program.)
---
HOMEBOY INDUSTRIES GOES TO SCOTLAND
Father Greg Boyle and former prison lifer, James Horton (who now works for Boyle's Homeboy Industries) were asked to visit Scotland in order to consult with local law enforcement about the uptick in crime and violence that is plaguing the country's poorest urban areas.
Now Boyle and Horton—plus my pal, UCLA violence reduction expert, Jorja Leap—are on the ground in the land of kilts and poets, and the local media has been reporting on their peregrinations. Here's a clip from the BBC's coverage by Huw Williams :
Former gang member James Horton spent 12 years on death row in the US but was later cleared of a murder charge. He now works with Homeboy Industries.

"Joining a gang was like a rite of passage, and you did it because you wanted to be accepted by those in your community," he said.

"I was drug dealer too. I was a criminal. Every opportunity that I had to do something to make some money I was most likely involved in doing that.

"You have to deal with the issue as a whole. You can tell someone 'come join us, be with us' but if you don't give them no hope, or no job, then the gang will always have access to them.

"Father Greg teaches us that you can never take away a person's hope."

[BIG SNIP]

Police Scotland's Violence Reduction Unit (VRU) said one of the biggest challenges for ex gang members and those recently out of prison was finding a meaningful job, so they could contribute economically and socially.

Father Greg Boyle and former gang member James Horton are in Glasgow working with the VRU
The VRU said Braveheart Industries, a social enterprise based on the Los Angeles experience, could improve public safety, make communities healthier and safer, and break the cycle of gang violence.

VRU director Karyn McCluskey added: "Giving people an opportunity and a job has a huge impact on their life and it has a halo effect on their family, it affects the lives of their children and their partners, and I think we can use that experience here.

"We've had great policing, Stephen House has driven down violence in Scotland, but the thing that really stops reoffending is giving people a positive destination and I think we can really take some of the experience from Father Greg and Homeboy Industries and use it in Scotland."

Meetings are to be held in Glasgow, with similar sessions planned in Edinburgh and Kilmarnock later in the week, to see if the work can be replicated across Scotland.
---
FOSTER CARE YOUTH COVERED FOR HEALTH CARE UNTIL AGE 26 (UNLESS THEY HAVE MOVED STATES IN WHICH CASE THEY'RE OUT OF LUCK)
This is one of those bureaucratic gaps that needs to be fixed immediately.
The California Report has an podcast on the topic.
Anna Challet of New America Media has still more on the issue. Here's a clip from her story:
There are over 400,000 children and youth in the foster care system, and almost all of them are enrolled in Medicaid. Brooke Lehmann, the founder of Childworks, an advocacy organization in Washington, D.C., says that 80 percent of foster youth have one or more chronic medical conditions that must continue to be treated after they age out of care.

"There's simply a cliff where they were once provided for," she says.

To qualify for the extended coverage [to age 26], youths must have been in foster care at the time of their 18th birthday or have aged out of foster care based on their states' age limits, and have been enrolled in Medicaid. Until now, states had an option (known as the Chafee Option), but not a mandate, to extend Medicaid coverage to former foster youths, and only until age 21. Only 33 states had adopted the Chafee Option. Now all states will be required to cover eligible youth through age 26.

But, under the extended eligibility provision, there is not currently a requirement that states must cover former foster youth who aged out of care in a different state.
---
DOJ FAILS TO GUARD AGAINST KILLING OF ENDANGERED SPECIES, SAYS NEW LAWSUIT
The US Department of Justice, which is not exactly having a good month (what with their poorly received new habit of spying on journalists and all), is now rightfully being sued by environmental advocacy groups for their weak-kneed enforcement of protections against killing endangered species.
Julie Cart of the LA Times has the story. Hee's a clip:
Environmental groups are taking the Justice Department to court over a policy that prohibits prosecuting individuals who kill endangered wildlife unless it can be proved that they knew they were targeting a protected animal.

Critics charge that the 15-year-old McKittrick policy provides a loophole that has prevented criminal prosecution of dozens of individuals who killed grizzly bears, highly endangered California condors and whooping cranes as well as 48 federally protected Mexican wolves.

The policy stems from a Montana case in which Chad McKittrick was convicted under the Endangered Species Act for killing a wolf near Yellowstone National Park in 1995. He argued that he was not guilty because he thought he was shooting a wild dog.

McKittrick appealed the conviction and lost, but the Justice Department nonetheless adopted a policy that became the threshold for taking on similar cases: prosecutors must prove that the individual knowingly killed a protected species.

The lawsuit charges that the policy sets a higher burden of proof than previously required, arguing, "The DOJ's McKittrick policy is a policy that is so extreme that it amounts to a conscious and express abdication of DOJ's statutory responsibility to prosecute criminal violations of the ESA as general intent crimes."
WLA agrees
And to validate the casualness with which the feds seem to view the protection of endangered species, there is this story from early last month regarding the "mistaken" killing of a highly endangered Mexican Gray wolf by a USDA Wildlife Services employee, who said he thought he was killing a coyote.
---