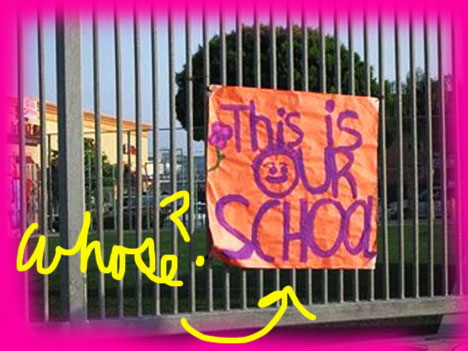 Ben Austin is the executive director of an LA-based organization known as the Parent Revolution, which has been extremely active in lobbying for various kinds of education reforms at an LA and a statewide level. In doing so, the group has often found itself on the opposite side of the influence-wielding push-pull from the various teachers' unions—UTLA and CTA. As a consequence, Austin is either revered or despised, depending upon who's doing the talking. Yet, whatever one thinks of Ben Austin and his organization, he has emerged as a recent big player in the world of school reform—both locally and nationally—alongside more recognizable stars in that firmament, like Green Dot's founder Steve Barr .
Neon Tommy's Jessica Flores (who also happens to be my smart student), took a look at how Austin's Revolution is evolving with the passage of the so called Trigger Law.
(This week my USC class has been reporting on education, and they have found a number of LA ed stories that are under-reported, this among them.)
Here are some clips from Jessica's story:
In a modest office with mostly bare walls and a few desks in downtown Los Angeles, Parent Union organizer Shirley Ford spends her time these days strategizing for, what she calls, a revolution.

"I'm making a list of people that I'm going to sit down with now that the Parent Trigger Law is passed, because that gives us leverage," says Ford.

A new state law gives wings to a promise the Los Angeles Parents Union first made early last year, when it was headed by Green Dot, its mission to get parents to sign on to transform poorly performing Los Angeles schools to charters. They call the movement the Parent Revolution and promise parents to deliver new charter schools within three years if 51 percent of parents sign up for reforms. But no laws held-up their pledge, which was more hope than certainty.

"We were building the airplane while it was in the air. We didn't exactly know how we were going to back it up," said Ben Austin, the executive director of the L.A. Parent's Union.

Now they do know. After the Parent Revolution aggressively campaigned for the trigger law, the state passed it earlier this year. For the first time, parents have the codified right to demand changes in failing schools. If a majority of parents organize to reform consistently failing schools, they can call on officials to take one of three steps: transform the school to a charter, fire the principal and half the staff or close the school altogether.

The law is changing how the Parent Revolution is positioning itself in the charter school movement. The Parent's Union is saying they aren't working for Green Dot or Green Dot's agenda anymore. But the law is also fueling fire between the organization and other players in the education field who say the Parent Revolution simply pushes a charter school agenda, which is not necessarily better for students.

"The parent trigger assumes charters are the answers and they are not," says UTLA Vice President Gregg Solkovits. He underscored studies that show charters have struggled to serve disabled and ESL students.

But Austin points to the new law as proof that other solutions are on the table and to show his organization will advocate for whatever parents deem necessary.

"The idea of the parent revolution is to say F-U, that every single thing about our school is going to be about kids. Otherwise, I'm sorry, we are going to take our kids and go elsewhere," said Austin.
Read the rest here.
---
AND WHILE YOU'RE AT IT, READ ABOUT THE RESCUE OF THE WATTS TOWER ARTS CENTER FROM PRIVATIZATION
Also, on Neon Tommy, this story by LeTania Kirkland tells about community efforts to rescue the iconic Watts Tower arts center from budget-force privatization, and its recent—even if temporary—success.