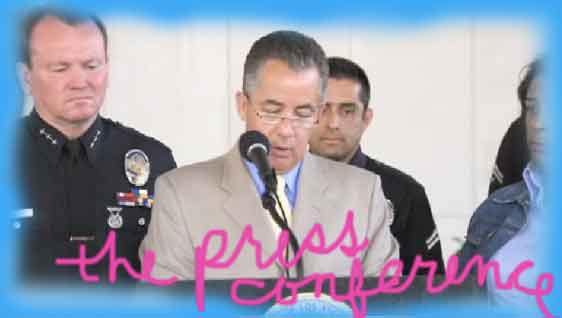 After spending way more time than was likely sensible talking on the phone and exchanging emails with various people from the LAPD, the DA's office, and the police union, this is what I can tell you thus far about the criminal past of Charlie Samuel, the 50-year old vagrant who is accused of the soul-wrenching murder of 17-year-old Lily Burk:

1. Samuel's most recent felony conviction appears to be in July 2006, for petty theft, a misdemeanor charge that was bumped up to a felony because of a prior conviction. He went to prison for the theft and was paroled in February of this year.

2. Just exactly what that "prior" conviction or convictions plural was —and when it/they occurred—has yet to be confirmed. Over the years, Samuel is reported to have committed at least one burglary and/or a robbery, maybe both, maybe a number of burglaries.* [NOTE UPDATES ON OLD CONVICTIONS AT END OF POST]
What we also do know is that, between 2003 and now, other than the one petty theft, Samuel committed some very small crimes:
3, In August of 2003 he was convicted of driving with a suspended driver's license.
4. In July of 2006, , he was convicted of putting a non-coin slug into a parking meter.
5. After he was paroled in February of 2009 for the theft, in April of 2009 he violated the terms of his parole by being found with a crack pipe.
So does all that add up to someone whom we should have spotted as a man so bad or crazy that he would kill a 17-year old girl? Or is there lots more?
When the case goes to the D.As office—which may occur today— we may be able to get a better idea, as the prosecutor will need to acquire an accurate listing of Samuel's prior criminal activity.
Until then, it would be good to stick to what we know.
It was, for instance, not helpful when early Monday morning, Richard Winton reported for the LA Times that Samuel had a "history of violent crimes." Winton wrote:
A law enforcement source said Samuel had a previous history of assault with a deadly weapon, robbery and kidnapping.
At first look, this was dramatic news. The man had a prior kidnapping conviction? And an assault with a deadly weapon?
Except that when the assertions were probed, it appears that the kidnapping and the assault were merely arrests, not convictions.
Yet because the Times did not differentiate but instead gave the blanket impression that all were convictions, the error was reported as fact by many in the local electronic media—and then further spun to make a political point by former Daily News editor turned blogger, Ron Kaye, and to a lesser degree, by the LA Weekly.
Finally at 6:30 Monday night, the Times corrected the story to read:
Sources familiar with his criminal past say [Samuel] has been arrested previously for assault with a deadly weapon, kidnapping and robbery. He has spent several years in state prison. However, his convictions are more limited and include robbery of an inhabited dwelling, burglary and petty theft.
But by that time the correction was posted, the toothpaste was not only out of the tube, it had sprouted legs and was running down the road.
Charlie Samuel is the poster child for the kind of thugs classified as "non-violent offenders" despite a history of violent behavior — the kind of hopeless criminal who would be included in the governor's planned release of 27,000 convicts to reduce prison cost.
The Weekly's report was similar in tone and questioned why Samuel was "allowed to remain on the streets."
(Oh, gee, I don't know. It's that pesky rule-of-law thing again. Troublesome that.)
Whatever.
Just to be clear: Speaking purely personally, if I had the foresight and the opportunity to make Charlie Samuel disappear from the earth by, say, 2 p.m. on Friday July 24, I would do so in heartbeat.
And, when everything is finally known, I'm sure we will find the actual facts of this case are quite ghastly and alarming enough.
But, until that time, no good will come of spinning, generalizing, inventing or exaggerating the truth in order to serve anybody's personal, professional, or political agenda. No good ever does.
********************************************************************************************************************
NOTE: This morning's LA Times story headlined "Collision of 2 L.A. worlds may have led to girl's death" by Ari Bloomkatz, Joel Rubin and Richard Winton, is well reported and heartbreaking.
And for those wondering if the LAPD definitely has the right guy, this LA Times story answers that question.
******************************************************************************************************************
*UPDATE: This morning's LA Times reports that:
In July 1987, Samuel was sentenced to six years in prison for robbing a residence in San Bernardino County, according to the California Department of Corrections. In the years that followed, Samuel was paroled several times and repeatedly returned to prison when he committed other crimes or otherwise violated the terms of his release, records show.
********************************************************************************************************************
UPDATE 2:
Here are more details on Samuel's three felony convictions based on CDCR records:
TO RECAP: Charlie Samuel's most recent felony conviction was in 2006 and was for petty theft, meaning he probably stole something minor from a store. As I mentioned before, because he had two prior convictions the misdemeanor charge was pushed to a felony, and he got prison time: 2 years 8 months.
His prior offenses were:
1. 2nd degree burglary in January of 1998, 11 years ago. (2nd degree means it involved a store or commercial establishment, not a home). He received 2 years, 8 months of which he served 2 years, paroled in Jan 2000.
2. In 1987—22 years ago— he was convicted of robbery of an inhabited dwelling. He got 6 years of which he served not quite 3 years, released in 1990. However he cycled back in three more times between March 1991 and April 1992, for what appear to be parole violations. Each time he spent 2-4 months locked up, suggesting that whatever it was, it was not minor. Although I cannot tell for sure.

If there are violent crimes, I have not yet seen them in his records. But we do not yet know everything.