"The allegations in the indictment include cover-ups, diversionary tactics, retribution and a culture generally reserved for Hollywood scripts."
– David Bowdich, Assistant Director in Charge, LA offices of the FBI
---

THE ARRAIGNMENT
On Thursday, May 14, the day it actually happened, the mood among even the observers was of an almost theatrical unreality.
For weeks sources had dropped hints that former Los Angeles County undersheriff Paul Tanaka and, with him, former LASD captain William "Tom" Carey, were going to be federally indicted for obstruction of justice—and soon. But who knew? Eight months ago several sources close to the U.S. Attorney's office said that a Tanaka indictment simply was not going to happen.
Carey, maybe, but not the former undersheriff. He was too wily, too untouchable.
Yet seven lower-ranking members of the department had been charged, convicted and handed prison terms for charges of obstruction of justice and conspiracy to obstruct justice. Specifically, according to government prosecutors, the seven deliberately got in the way of an FBI investigation into brutality and corruption in the LA County jail system. They reportedly did so by hiding a jail inmate turned confidential informant from his FBI handlers, falsely threatening an FBI agent with arrest, and trying to persuade potential witnesses to wrongdoing in the jails not to cooperate with the feds. These actions and others, which came to be known unofficially as Operation Pandora's Box, were ordered, according to all credible accounts, by Tanaka, and to a much lesser degree, Carey. So were the feds really going to let the underlings take the whole big, bad hit, while the shot-calling guys at the top walked away unscathed?
As it turns out, the answer to that question is: no.
Both Paul Tanaka and Tom Carey learned for certain late Wednesday afternoon through their attorneys that a grand jury had indeed handed down indictments. In reality, however, both the indictees and the lawyers had all but known for weeks. And then there were subtle hints that went out to both the Carey and Tanaka camps that planning a vacation in May would likely be….unwise.
Paul Tanaka is, of course, the former number two of the Los Angeles Sheriff's Department and, at one time, the man who most insiders believed was all but guaranteed the top job after then-sheriff Lee Baca stepped down. But that was before a string of departmental scandals became public, before Baca "finessed" (his word) his once blindly trusted second in command into early retirement, before Tanaka hit back with verbal stiletto strikes delivered via the press, and before Baca resigned under still ambiguous circumstances on January 7, 2014.
Prior all that, Tanaka was Baca's anointed successor, the crown prince, the guy whom nearly everyone in and around the department—everyone save Baca himself—believed truly ran the show. It was Tanaka who reportedly micro-managed nearly all important promotions, civil service rules be damned. He was also the person who could and would tank your career if you crossed him. He had to put his "people." in place, Tanaka once confided in former LASD Commander Robert Olmsted. Because, he said, after Baca, he was going to be sheriff for the next 16 years.
Plus he's the three term mayor of the city of Gardena.
Instead, at around 6:30 am on Thursday, Tanaka self-surrendered to federal agents at the FBI head quarters building in Westwood. Tom Carey too self-surrendered at around the same hour. Later that day, both men were led, in handcuffs, to holding cells inside the Edward Roybal federal building. Then at approximately 3:05 p.m. Tanaka was arraigned on 5 counts of obstruction of justice. Carey was arraigned right afterward. Tanaka wore a baby blue shirt, no tie, and sport coat, for the arraignment. Carey wore a bright white, long-sleeved Oxford shirt that looked very J. Crew-ish, no jacket. Neither were handcuffed anymore.
Both men were granted bail. Tanaka's bail was set at $50,000, to be secured by a condo in Diamond Bar that is in his wife's name. Carey's bail was $100,000 but it was unsecured by either property or other assets. During the bond discussion, Judge Victor B. Kenton, the jurist presiding over the arraignment, wondered to Assistant U.S. Attorney Brandon Fox why Tanaka needed to be a bond at all—before acceding to the government's wishes with some reluctance. (Since we've seen people charged with a couple of hand-to-hand sales of dime bags of meth slammed with a $100,000 in bail, no kidding, we wondered about his honor's thinking, but that's a conversation for another day.)
As is customary, both men were required to surrender their passports and firearms. (Carey didn't have a passport, and Tanaka's was out of date.) There was a small kerfuffle over the fact that Tanaka's wife is an LASD detective thus legitimately needs her gun. Carey's son, who lives in his father's household, is also a sworn member of the sheriff's department, so needs his gun as well. With a bit of back and forth, everyone settled on the notion of acquiring new lock boxes forthwith for the weapons of the spouses and offspring.
A joint trial for the two "co-conspirators" was set for July 7 in the courtroom of Judge S.James Otero—although absolutely no one involved thinks the trial will commence anywhere near that soon. Moreover, sources rate the chances at approximately 80 percent that Judge Percy Anderson will elect to snatch this juicy trial for himself, thereby moving Otero out. Anderson, those following closely will remember, presided over both of the trials of James Sexton (whom it took two trials to convict), and the trial the other six former department members who, along with Sexton, were convicted of obstruction of justice concerning the hiding of federal informant Anthony Brown and other actions designed to thwart the FBI's investigation into chronic corruption and brutality in the Los Angeles County jail system.
UPDATE: Judge Percy Anderson did indeed manage to snatch the Tanaka-Carey case. But there are still no new trial dates.
Both men were released on bond at around 4:30 p.m. Thursday afternoon. They left the building with their lawyers, looking grim and rattled. Tanaka also had his wife beside him, a pretty woman who, on this particular afternoon, looked like she'd been through one hell of a 24 hours.
---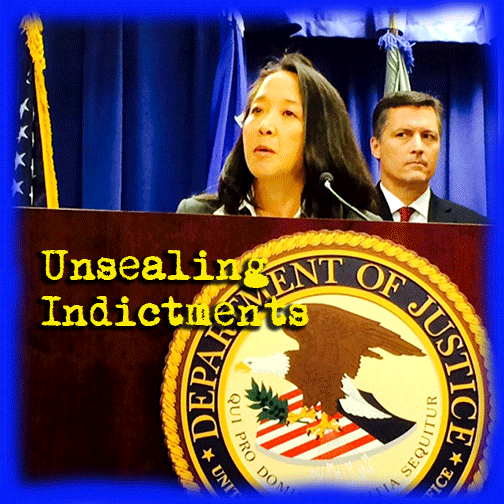 THE PRESS CONFERENCE
The news that two of the guys near the top of the LASD's hierarchy were facing federal indictments was officially announced at Thursday's 9 a.m. press conference where Acting United States Attorney Stephanie Yonekura laid out the charges:
Tanaka was charged with obstructing a federal investigation for allegedly "directing efforts to quash a federal investigation into corruption and civil right violations by sheriff's deputies" in two of the county's jail facilities, Men's Central Jail, and Twin Towers, she said.
Tom Carey, the former head of ICIB-–the LASD's unit that oversees criminal investigations within the department—was indicted along with Tanaka for "participating in a broad conspiracy to obstruct the investigation." In addition, Carey was charged with two counts of "making false declarations" (basically perjury) for things he said in last year's trials of former deputy James Sexton and six former members of the department, including two lieutenants, two sergeants, and two more deputies.
As she spoke to the hyped-up crowd of reporters, Yonekura used unusually descriptive language to describe the context in which the obstruction of charges against the two men were filed, particularly concerning Tanaka, whom she said (allegedly) didn't merely obstruct justice regarding the Anthony Brown matter, but "had a large role in institutionalizing certain illegal behavior within the Sheriff's Department" as a whole.
David Bowdich, the new the Assistant Director in Charge for the LA offices of the FBI, went further when he took the podium after Yonekura. "The allegations in the indictment include cover-ups, diversionary tactics, retribution and a culture generally reserved for Hollywood scripts."
As mentioned above, the charges against Carey and Tanaka are similar to the obstruction of justice charges levied against the seven former department members convicted last summer and fall (and whose cases are being heard on appeal by the 9th Circuit Court of Appeals, this coming fall). Except, of course, Tanaka's and Carey's roles were supervisory in nature. In other words, they were the ones who allegedly gave the orders that led to the obstruction charges—and the convictions—of seven department members, not the ones who mostly carried out what higher-ups told them to do.
---
THE INDICTMENT
The joint indictment of Paul Tanaka and Tom Carey is a 25-page document that makes for interesting reading.
The first nine pages cover what are called Introductory Allegations. These are the sort of back story that puts the rest of the legal tale—namely the various "counts" that comprise the charges—into a larger narrative context. On page three, for example, the document states that:
"Defendants TANAKA and CAREY were well aware of allegations of rampant abuse of inmates at MCJ and TTCF [Twin Towers] and of allegations of insufficient internal investigations and enforcement of deputy misconduct by the LASD."
It then goes on for the next two or three pages to give a list of examples of how Tanaka and, in some instances, Carey, ignored reports of deputy abuse of inmates when they were brought to them by such varied sources as a jail chaplain, an ACLU monitor, an LASD deputy, a lieutenant, a commander, and more.
The indictment also describes how Tanaka, in particular, allegedly seemed to foster misbehavior—as with his infamous "work the gray" speeches, or his reported 2007 threat to "put a case" on captains "who were putting the most cases on deputies," and so on.
The remaining pages outline the "counts," which basically have to do with ordering and/or overseeing the alleged hiding of inmate/informant Anthony Brown from the feds, surveilling and threatening FBI special agent Leah Marx, and attempting to threaten and cajole potential deputy witnesses from talking to the FBI—plus other related actions.
A careful reading of 25-pages is also intriguing in that it suggests, among other things, a list of possible witnesses that the feds could call at trial. (It most cases, the individuals mentioned in the indictment are not named, but comparing the anecdotal material in the document with, say, accounts of the Citizens Commission on Jail Violence hearings, and WLA's own coverage of the LASD over the last few years, may offer relevant clues.)
In response to the indictment, both in a written statement and in conversation outside the courtroom, Tanaka's two attorneys said that the charges against their client were "baseless," and they were confident he would be exonerated of any wrongdoing.
"We're not going to roll over, we're going to fight it."
If convicted of all the charges, Tanaka could get fifteen years in a federal prison. Carey, with his extra two counts, could do 25. Yet, judging by the sentences handed down to the other seven department members last year, where the longest term ordered was 41 months, should Tanaka and Carey be found guilty, their sentences too would likely be far shorter than the maximum.
---
AND WHAT ABOUT BACA?
At Thursday's press conference, a good number of the questions asked by reporters weren't about the recently indicted Tanaka and Carey, but about the man who most conspicuously was not indicted—namely former sheriff Lee Baca. He was, after all, present at many of the meetings laid out in the charges. And in several instances he was reportedly the guy who called the meetings.
Acting US Attorney Yonekura declined to say whether or not Baca was or was not the focus of any ongoing investigation. She mostly answered the blizzard of questions by stating that "Mr. Baca is not charged at this time," and "We will continue to look at any evidence that comes to us." As to how they could indict the number two guy, without indicting the number one guy, she said, "We've charged the cases we feel we can prove beyond a reasonable doubt."
Meanwhile, back among the non-indicted working department members, once the news broke about Tanaka and Carey, Sheriff Jim McDonnell sent out this message to the troops:
"Today, the Department of Justice announced the indictments of former Sheriff's employees Paul Tanaka and William Carey. The last several years have been hard on everyone. The indictments are part of a process that will run its course. During this time it is important for us to focus on our mission and look toward the future in demonstrating what the LASD is all about.
The US Attorney's announcement is by no means a reflection on the tremendous work that you consistently do and the commitment that each of you provide to make a difference in the communities that we serve. The Sheriff's Department is a national leader in law enforcement, an agency second to none.
I look forward to the future and continuing to work with you in moving the Department forward, not only in leadership, but in the eyes of the public."