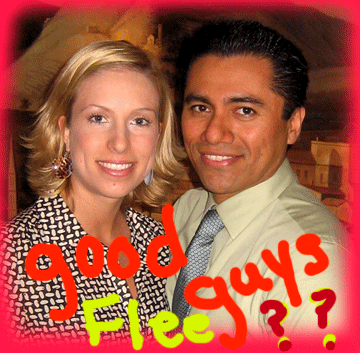 The LA Weekly version of the story I first reported here about the battle going on at Santee Education Complex, came out on Thursday. Yet, even before the paper hit the news stand, there were new developments:

On Wednesday, popular Santee AP teachers, Anthony Marenco and Alexandra Avilla held a press conference to announce that they had resigned—essentially because of principal Vince Carbino, whom they said created an extremely hostile work environment. The same day, LAUSD officials issued their own statement about the whole mess, saying they were bringing in the city's human relations commission to mediate the Carbino/Santee issue. The district made the unusual move at the urging of City Council member, Jan Perry, who has been a strong supporter of the beleaguered principal.

These two events finally got the LA Times to take notice of the story.

The district's announcement was a move that many Santee faculty viewed with cynicism. "In other words, nothing's going to happen," said one teacher.
In response, a group of Santee faculty members issued their own press release Thursday stating that, if the district doesn't make a very strong move regarding Carbino, they'll look to converting Santee into a charter school.
The discussions, says the release, "are centered not on the removal and replacement of our ineffective Principal Carbino…..but in the removal and replacement of our ineffective Los Angeles Unified School District."

Meanwhile, various teachers and school administrators who have worked with Mr. Carbino at this three previous school assignments, have been contacting me with their own unhappy Carbino experiences.

Most are quick to say that that principal Carbino is not without talents. But, the consistent message is that his liabilities greatly outweigh his advantages.

According to Jordan Henry, a Santee English teacher who called me today (as I was speeding across Montana), right now at Santee the faculty, sentiment against the principal is running high. When UTLA queried them about a week ago, 79 percent said they disapproved of the way Mr. Carbino was doing his job. "I think you can safely say that number is growing," he said.
UPDATE: The district has reversed course and, late Friday afternoon, following a "hurried investigation," has reassigned Carbino pending the outcome of mediation. Here's the LA Times take on the district's latest move.
NOTE: The LA Times also has a good story on the personal hardships created by LAUSD's massive payroll screw-ups, which have been going on since early February after the new computerized system was put in. I've been hearing absolute horror stories on this issue myself (including word that one teacher is reduced to living out of his car). But over all, this is one more tale of the Gang…er…school district… that Couldn't Shoot Straight. Good grief.