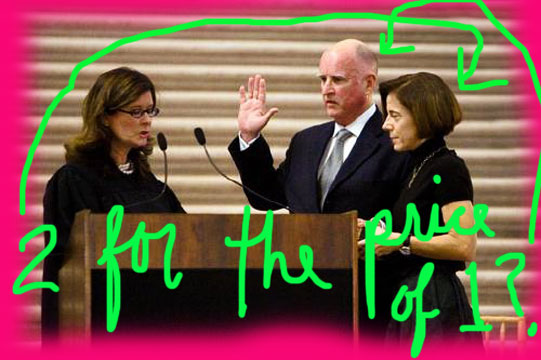 The Daily Beast has a brand new profile of soon to be California First Lady, Anne Gust Brown, and her affect on the life and work of the governor elect. But before we get to the DB story, a few personal recollections on the same topic:
---

MY FIRST VERY BIG STORY AS A YOUNG AND NOT AT ALL EXPERIENCED JOURNALIST was a nationally syndicated interview/profile I managed to wrangle with then California Governor Jerry Brown in 1976 when he was running for president as a dark horse candidate. For a few months of that year, and a few amazing primaries, it looked like he might very well have a shot at being the nominee. But it was not to be. The Democratic party leadership preferred someone a bit more…um….controllable and Jerry's style campaign played better in the east and the west than it did in the deep south.
During my reporting for that story, I followed Brown around through a variety of circumstances and I remember in particular one late night in the governor's office when staff and legislators were trying to get Jerry through the process of signing or not signing a large stack of bills, which was a maddeningly slow affair because Brown's instinctive intellectual curiosity, combined with with his notoriously whimsical attention span, caused him to question things that were often really not worth questioning, given the circumstances.
As the process dragged on and on into the wee hours, I remember one politico—either a staffer or a state senator, I can't remember now— expelling himself from EGB Jr's office, flushed and steaming. "We gotta get this guy a wife," growled the man for the benefit of anyone who happened to be within earshot. "We got to get this guy a wife who will kick his ass!"
In the intervening years I've interviewed and/or reported on, or simply chatted with Jerry Brown many, many times, and have often thought back on the rightness of that remark. Not about the ass-kicking part, but the fact that, like certain kinds of very bright people, he needed some sort of grounding person in his life, somebody who would hold on to his kite string, a counterweight to bring him to balance.
Enter Anne Gust in 1990. After first dating, and then living together, she and Brown married in 2005.
I met Anne only once, when the three of us sat together during lunch at a benefit for the California relief organization, Operation USA, and the rightness of their pairing struck me immediately.
The impression was reinforced a couple of times when I was interviewing Jerry on the phone at his home office, and he needed to pause several times to interact with his wife and the interplay spoke volumes.
One of the most charming things about his election night speech, for those of us who have watched Jerry Brown for a very long time, was the way he credited Anne for his victory and nattered on happily about how she would be California's first lady. He gushed really. Jerry forgot to be cautious, or hyper intellectual. He was instead publicly adoring. And it was great.
I know I've said this before, but it bears repeating: for better and occasionally for worse, Edmund G. "Jerry" Brown, Jr. was and still is one of the brightest people in American public life. He is also one of the canniest, politically speaking.
But common sense? In the past, sometimes not so much.
As a consequence, both as a governor and also as a presidential candidate, and even during his time in Oakland, he would occasionally give rein to creative but poorly thought out actions on a whim (more often then not with the encouragement of his longtime Pre-Gust "closest adviser," the interesting but decidedly peculiar, Jacques Barzaghi). Some of those actions were to Brown's—and/or our—detriment.
That's where Anne Gust Brown comes in. She is not only extremely bright herself, she is a very savvy professional—a lawyer and businesswoman—who worked for 14 years for The Gap, first as general counsel and then Chief Administrative Officer.
She clearly gets him and in no way tries to keep Jerry from being Jerry. But, when need be, she sits down firmly on the other side of his teeter-totter. To his credit, he is grateful for it.
By the way, I think if Jerry had been settled down and married to Anne Gust when he was running for president in 1992, the year that William Jefferson Clinton became the nominee, and eventually a two term president, we might very well have had POTUS Brown.
All these years after his first two terms as governor, Jerry Brown is about to embark on his third. It will assuredly be his most difficult, given the state of the state. But with just a little bit of luck—and a lot of Anne Gust Brown—it may possibly be his best.
---
OKAY, NOW BACK TO THE DAILY BEAST PROFILE OF ANNE GUST BROWN , whom writer Joe Matthews calls The Most Powerful Woman in California.
It's a definite must read. And he might be right about that most powerful woman thingy.
Here are some clips:
The conventional wisdom has hardened quickly: Californians, in rejecting Silicon Valley CEOs Meg Whitman and Carly Fiorina, supposedly declared in last week's elections that they don't want corporate executives running their government.

Nonsense. California voters may have turned down the applications of Whitman and Fiorina for the governorship and a U.S. Senate seat, respectively. But in the very same election, they voted to put a female corporate executive from the Bay Area in charge of their state's government.

The name of Anne Gust Brown, a former top lawyer and executive for The Gap, wasn't on the ballot, but it might as well as have been. She served as de facto campaign manager for the campaign of her husband of five years, the once and now future Gov. Jerry Brown. And by all accounts, she will serve as his top aide (albeit on an unpaid basis) as he runs the government.

That's why no one batted an eye when Governor-elect Brown suggested this week that he may not bother appointing a chief of staff. The statement only seemed to confirm that Anne Brown will be in charge, even if she doesn't hold the title. This would be nothing new. She performed a similar role during Brown's just-completed four-year term as California attorney general.

[SNIP]

Even Brown's GOP opponent Meg Whitman, when asked during a debate this fall what she admired most about Brown, responded: "I really like his choice of wife. I'm a big fan of Anne Gust."
Me too.
---
SPEAKING OF PROFILES….MAYOR'S CHIEF OF STAFF, JEFF CARR
In case you missed it, Tuesday's LA Times profile of Antonio Villaraigosa's chief of staff and former LA gang czar, Jeff Carr, by Patrick J. McDonnell is worth reading if particularly you have an interest in the ins and outs of city government.
It's a fairly friendly profile, written in a fashion that, allows some room for criticism, but will likely alienate no one.
Still, doing the piece was a good idea, as Carr is an interesting person in the city's landscape, and someone with an ambition to eventually move up the ladder in California's political world, so best you get to know him.