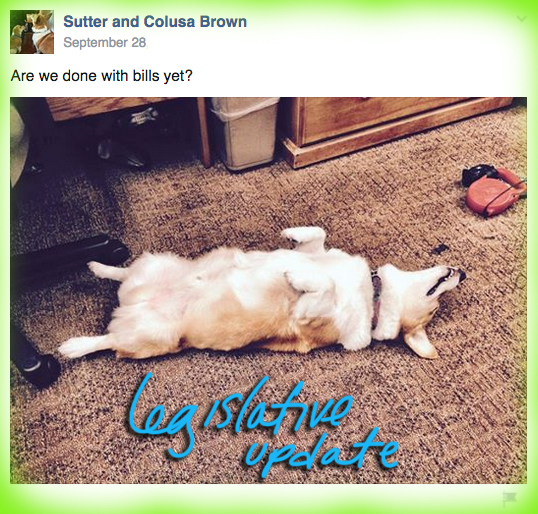 ---
On Wednesday, WLA posted a list of noteworthy bills signed into law by California Governor Jerry Brown. As the governor decides the fate of dozens of bills each day this week before his September 31 signing (and vetoing) deadline, WLA has gathered a second roundup of relevant justice-related bills we've been following this year.
---
ASSET FORFEITURE REFORM BILL SIGNED
On Thursday, Governor Brown signed an important bill to rein in police officers' ability to seize money and/or property that may be tied to a crime (usually a drug crime), without due process.
Law enforcement agencies in California and other states circumvent their own states' forfeiture laws through the controversial federal Equitable Sharing Program, which creates a loophole allowing police, by bringing feds into an investigation, to use seized money as revenue, with only the suspicion that laws have been broken. Across the nation, local agencies are abusing the tool and using it as a cash cow, taking money and property from people who have not been convicted of a crime.
SB 443, introduced by Senator Holly Mitchell (D-Los Angeles), blocks law enforcement from bypassing California's civil asset forfeiture laws. To take advantage of the controversial Equitable Sharing Program without a conviction, the seized cash must be over $40,000.
"Solutions like SB 443 give communities plagued by injustice some relief," said Zachary Norris, Executive Director, Ella Baker Center for Human Rights. "Low income people simply do not have the means to hire an attorney to get their lawfully earned cash returned to them. When their money gets taken by law enforcement, it's a family crisis affecting rent, food, everything."
Last year, a version of the asset forfeiture reform bill could not survive lobbying from law enforcement groups.
"SB 443 will not only rein in the abuse in California, but also offers a blueprint for workable solutions to other states seeking reforms. We applaud Governor Brown for signing it," said Mica Doctoroff, a legislative advocate at the ACLU of California Center for Advocacy and Policy.
---
NO MORE STATUTE OF LIMITATIONS ON RAPE
SB 813, a controversial bill that eliminates the statute of limitations for rape and other sex crimes, also made it past Brown's desk.
The bill, introduced by Senator Connie Leyva (D-Chino), was propelled by the more than 30 rape allegations against comedian Bill Cosby, many of which have passed beyond the current 10-year statute of limitations. The new law will not, however, apply retroactively.
---
ENSURING VOTING RIGHTS FOR AB 109ERS
Brown also signed a bill that will clarify and affirm the voting rights of individuals who are locked-up for non-serious felonies serving time in county jails because of California's prison realignment (AB 109). The bill, AB 2466 by Assemblymember Shirley Weber (D-San Diego), also applies to eligible AB 109ers under county supervision.
---
ANOTHER WINNER FROM ASSM. WEBER: CALGANG DATABASE OVERHAUL
Thanks to the governor's signature on AB 2298, people will be notified of their impending inclusion on California's gang database, CalGang, and will have the opportunity to challenge the designation.
People who admit to law enforcement officers that they are gang members or who have gang-related tattoos are added to the database, but associating with known gang members and wearing clothing that might be gang-related also sends people into the CalGang database. Advocates say the vague criteria often have the effect of penalizing people of color for living in the wrong neighborhood.
A recent audit from State Auditor Elain M. Howle found serious errors in the database, which the audit shows lacks necessary state oversight and does not adequately protect the rights of the more than 150,000 people listed in the database.
---
SIGNED: RESTORATIVE JUSTICE ACT
The Restorative Justice Act, also by Assm. Weber, aims to increase rehabilitation and education programs and make them available for all inmates, not just non-violent offenders.
The bill changes language in a section of the penal code, removing references to punishment as the purpose of incarceration. Now, according to the changes, public safety—which is carried out through rehabilitation, restorative justice practices, and accountability—is the purpose of incarceration.
---
PROP. 47 DEADLINE EXTENDED
Brown signed another bill introduced by Assm. Weber, AB 2765, , which will extend the deadline for Proposition 47-eligible Californians to get their low-level felony convictions reclassified as misdemeanors. The will give Prop. 47ers seeking to reduce their felony convictions—upon a showing of good cause—an extra five years to apply beyond the current November 2017 deadline.
---
BILLS TO PROTECT VULNERABLE FOSTER CHILDREN FROM DOCTORS WHO PRESCRIBE PSYCHOTROPIC MEDICATIONS AT ALARMING RATES
The newly signed SB 1174 by Senator Mike McGuire (D-Healdsburg) will trigger regular reports on physicians and their prescribing patterns of psychotropic medications, making it easier for the Medical Board of California to confidentially identify, conduct investigations of, and hold accountable doctors who over-prescribe psychotropic drugs to foster children. (For backstory, read Karen de Sá's five-part investigative series for the San Jose Mercury News, "Drugging Our Kids," which inspired SB 1174 and a number of other reform bills and policy changes.)
Governor Brown vetoed another bill that would have increased the requirements for juvenile court authorization of psychotropic meds for child welfare system or probation-involved kids. SB 253 by Senator William W. Monning (D-Carmel) would have required, among other safeguards, second medical opinions for prescriptions to foster kids under five, or in cases of multiple prescriptions. Brown called the bill "premature" in a veto message, and said he wants to wait to see the impact of new juvenile court medication authorization rules from a bill signed last year.
---
VETOED: BILL TO BAN CONTRACTING WITH FOR-PROFIT PRISONS
Governor Brown vetoed SB 1289, a bill introduced by Sen. Ricardo Lara (D-Bell Gardens), which would have banned cities and counties from contracting with (scandal-plagued) for-profit prison companies to run immigrant detention centers in California. All-told, four municipalities, including cash-strapped city of Adelanto, are currently contracting with private detention centers.
"I have been troubled by recent reports detailing unsatisfactory conditions and limited access to counsel in private immigration detention facilities," Brown wrote in a veto message. "The Department of Homeland Security, however, is now considering whether private contracting should continue for immigrant detention, and if so under what conditions…These actions indicate that a more permanent solution to this issue may be at hand."
---
RECORDING INTERROGATIONS
Under current law, officers must record interrogations of minors suspected of committing murder. SB 1389, a bill from Sen. Steven Glazer (D-Orinda), will expand the rule to include adults accused of murder.
The recording of police interrogations is an important safeguard against false confessions, which land innocent people behind bars, sometimes for decades.
---
UNCORRUPTED AUTOPSIES
SB 1189, signed by Brown on Wednesday, aims to reduce the political pressure leveraged against forensic pathologists, and would require all autopsies to be carried out by a licensed physician and surgeon. Introduced by Sen. Richard Pan (D-Sacramento), the bill will also force law enforcement agencies to hand over all information about a death to those conducting an autopsy prior to the close of an investigation. This KQED story by Julie Small gives some alarming context as to why this bill is such an important reform.
---
"YES" TO COMPASSIONATE RELEASE
SB 955, a bill from Sen. Jim Beall (D-San Jose), will give state hospitals the power to grant compassionate releases for terminally ill or incapacitated patients who are charged with a crime but found unfit to stand trial.