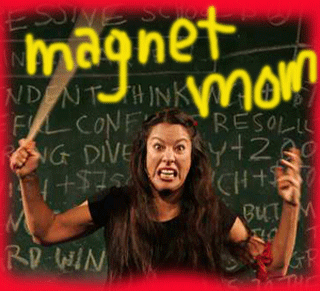 I've spent a lot of time on this blog railing about the problems and failures of our public schools in general, and LAUSD in particular.

Writer, radio commentator, and pal, Sandra Tsing Loh, has done something else. Rather than throwing brickbats, she's doing all she can to make her local schools better. Whenever Sandra speaks or writes on the subject it's always worth our attention.

On an earlier thread commenter Reg pointed out that there was a new Sandra article in the March issue of the Atlantic Monthly. It wasn't online at the time, but it is now. Here's a representative couple of clips:
Beating up on public schools is not just our nation's favorite blood sport, but also a favorite conversational entertainment of the well-off—like debating the most recent toothsome plot twists of Big Love—who, of course, have no dog in the fight. And who adore a tragic ending. In my Los Angeles, everyone agrees that public education is a bombed-out shell, nonnegotiable, impoverished, unaccountable, run in Spanish. I wept over [Jonathan] Kozol's books for years, but I myself am no freedom fighter. If I could have afforded either a $1.3 million house in La Cañada or $40,000 a year to send my two girls to a private school (that is, if we'd gotten into said school; I confess that, even though I described my older daughter as "marvelously inquisitive" when we applied, we were wait-listed) I wouldn't waste two minutes on social justice. Let them spell cake! (Which is to say, let them spell it "kake.") We tried to flee to the white suburbs, but we failed, and in failing, we seem to have fallen out of the middle class, because today my daughters attend public school with the urban poor….

….Our eldest daughter is the only blonde in her class of 20, her grade being about one-third English-learners.
Read the whole thing.