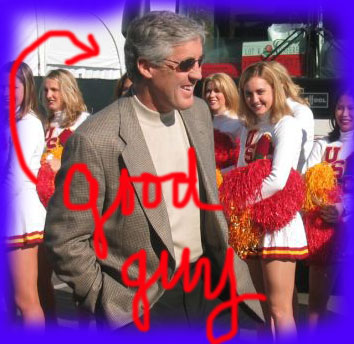 THIS MORNING AND THE WEEKEND PRODUCED a pile of Must Reads. Here are 5 from the list:
1. FRANK RICH TALKS ABOUT BLOGOJEVICH, ACCOUNTABITY AND POLITICAL MORALITY
Yeah, Rod Blagojevich is creepily amusing, writes Rich, but this scandal, while loathsome and deserving of a trip to the slammer, is nothing….comparitively speaking, to a few of the games we've seen in the past 8 years.
Here are some clips.
What went down in the Land of Lincoln is just the reductio ad absurdum of an American era where both entitlement and corruption have been the calling cards of power. Blagojevich's alleged crimes pale next to the larger scandals of Washington and Wall Street. Yet those who promoted and condoned the twin national catastrophes of reckless war in Iraq and reckless gambling in our markets have largely escaped the accountability that now seems to await the Chicago punk nabbed by the United States attorney, Patrick Fitzgerald.

[SNIP]

Bush had arrived in Washington vowing to inaugurate a new, post-Clinton era of "personal responsibility" in which "people are accountable for their actions." Eight years later he holds himself accountable for nothing. In his recent exit interview with Charles Gibson, he presented himself as a passive witness to disastrous events, the Forrest Gump of his own White House. He wishes "the intelligence had been different" about W.M.D. in Iraq — as if his administration hadn't hyped and manipulated that intelligence. As for the economic meltdown, he had this to say: "I'm sorry it's happening, of course."
2. TIM RUTTEN CALLS FOR A RESCUE OF HOMEBOY INDUSTRIES
On Saturday, Tim Rutten used his column to call, in very strong terms (and using hard numbers), for the wealthy in Los Angeles to step in to rescue Homeboy Industries.
Here are some clips:
Homeboy is one of this too-often-heedless city's unambiguous municipal treasures — and it's in trouble. We need to do something about that, and we need to do it now. The problem is simple: The economic catastrophe rolling across our country has dramatically pushed up demand for the kind of help only Homeboy provides. Despite the numbers of young men and women the community employs, and despite the others it has placed with private employers, its lobby is crowded with new applicants every morning. At the same time, the government and the private sources of funding on which Homeboy relies for most of its budget are cutting back as a consequence of the same downturn.

[BIG SNIP]

Here's the point: We all need to step up and assist Homeboy Industries because it's the right thing to do, and those who have more to give need to do it now. The rest of us can make contributions by going to the website — www.homeboy-industries.org– or by sending checks to 130 W. Bruno St., Los Angeles, 90012.

As Boyle said this week, "We're located in the heart of the city, but we represent this city's heart — a belief that everybody deserves a second chance and a faith that redemption is always possible."

These are hard times for everybody, but what price can a city put on its heart?
*****************************************************************************************************************
3. THE COACH IN THE HOOD
The final story on last night's 60 Minutes profiled USC football coach, Pete Carroll. The segment talked about a lot more than Carroll's success with Trojan football. The show also showed the coach's committment to trying to help/stimulateinspire former gang members and gang wanna-be's to turn their live's around with his organization, A Better LA.
Carroll was a close friend of gang intervention leader, Bo Taylor, who died last summer, and whom he credits with inspiring him to start reaching out, and ultimately to put his own money into opening A Better LA.
It's a nice segment and worth watching.
**********************************************************************************************************
4. D.C. CHARTERS LEADING REGULAR PUBLIC SCHOOLS IN ACADEMIC ACHIEVEMENT
As in LA and other American cities, Washington DC charter schools are looking more successful than conventional public schools, according to this morning's Washington Post.
Students in the District's charter schools have opened a solid academic lead over those in its traditional public schools, adding momentum to a movement that is recasting public education in the city.
Students in the District's charter schools have opened a solid academic lead over those in its traditional public schools, adding momentum to a movement that is recasting public education in the city.
[SNIP]
District children in both systems still fall short of national averages on standardized tests. But students in charter schools have been more successful at closing the gap. According to a Washington Post analysis of recent national test results for economically disadvantaged students, D.C. middle-school charters scored 19 points higher than the regular public schools in reading and 20 points higher in math.
On the city's standardized tests, the passing rate for charter middle schools was 13 percent higher on average.
*********************************************************************************************************
5. ONE MURDER, TWO MOTHERS GRIEVE
In the LA Times this morning, Al Martinez writes about what happens for a mother when her child kills someone.
For parents living in high crime communities, the news that there has been a fatal shooting causes residents to pray that the dead won't be anyone they know. Many also pray that the shooter won't be someone they know.
*************************************************************************************************************