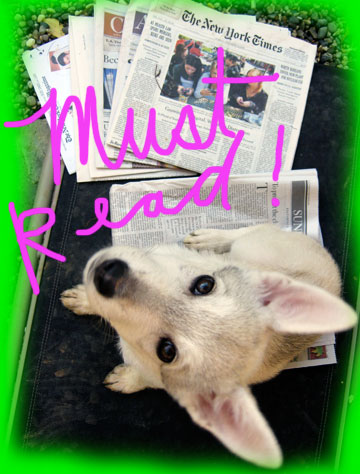 AN LAPD COP REFLECTS ON RACIAL PROFILING
The always interesting Lt. Sunil Dutta offers his thoughts on the issue of racial profiling in Monday's LA Times.
Here's how it opens:
I was accused of racial profiling on the first traffic stop I made as a rookie LAPD officer in 1998. I had spotted a reckless driver speeding through the streets of Van Nuys in a large pickup truck, so I flipped on my lights and took up the chase. The driver eventually pulled over, but as I walked up to his car, he began shouting at me, accusing me of having stopped him because he was black.

I could not sleep that night. A liberal academic before becoming a police officer, I had joined the Los Angeles Police Department hoping to make a difference. Yet here I was, on my first traffic stop, being accused of racism.

I thought of that incident again last week, when the LAPD was accused yet again of not adequately guarding against racial profiling by its officers…..
---
DAVID ULIN TALKS ABOUT WHY READING IS IMPORTANT IN THESE ATTENTION-CHALLENGED TIMES
My pal the wonderful LA Times book critic and author, David Ulin, will be reading from his new book The Lost Art of Reading: Why Books Matter in a Distracted Time, on Monday night, 7 p.m., at Doheny Library on the USC Campus.
The book's smart and very good, and David is smart and a terrific speaker. So go. I"ll be there, of course.
Wouldn't miss it.
---
HOW DO YOU REMEMBER THE FLORIDA RECOUNT? (PAINFULLY, VERY PAINFULLY.)
Yes, amazingly, the Florida recount was ten years ago. For the occasion, the NY Times has gathered a bunch of memories from people on all sides of the experience in a section called "My Florida Recount Memory."
Read it and weep. (Literally.)
---
TEXAS COURT SAYS LIFE WITHOUT PAROLE FOR KIDS IS NO PROBLEM
Not one of Texas' better moments, in my opinion. It isn't that California's doing an better.
The Austin American-Statesman has the story.
---
THE MISSION OF THE BEAUTIFUL MISS COMPTON
Shanice McKinley hoped to be crowned Miss America, but instead came home with a shiney new dose of pride for her home town of Compton.
The LA Times' Abby Sewell wrote the lovely story.
---
A MILWAUKEE PROGRAM HELPS FORMER INMATES OVERCOME THE FELONY STIGMA TO ENTER THE WORKFORCE
The Milwaukee Journal-Sentinel has the story.
Here's a clip:
….Along with huge doses of encouragement, the organization also provides free job training, employment counseling, work support strategies, coaching in financial literacy and other workforce development opportunities.
This year, the organization received $40,000 from the United Way of Greater Milwaukee toward its job training and placement program.
"Studies show that people who have received additional, job-specific training make more money per hour than their counterparts," said Nicole Angresano, vice president of community impact with the United Way of Greater Milwaukee. "This program helps people develop the skills to gain and sustain employment and earn enough income to meet daily expenses and basic needs."
Of the 254 people enrolled in employment counseling, at least 90% have been convicted of a felony at some point, said Vanessa M. White, the organization's director of workforce development.
---
NOTE: Yes I probably will eventually stop constantly posting cute puppy photos, but I'm not there yet.