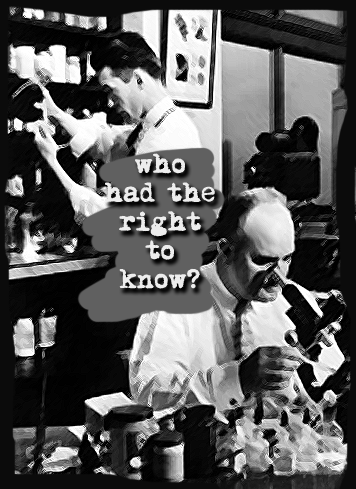 ---
by Taylor Walker
---
DID A DECADE OF FAULTY FBI FORENSICS RESULT IN HUNDREDS OF WRONGFUL CONVICTIONS?
Defendants across the U.S. were left in the dark about the DOJ's knowledge of nine years worth of faulty FBI forensics. Justice officials defended their actions saying that they were only legally obligated to inform the prosecutors, not the numerous defendants affected.
The Washington Post's Spencer Hsu has the story.
Here's how it opens:
Justice Department officials have known for years that flawed forensic work might have led to the convictions of potentially innocent people, but prosecutors failed to notify defendants or their attorneys even in many cases they knew were troubled.

Officials started reviewing the cases in the 1990s after reports that sloppy work by examiners at the FBI lab was producing unreliable forensic evidence in court trials. Instead of releasing those findings, they made them available only to the prosecutors in the affected cases, according to documents and interviews with dozens of officials.

In addition, the Justice Department reviewed only a limited number of cases and focused on the work of one scientist at the FBI lab, despite warnings that problems were far more widespread and could affect potentially thousands of cases in federal, state and local courts.

As a result, hundreds of defendants nationwide remain in prison or on parole for crimes that might merit exoneration, a retrial or a retesting of evidence using DNA because FBI hair and fiber experts may have misidentified them as suspects.
---
LA BUDGET CUTS WILL EVEN CLOSE JUDGE ITO'S COURT
At least 56 Los Angeles courtrooms (including 24 criminal courtrooms) and some departments will be shut down next month as part of California's impending $650M budget cut.
The AP's Linda Deutsch has the story.
Here's how it opens:
The vast Los Angeles County court system, known worldwide for its many high-profile cases, is about to see a huge budget cut that will close dozens of courtrooms, including one used by Judge Lance Ito, its most famous jurist.

After 56 courtrooms go dark by June 30, Ito, who presided over the O.J. Simpson murder trial in 1995, will be reassigned to handle cases for which no other judge is available.

Presiding Judge Lee Edmon and Assistant Presiding Judge David Wesley announced the slashing of $30 million from the nation's largest court system that includes laying off 100 non-courtroom employees and eliminating court reporters for civil cases.
---
IF YOU GET RID OF A RACIST LAW, SHOULD THE CHANGE BE RETROACTIVE?
An update to Monday's post on Dorsey & Hill vs. US:
SCOTUS is still divided after hearing arguments Tuesday on whether Congress implied retroactivity in the Fair Sentencing Act, and even, whether Congress considered the law it superseded to be intentionally racist.
SCOTUSblog's Lyle Denniston has the recap.
Here's a clip of interaction between Washington attny. Miguel Estrada and Justice Sotomayor:
…Justice Sonia Sotomayor told [Estrada] that, when Congress has found that a law was racially discriminatory, "we should do as speedy a remedy as we could, because it is one of the most fundamental tenets of our Constitution…that our laws should be enforced in a race-neutral way." Why, she then asked, "shouldn't our presumption be that the fix is immediate rather than delayed? The question, of course, had not only the effect of switching the argument's emphasis to the racial question, but also the effect of suggesting that the Court might want to avoid those constitutional implications by finding retroactivity implicit in the 2010 law.

Estrada conceded that there had been concern about the racial impact by some in Congress, but he would not concede that Congress regarded this disparity as being the product of intentional discrimination — the kind that would itself violate the Constitution. Sotomayor, though, sought to press her point, noting that, in her 20 years as a judge, she had seen no law that created as much controversy or as much discussion of its racial impact as had the crack vs. powder disparity.

Estrada conceded that point, but argued that Congress had not rushed into changing the disparity, doing nothing for 20 years in the face of repeated requests to confront the question.
NOTE: A New York Times editorial urges the Supremes to play fair and allow the law to apply to all those sentenced after the FSA's passage.
Also, the LA Times' David Savage describes some of the drama of Tuesday's arguments. Here's a clip:
A Justice Department lawyer warned the Supreme Court on Tuesday there may be thousands of crack cocaine defendants sentenced to long prison terms under a law that Congress repealed two years ago as racially biased and unfair.

Deputy Solicitor Gen. Michael Dreeben urged the court to tell sentencing judges to use the new law, not the discredited old one, when setting prison terms for those convicted of crack offenses but not yet sentenced when the law was passed.

But by the end of an hourlong argument, it was not clear the Supreme Court would heed the request. Some of the justices said they were not inclined to apply a new law retroactively to crimes that predated it.