---
by Taylor Walker
---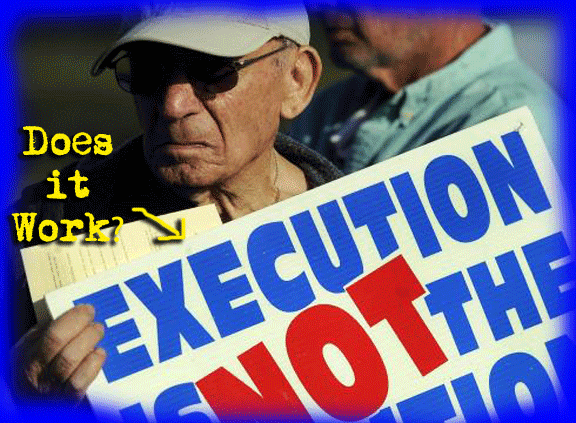 IS DEATH PENALTY A DETERRENT?
More than three decades after the moratorium against capital punishment was lifted, the prestigious National Research Council released a report that, after reviewing dozens of studies, failed to find reliable evidence that the death penalty is actually a homicide deterrent. In fact, the Committee of Deterrence and the Death Penalty said that any past research on the subject should be disregarded in death penalty debates as incomplete and unsupportable.
Here's a clip:
The Committee of Deterrence and the Death Penalty concluded that studies on the death penalty and its potential effect on homicide rates — both pro and con — contain fundamental flaws that essentially make them moot.

For example, the studies do not include the effects of other forms of punishment — such as life in prison without possibility of parole, and whether it too acts as a deterrent. The studies, study authors wrote, don't "consider how the capital and noncapital components of a regime combine in affecting the behavior of potential murderers."

In other words, previous studies don't determine whether potential killers think about the possibility of spending their lives in prison or ending up on death row before they commit their crimes.

The lack of comprehensive information makes the research inconclusive, the study authors said. "We recognize this conclusion will be controversial to some, but nobody is well served by unfounded claims about the death penalty," committee Chairman Daniel Nagin said in a telephone news conference.

"Nothing is known about how potential murderers actually perceive their risk of punishment," he said.
---
SLASHING NATIONAL JUVENILE JUSTICE FUNDS
Funding for juvenile justice programs is likely about to get slashed—again.
The Crime Report's Ted Gest has the story.
Here's how it opens:
Federal funding for state and local juvenile justice programs seems likely to take another big hit as Congress continues to slash federal "discretionary" spending.

The Republican-controlled House committee that appropriates money for the Justice Department today issued its proposal for the fiscal year starting Oct. 1. It would cut juvenile justice funding to $209 million–a figure that stood at $424 million in fiscal year 2010.

Federal aid for juvenile justice already had fallen more than 50 percent to its lowest level in more than a decade, says the Coalition for Juvenile Justice, which represents state advisory committees in Washington, D.C. The coalition is asking Congress for $80 million for "formula grants" that helps states comply with mandates in a key 1974 juvenile crime law, such as separating juvenile and adult defendants in jail and keeping minor offenders out of custody.

House appropriators, rather than adding funds for those purposes, would cut them to $33 million.
The Obama administration's funding request of $140M for three important juvenile justice programs would be slashed to just $53M under the House committee's proposal.
---
FIRST RACIAL PROFILING HEARINGS SINCE 9/11
A Senate committee hearing for the End Racial Profiling Act featured testimony from 225 different organizations on Wednesday. If passed, the legislature would forbid officers from using race as a component in standard law enforcement decisions.
Salon's Jefferson Morley has the story.
Here's a clip:
….as profiling has become entrenched in drug enforcement, counterterrorism and immigration control, said criminologist David Harris, research shows it is an ineffective law enforcement tool. "In many contexts, in many types of police agencies, the results all fall in the same direction: when racial or ethnic profiling is used, police are less likely, not more likely, to catch bad guys," Harris said.

Ron Davis, police chief in East Palo Alto, Calif., said his experience as a cop on the streets confirmed that finding. Admitting that he himself had engaged in profiling, he called profiling "an ineffective tactic that wastes scarce law enforcement resources and it harms our relations with communities whose cooperation we need."

Davis said passage of S. 1670 would help police nationwide.

"Without the legislation and updated Department of Justice guidance we will continue business as usual and only respond to this issue when it surfaces through high-profile tragedies such as Oscar Grant case in Oakland, Calif., and the Trayvon Martin case in Sanford, Fla.," he said.
The Obama Administration has yet to have joined the bill's supporters.
---
---
EDITOR'S NOTE: SHOULD THE LA TIMES HAVE PUBLISHED THOSE PHOTOS?
There has been, and continues to be, a lot of controversy around whether or not the LA Times should have posted the two graphic photos of American soldiers posing with dismembered Afghan corpses. The Pentagon asked the Times not to publish the photos, contending that the publication would incite violence.
It is a thorny question. I happen to think the Times did the right thing.
Yet, I'm grateful that I wasn't one of those who had to make the decision.
On To the Point, Warren Olney interviewed David Zucchino, the award-winning LA Times reporter who wrote the story accompanying the photos.
The New York Times has a report on the Pentagon's objections—and how the Times' came to be in possession of the photos in the first place.
And here the Poynter Institute weighs in, with two stories.
As of this writing, there are more than 2000 comments on the LA Times website regarding the issue.
---
Photo by Phil Sandlin for the AP