---
with Taylor Walker
---
---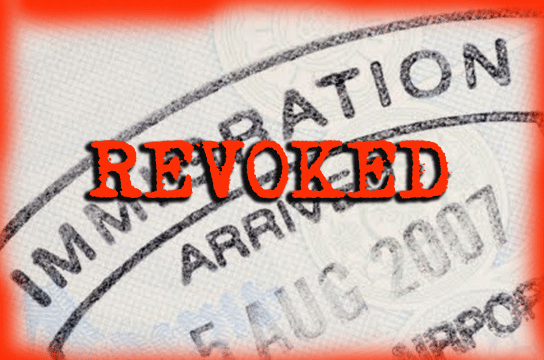 SUPREME COURT COULD OPEN THE DOOR FOR HUGE NUMBERS OF DEPORTED IMMIGRANTS TO HAVE THEIR CRIMINAL CASES RECONSIDERED.
In 2010, the Supreme Court ruled in a case called Padilla vs. Kentucky, that a an immigrant who is a permanent legal resident but who, after being charged with a felony, agreed to a guilty plea on the bad advice from a defense attorney without being told that his or her plea will result in automatic deportation, can have that guilty conviction vacated.
Now the court is set to decide this year whether or not Padilla should be made retroactive.
Michael Strickland from UPI has more of the details. Here's a clip:
Is the U.S. Supreme Court about to open the appeal floodgates for legal aliens who committed crimes in the United States, pleaded guilty but weren't told they would face deportation under federal law?

Maybe. Argument on the issue will be heard next term, which begins on the first Monday of October.

The genesis of the dispute arose in 2010, when the Supreme Court ruled in Padilla vs. Kentucky that non-citizens who pleaded guilty to felonies, but weren't advised by their lawyers they automatically would be deported, were unconstitutionally deprived of their Sixth and 14th Amendment rights to effective counsel.

The vote was 7-2.

Now the Supreme Court has agreed to review whether the Padilla ruling should be made retroactive. In other words, should it be applied to any non-resident who pleaded guilty to a felony without effective counsel from 1996, when the deportation law was passed, to 2010, when the decision was handed down.

How big a universe would be affected is up for speculation….
One thing: although Strickland implies otherwise, a guilty plea does not always mean the person pleading actually committed the crime. Most times it does, of course. But far from always. These days 90 percent of all criminal cases are settled by plea bargain and people take pleas for all kinds of reasons, a common one being someone who has already spent a year or two in jail waiting to go to trial when his attorney tells him if he just pleas out, he will be released for time (already) served. So he takes the plea—whether he committed the crime or not.. And, if he's a perfectly legal resident, but not a US citizen, he (or she) will be immediately deported for the rest of his or her life.
In any event, this will be an interesting matter to watch.
---
HORRIBLY ABUSED WOMAN WHO SHOULD HAVE BEEN RELEASED AFTER 12 YEARS FOR MANSLAUGHTER, FINALLY GETS OUT AFTER 27
SF woman Wanda Brown was released after serving fifteen years longer than the maximum she should have spent behind bars. Her release was based upon a new retroactive law that allows domestic abuse testimony to be considered in old cases. Getting out also required the work of a young but determined pro bono attorney.
San Jose Mercury News columnist, Scott Herhold has the story:
Here's how it opens:
Wanda Brown killed Willie Kelley. There was never any question. In a frenzy in 1984, the 22-year-old woman stabbed the San Francisco shopkeeper 64 times with a pocket knife. As lawyers say, it looked like bad facts. She pleaded guilty to second-degree murder. A judge gave her 16 years to life.

With no evidence of premeditation, her lawyer, a San Francisco public defender, told her she'd likely be out in eight and a half years. That was the standard back in the mid-'80s.

Then California politics lurched toward an unforgiving stance on crime. More than 27 years later, Wanda Brown was still at the Central California Women's Facility in Chowchilla, rejected three times for parole.
On this one, you really do need to read the rest.
---
SHOULD PROSECUTORS BE HELD ACCOUNTABLE WHEN THEIR MISCONDUCT CAUSES INNOCENT PEOPLE TO LOSE YEARS OF THEIR LIVES?
With more and more innocence cases turning up evidence of prosecutorial misconduct, the fact that prosecutors are legally protected from accountability in most of such cases is becoming an increasingly pressing matter.
The Innocence Project's Barry Scheck has an essay on the issue in Sunday's Austin Statesman.
Here's a clip:
In February, Texas Supreme Court Chief Justice Wallace Jefferson affirmed the finding of state District Judge Sid Harle that there was probable cause to believe former Williamson County prosecutor Ken Anderson had violated the criminal laws of Texas by disobeying a court order to disclose evidence pointing to the innocence of Michael Morton, who in 1987 was wrongly convicted of murdering his wife. A court of inquiry will now try Anderson on these charges.

The case against Anderson (who is now a state district judge and denies wrongdoing in the Morton case) made national headlines because, as a recent article in the Yale Online Law Review thoroughly documents, our system rarely disciplines, much less brings criminal charges against, prosecutors who have engaged in acts of intentional misconduct. Far too often, prosecutors, who wield enormous power over our lives, aren't investigated at all, even for intentional misconduct that has led to a wrongful conviction, much less "harmless" intentional misconduct in cases in which the defendant was guilty.
---
TWO SMALL TOWN NEWSPAPER REPORTERS BRING DOWN A CORRUPT SHERIFF—AND GET DEATH THREATS
Be sure to watch this 60 Minutes story about how a small town newspaper did what even the feds couldn't manage. (Video link here.)
And here's a clip from the written version:
Prescription drug abuse has become an epidemic in America. Few places have been hit harder than Kentucky, a state that has also been ravaged by addiction to crystal meth. In Whitley County, Kentucky – in the heart of Appalachia — matters were made worse when the man suspected of being at the center of the drug trade was the county's top law enforcement officer, Sheriff Lawrence Hodge.

There had long been suspicions that Sheriff Hodge was dirty, but nobody – not even federal agents – could prove it.

That's when two local journalists — both in their 20s — launched their own investigation. And they soon discovered poking into the affairs of a powerful county sheriff can be risky business.

Adam Sulfridge: You know you're 20 years old, and you're taking a shower one day and getting ready for class and you get a call from a federal agent because there's a credible threat against your life. Everything about it is just so surreal. You know. You don't– you don't think a whole lot about it. Then later that night you start thinking, you're like, "Geez, somebody wants to kill me. That's a little odd."

And it's the sheriff. The sheriff wants to kill you.
Read and or watch the rest.
---
CAN CANDY SALES TRANSFORM LIVES? CRITICS AREN'T SO SURE
Ex gang-leader-turned-pastor Jesse Sanchez's Coachella Valley group home requires hours of candy sales by parolees and recovering addicts without providing any rehabilitative programs for the residents.
The Desert Sun's Rebecca Walsh has the story. Here's a clip:
At Victory Life, treatment for as many as two dozen men seems to consist of days of chocolate-selling punctuated by church services Sunday morning and Tuesday evening. There is no counseling, no job or life skills training. Residents simply beg, day in and day out, for their upkeep.

"That would never happen in any of our programs," says Bill Sessa, spokesman for the California Department of Corrections and Rehabilitation. "Where a parolee goes to find comfort with a church is their business. But that is very different from what we consider rehabilitation."
Read on. It's an interesting tale.
---