---
by Taylor Walker & Celeste Fremon
---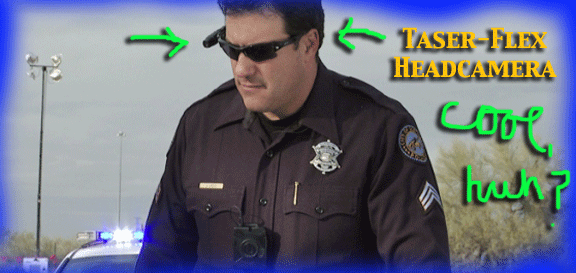 WILL SAN JOSE COPS WEAR MINI-CAMS FOR WATCH-DOGGING PURPOSES?
San Jose's Independent Police Auditor wants her city's cops to wear small cameras in order to keep the San Jose PD officers accountable for such things as "curb sitting" minorities over minor traffic stops and for unnecessary uses of force. Joe Rodriguez reports for the San Jose Mercury News.
Here's a clip:
San Jose police officers may be forcing blacks, Latinos and other minorities to sit on street curbs more than others after minor traffic and pedestrian stops, according to the city's independent police auditor.

LaDoris Cordell said Thursday she wants cops to document the ethnicity or race of everyone ordered to "curb sit" and to record the specific reason for the stop. She also wants officers to wear small cameras on their uniforms to record everything that happens.

"It would be a huge step in building trust between the San Jose Police Department and the community," she said a few minutes before posting her annual report to the City Council on the Internet.
By the way, the camera in the photo is by the Taser people (who make, you know, tasers). Interestingly, among their their first law enforcement customer for the gadgets are the 150 patrol officers for the Bary Area Rapid Transit (BART).
---
FLORIDA APPEALS COURT SAYS THAT, JUST BECAUSE AN 80 YEAR SENTENCE FOR A NON-MURDERING KID ISN'T LWOP—IT'S STILL A LIFE SENTENCE.
Thursday a Florida appeals court voted to overturn a juvenile offender's 80-year sentence for armed robbery with….a pellet gun. The panel of judges ruled that the result of the sentence would be essentially the same as that of a life in prison without parole–which runs counter to the US Supreme Court 2010 decision in Graham v. Florida, which says that a kid can't serve life without the possibility of parole where no murder was involved.
The AP's Bill Kaczor has the story.
Here's a clip:
A Florida appeals court panel said Thursday that 80 years is too long to keep a juvenile locked up for a non-homicide crime.

However, the three-judge panel of the state's 1st District Court of Appeal also said uncertainty will continue over compliance with a U.S. Supreme Court opinion that rejected absolute life sentences for juveniles who haven't killed anyone until a higher court or the Florida Legislature addresses the issue.

The judges struck down an 80-year sentence for an inmate who committed armed robberies when he was 17.

A term that long is the functional equivalent of life without parole, the appellate judges wrote as they sent the case back to a Pensacola trial court for resentencing. They also urged lawmakers to follow the high court's guidance and explore how to comply with its opinion.

[SNIP]

The Supreme Court decision doesn't limit sentence length but says juveniles must get a meaningful opportunity to seek release based on maturity and rehabilitation if they have been convicted of non-homicide crimes. It also doesn't preclude the possibility a juvenile will spend his or her life behind bars but does "forbid states from making the judgment at the outset that those offenders never will be fit to reenter society."
Good for Florida's 2nd Circuit. It would be nice if California prosecutors would stop asking for those same insane sentences for juveniles, with the pretense that they aren't LWOP, therefor not subject to Graham.
---
ACCESS TO JUSTICE IS CLOSED DUE TO BUDGET CUTS?
This coming Monday, at 1:30 pm a special American Bar Association task force will hold a press conference in Sacramento to talk about "…the Crisis in State Court Underfunding.."
The task force includes such legal superstars David Boies and Theodore Olson (You know, the guys who're the lead attorneys on the Prop. 8 challenge, and lead attorneys opposing each other in Bush v. Gore) plus California Chief Justice Cantil-Sakauye and other luminary types.
Here's a clip from the ABA press release:
….Chief Justice Cantil-Sakauye says California has "closed" signs on courtrooms and clerks' offices in 24 counties around the state after four successive years of budget cuts totaling $653 million. Despite these cuts, and increasing caseloads, the California judicial budget is on the brink of facing an additional $100 million in cuts if Gov. Edmund G. Brown Jr.'s current budget is approved as proposed.

These budget cuts have resulted in reduced availability or elimination of court self-help services, and other cost cutting measures that directly impact the ability of the courts to adequately serve the public. California is not alone, however; 42 states cut funding for their judiciaries in 2011, reducing access to justice for thousands of Americans, according to the National Center for State Courts.
You can read more about the details of the event here.
---
EDITORS NOTE:
WE ARE HEARTBROKEN TO HEAR ABOUT THE DEATH OF STANISLAUS DEPUTY SHERIFF ROBERT PARIS ON THURSDAY
It's been a week of tragedies. First the two USC grad students, then the perplexing case of the young Woodland Hills man who, led LAPD officers on an erratic high speed chase before exiting his car and managing to end his life in a storm of police bullets.
And now 53-year old Deputy Robert Paris gets gunned down in the course of duty, serving an ordinary eviction notice.
Rosalio Ahumada of the Modesto Bee has more about Deputy Paris and about the shooting, which also ended the life of a civilian, whose name was not released as of this writing.