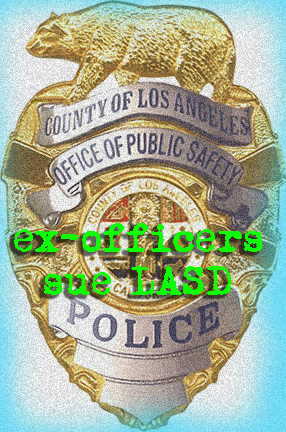 FORMER LA OFFICERS SUE SHERIFF'S DEPT OVER PERSONAL RECORDS LEAKED TO LA TIMES INVESTIGATION
When the LA County Office of Public Safety was disbanded and absorbed the the sheriff's department in 2010, OPS employees were authorized to apply for positions within the LASD. The sheriff's dept. took on 280 from more than 400 applicants.
In December 2013, we pointed to an LA Times investigation that found an alarming number of those hired were previously rejected by other law enforcement agencies (or terminations), had been disciplined for serious misconduct, or had other troubling histories.
Now, a number of those singled out in the report are suing the sheriff's department for leaking their names and confidential records to the LA Times. The plaintiffs say county officials know the identity of the employee who slipped the records to the Times, and have not held the person accountable.
Courthouse News Service's Matt Reynolds has the story. Here's a clip:
Named as problem applicants in the story were David F. McDonald, Ferdinand C. Salgado, Linda D. Bonner, and Niles L. Rose, all of whom were hired as jailers. They are among the plaintiffs in the lawsuit filed this week.

The officers claim that with the help of county or Sheriff's Department officials an unidentified county of department employee leaked their confidential records to the Times.

Calling the dim view of the Office of Public Safety "widespread and epidemic," the officers say it is "no secret" that Sheriff's Department officials treat them with disdain.

After the Office of Public Safety was shut down to cut costs in 2010, its officers were allowed to apply for transfers to the Sheriff's Department.

In late 2013, the Times published a series of articles highlighting 280 of the 400 applicants to the department.

A Dec. 2, 2013 article was headlined: "Sheriff's Department Hired Officers With Histories of Misconduct."

The Times reported that 188 officers had been rejected for other law enforcement jobs; 29 successful applicants had been fired or asked to resign from their previous jobs; and 15 officers had attempted to manipulate the county polygraph examinations.

Others had been disciplined or had or exhibited signs of dishonesty, the Times reported.
---
A PRISON REFORM ADVOCATE'S JOURNEY FROM HEROINE ADDICTED PRISONER TO CORNELL GRADUATE
Writing for the Washington Post, Keri Blakinger, shares her story of rising up from a heroin addiction and years in prison to become a graduate of Cornell University. And Blakinger believes that the reason she was able to, relatively easily, reenter her community and return to her Ivy League school was because she is white. Here's how it opens:
I was a senior at Cornell University when I was arrested for heroin possession. As an addict — a condition that began during a deep depression — I was muddling my way through classes and doing many things I would come to regret, including selling drugs to pay for my own habit. I even began dating a man with big-time drug connections that put me around large amounts of heroin. When police arrested me in 2010, I was carrying six ounces, an amount they valued at $50,000 — enough to put me in prison for up to 10 years. Cornell suspended me indefinitely and banned me from campus. I had descended from a Dean's List student to a felon.

But instead of a decade behind bars and a life grasping for the puny opportunities America affords some ex-convicts, I got a second chance. In a plea deal, I received a sentence of 2½ years. After leaving prison, I soon got a job as a reporter at a local newspaper. Then Cornell allowed me to start taking classes again, and I graduated last month. What made my quick rebound possible?

I am white.

Second chances don't come easily to people of color in the United States. But when you are white, society offers routes to rebuild your life. When found guilty of a drug crime, white people receive shorter sentences than black people. And even after prison, white men fare better in the job market than black men with identical criminal records.

It was prison that clued me in to just how much I benefit from systemic racism in our society. Until then, I hadn't thought much about white privilege, which is exactly how privilege works – as a white person, I could ignore it. But sitting behind bars, I saw how privilege touches almost everything, especially the penal system.
---
JAILING LOW-LEVEL FELONS FOR DRUG POSSESSION PAROLE VIOLATIONS GOES AGAINST 3 STRIKES LAW
California's Fourth District Court of Appeal has overturned a portion of California's realignment law (AB 109) that sends former felons under county probation to jail for drug possession. According to the court ruling, this provision was in violation of California's Three Strikes Law, Prop. 36, which says that non-serious drug offenders can be placed in treatment instead of lock-up.
The SF Chronicle's Bob Egelko has more on the court's decision. Here's a clip:
Tuesday's decision by the Fourth District Court of Appeal in Santa Ana does not affect the central provision of that "realignment" law, which sends lower-level felons to county jail rather than state prison. But the ruling, if it stands, would overturn a section of the law that allows some former inmates to be returned to jail for drug use.

Felons whose crimes were not classified as violent or sex offenses are now placed on local probation supervision rather than state parole after their sentences, and can be jailed for up to six months for violating the terms of their release. But the court said a 2000 ballot measure, Proposition 36, entitles nonviolent drug offenders to be placed in treatment rather than confinement, unless they have been shown to pose a danger to the public.

Prop. 36 can be amended only by a two-thirds vote of both houses of the Legislature, the court said.

"The Legislature cannot evade Proposition 36's amendment requirements simply by passing legislation that purports to pare down the proposition's coverage," said Justice Raymond Ikola in the 3-0 ruling.
---
FURTHER READING (AND LISTENING) ON BUILDING STRONG BONDS BETWEEN COPS AND COMMUNITIES
Frank Stoltze has a good recap of the diverse opinions voiced at a KPCC panel moderated by Air Talk's Larry Mantle on the state of police-community relations and how to improve them.
Mantle's panel included Long Beach Police Chief Robert Luna and other law enforcement officers, policy analyst Francisco Ortega, Robert Cristo of the Youth Justice Coalition, among others. (You can listen to the whole forum, here.)
Here are some clips from Stoltze's accompanying story:
[LBPD Chief] Luna urged people to cooperate with police, even if they are mistreating you. "If you get into a negative encounter with a police officer, don't fight or resist. Do exactly what they are telling you to do."

File a complaint later, he said.

Henderson and Cristo said they wouldn't trust police to discipline an officer involved in misconduct. Henderson also wondered why the burden rests with residents to submit to an officer's demands, even if they are unreasonable. "Shouldn't police empathize with me?"

Repeated interactions with criminals, particularly in South LA, can affect an officer's attitude, said LAPD Lt. Al Labrada, who works in the community relations section of the department.

"You become involved in so much of the violence that occurs around you, you tend to have a negative perception of a lot of things," he said. "For officers working in South LA, it's sometimes not healthy."

Labrada said that's one reason he left the area after working there 14 years, including eight years as a gang sergeant.

"We have a long way to go" in building trust, he said. "But we also need to look at the fact (that) officers are making progress." Labrada pointed to community policing programs in Watts as an example.
AND IN OTHER LA LAW ENFORCEMENT-RELATED NEWS…
In response to a report from LASD Inspector General Max Huntsman on transparency within the Sheriff's Dept. in comparison to other law enforcement agencies, the LAPD has updated its annual use of force and officer discipline reports on the department website.
The LA Times' Cindy Chang has the story. Here's a clip:
The report by Inspector General Max Huntsman focused on transparency issues with the sheriff's department, analyzing other agencies' practices for comparison. Huntsman noted that the LAPD posts annual use of force reports and quarterly discipline reports on its website, whereas the sheriff's department does not.

But the LAPD's information was not current, Huntsman wrote. Only the 2009 and 2010 Annual Use of Force Reports were posted, and the quarterly discipline reports stopped in 2012.

Cmdr. Andrew Smith, an LAPD spokesman, said the lapses were not intentional, and the department would be posting the latest reports.

As of midday Thursday, the quarterly discipline reports, which include the number of complaints against officers, the types of allegations and the penalties imposed, had been updated through 2013.